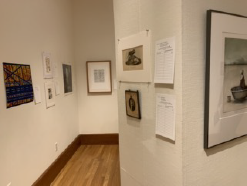 The Northern Illinois University Art Museum will be hosting a silent benefit auction of small art pieces. The goal is to raise funds to make targeted purchases to diversify the collection. With the intention of reflecting the changing demographics of the university and the region more accurately, this auction will raise funds to purchase artwork from the Brandywine Print Workshop, a diversity-driven printmaking studio selling underrepresented artists' work.
The auction display and bidding will run from April 5 to May 6 in the museum's North Gallery during normal gallery hours with bidding ending at 2 p.m. Friday, May 6. Artworks for sale include paintings, photographs, prints and sculpture with work by contemporary local favorites such as David Driesbach and Jay Ryan, and historical master draftspersons such as Honoré Daumier and Françisco Goya.
The last time funding was available for making targeted acquisitions for the museum was in the early 1980s, when the Illinois Arts Council Agency briefly provided resources for growing museum collections. A wonderfully eclectic, but admittedly unfocused collection has resulted from the generous largesse of individual donors. "As the collection has grown over the years, we are able to curate not just our exhibitions but our collection…we can focus on areas of strength and alleviate weaknesses," said museum director Jo Burke. "But to be clear, the museum is not selling or deaccessioning anything from the existing collection, but inclusively adding to it."
In support of diversification of the collection, several artists from the NIU School of Art and Design faculty and teaching staff (Michael Barnes, Sasha Bitzer, Jessica Labatte, Nina Rizzo, John Siblik, Kryssi Staikidis, Ben Stone, Peter Van Ael and Shei Chau Wang), the staff of the NIU Art Museum (Jo Burke and Peter Olson) and anonymous members of the Friends of the NIU Art Museum have donated pieces of their own artwork or from their personal collections as objects for us to auction. If you would like to assist the NIU Art Museum in this cause, please make a financial donation or bid on an artwork to add to your own collection.
COVID-19 Visitor Information
The Art Museum will follow the latest recommendations from university, local, state and federal guidance. Feeling sick or unwell? We ask anyone feeling unwell to postpone their visit for another time. Visitors are welcome on campus, but we ask that you take the same precautions we ask of our students, faculty and staff to protect yourself and others. For more information about the university's health protocols and guidelines regarding the COVID-19 pandemic, see www.niu.edu/protecting-the-pack/index.shtml. We encourage everyone to continue wearing a mask. However, we respect each individual's choice. We ask that you are respectful of one another's space as well as choice. Please continue to practice physical distancing between individuals and family groups.
About the NIU Art Museum
Serving Campus and Community by Balancing Traditional and Contemporary Art to Explore the Connections Made through Visual Culture.
Part of the College of Visual and Performing Arts' vibrant and active arts community on campus, the Northern Illinois University Art Museum is a resource for the NIU campus, local community and beyond. Have our event announcements and program information delivered directly to your inbox. Sign up at go.niu.edu/artmuseumsubscribe.
The NIU Art Museum is located on the first floor, west end of Altgeld Hall, at the corner of College Avenue and Castle Drive on the main campus of Northern Illinois University in DeKalb, Illinois. Those using GPS can find us at 595 College Avenue, DeKalb.
Parking is available in the visitor pay lot located at 200 Carroll Avenue. Limited metered and accessible parking spaces are available in front of Lowden Hall with accessible aisles and route to Altgeld Hall. Campus parking is free on weekends and after 5 p.m. weeknights in nearby lots 3 and 14.
To request disability-related accommodations for museum programs:  please contact the museum at least one week in advance. Northern Illinois University is an equal opportunity/affirmative action institution.
The exhibitions and programs of the NIU Art Museum are sponsored in part by the Illinois Arts Council Agency; the Friends of the NIU Art Museum; the NIU Arts and Culture Fee, and the College of Visual and Performing Arts' Season Presenting Sponsor Shaw Media.
Gallery Hours
10 a.m. to 1 p.m. Tuesday, Wednesday
Noon to 6 p.m. Thursday, Friday
Noon to 3 p.m. Saturday and by limited appointment for group tours
Closed university holidays and between exhibitions.