Erin Kirby, Music Education '22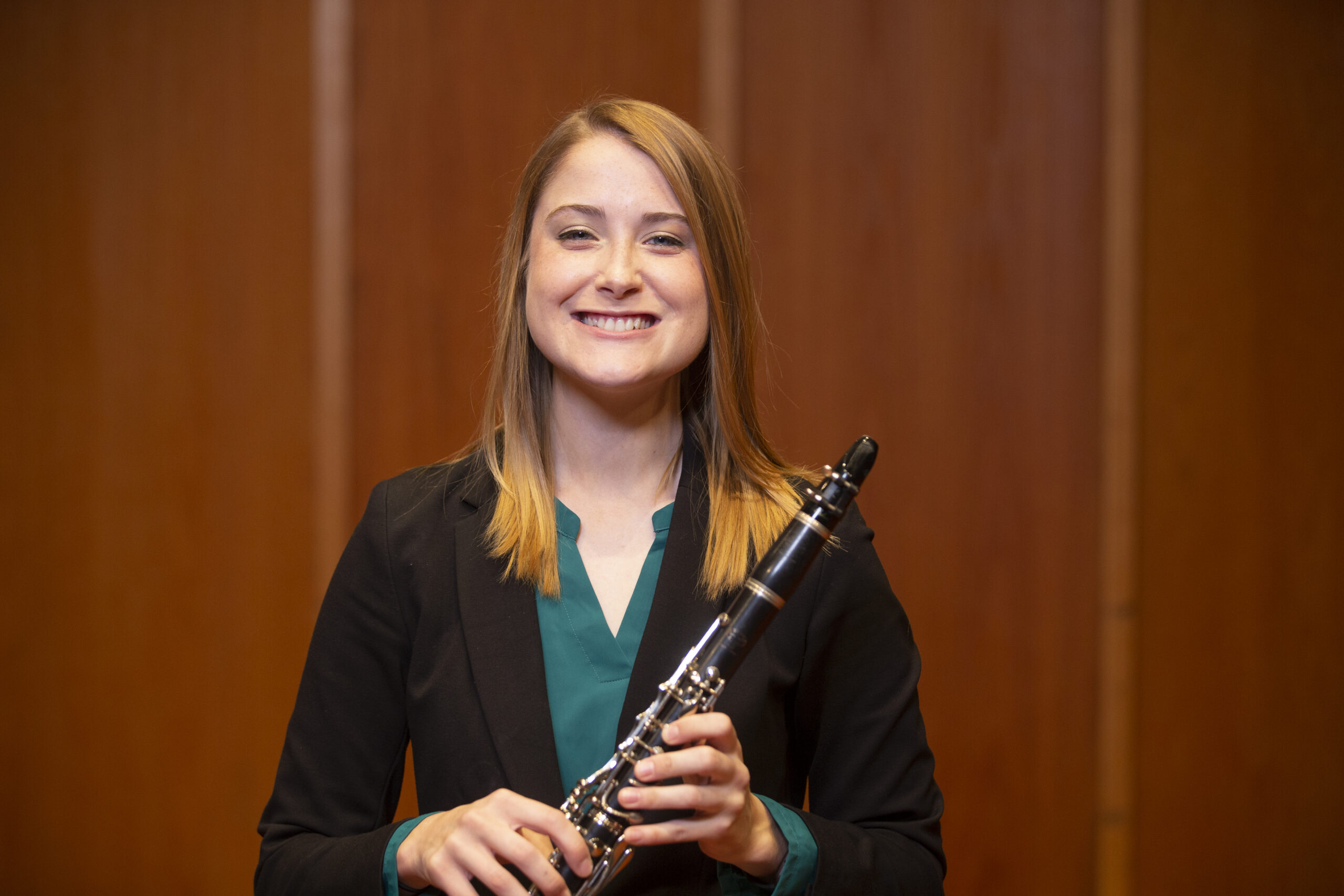 What did you want to be when you were growing up? Are you pursuing that as a major, or have you taken another path? Ever since I was a little girl, I've always had a passion to become a teacher. I would always watch my teachers in pre-school and elementary school read books to us in class and then I would go home and practice reading aloud to my stuffed animals. In a way, I was already practicing my own teaching! I've always thought that school is my safe place and a place where I can truly be myself. Unfortunately, this is not the same case for everyone. That's why I've chosen to become and educator. Just as I had the opportunity, I want every student to feel comfortable and safe to pursue their passions at school. I want to be a teacher who supports and encourages students to pursue their own interests, in a safe and positive learning environment.
What is your major (and/or minor) and why did you decide on this course of study? I am an Instrumental Music Education major with an emphasis in clarinet. I decided on this course of study because I love music. I've always been surrounded by music and have always held the desire to be a teacher. My mom has always been a huge influence on me as a musician because she was the one that pushed all my siblings and I to pursue music in some fashion. I come from a very musical family, and with my mom always being a positive role model and supporter in my life, I want to instill that same philosophy on my students. I chose the field of education because I've always seen myself as a teacher. I believe that teachers can leave the biggest impacts on students' lives and it's important to leave the best and most positive impact on students. I have always been inspired to be a teacher because teachers can help students develop their own values and opinions that help them grow from children to adults.
What is your favorite thing about studying and/or playing music at NIU? My favorite thing about studying and playing music at NIU is the people. There are so many genuine people here at NIU and I feel really blessed to be able to make music with them. I remember my first experience playing in a collegiate ensemble was truly breathtaking. You see all these different people conversing before the downbeat is given, yet when the rehearsal starts, there is an immediate focus. I love being able to create music with such genuine people who are focused on making beautiful music together.
How have you connected with other students at NIU? I've connected with other students at NIU through my involvement in student organizations and extra-curricular activities. I believe the best way to truly connect with others is doing the things you like, together! For me, I love to create music with others and have been involved in many ensembles and organizations throughout the School of Music. Being involved in these ensembles and groups have allowed me to meet new people and connect with them through our shared love of music!
Are you involved in any student organizations or extra-curricular activities? If so, which ones? How have they added to your experience as a Huskie? Some of the student organizations and extra-curricular activities I am apart of include: Harmelodics A Capella, Huskie Marching Band, Supplementary Instruction Leaders and Refuge.
I am a four-year member of the all treble, a capella group on campus, The Harmelodics. I love singing with this group and have really grown both as a person and a musician throughout my involvement. I am also a proud member of the Huskie Marching Band! I've been honored to have been elected to serve as a Drum Major for the HMB for the past two years. My leadership experience in HMB has helped me learn a lot about my own leadership style.
Being a Drum Major, especially through COVID, taught me to always plan ahead but to also accommodate for any challenge thrown my way. Through my involvement as a Supplementary Instruction Leader, I've learned a lot about lesson planning and tutoring on an individual and collaborative basis. As an SI Leader for the Theory & Aural Skills Department at NIU, I've learned a lot about modifying my teaching styles to accommodate for different students. All students learn at different paces and it's important to modify your instruction based on their learning abilities.
I am also a part of Immanuel Lutheran's college bible study group called Refuge. Throughout my involvement in this organization, I've learned about leadership through God and giving back to my community in service. One of my favorite events that we participate in is trick-or-treating for canned goods. Every Halloween, Refuge goes trick-or-treating for canned goods and all proceeds are donated to the Huskie Food Pantry. This event, like many others we host, allow us to connect and serve with the DeKalb community in faith. These organizations have allowed me to establish close friendships, teach and create music with others, as well as serving my community and to do it alongside my peers. I'll always be grateful to my teachers, mentors, and friends I've made throughout my involvement in these organizations; for I would not be who I am today without you all!
Why did you choose NIU to study music?  I chose NIU to study music education because of the music education department. It is truly amazing that NIU has created opportunities for us to learn under such highly esteemed professors. Not only are the professors in the music department accomplished and highly qualified, but they are great at teaching! I was also motivated to studying music at NIU because of the Huskie Marching Band! I've always loved being involved in marching band in high school, and the HMB is a great organization that allows you to connect and create music with students in different majors. HMB is a great organization that brings students together to truly embody the huskie spirit and represent NIU!
Who has been one of your favorite instructors/professors and why?  One of my favorite instructors I've had the pleasure of learning from is Dr. Jui-Ching Wang. Dr. Wang is such a highly esteemed professor that is world-renown for her knowledge in world music and music education. Dr. Wang is the supervisor of World Music classes and ensembles here at NIU, as well as being one of the faculty in the Music Education department. Dr. Wang is such an inspiring person because she always presents herself with a positive attitude. I've never met a professor who is as happy and drawn to teaching as I have seen under Dr. Wang's instruction. What I love most about Dr. Wang is her studious nature and her drive to learn. Dr. Wang is a very studious and sophisticated professor who finds a way to balance teaching her students, while also striving to improve and diversify her teaching styles. She is the kind of person that will teach you, challenge you, and help you understand yourself and your own teaching styles. I am privileged to have had the opportunity to study under Dr. Wang and hope to continue to expand my knowledge of music education as prestigiously as she does.
What advice would you give to a student who is applying to colleges? Get involved! Wherever you choose to go, get involved in activities and organizations on campus or in your community. The easiest and fastest way to feel like you "belong" on campus is through your involvement in student organizations. Pursue your passion and explore different paths that you're interested in!
Coming to college, what is something that you have had to learn to do differently? During COVID-19, the dorms on campus switched from normal housing, to single dorm only housing. Coming from a family of 10, this was quite the transition. I am the seventh of eight kids in my family, and I've never lived alone. I've never even had the desire to live on my own because I am such an extroverted person. However, during COVID, I had to learn how to live on my own without a roommate. It challenged me mentally and emotionally throughout all of last year because of the isolation and restrictions on campus. However, it gave me the chance to overcome my fear of being alone. I had to learn to trust in myself and be comfortable with myself in this different environment. COVID has definitely challenged everyone with the isolation and effects of quarantine. Through the challenges of isolation, I believe it's made me emotionally stronger and encouraged many others to embrace the hardships and overcome the many challenges faced during quarantine.
What do you do to relax or recharge? One of my favorite things to recharge is to paint! My mom, sister, and I have always loved doing art crafts together, especially painting. We had discovered this place called Pinot's Pallet, where you can do live painting sessions and classes. Before my mom had passed away, we all took a painting class together and painted my mom's favorite floral landscape. After my mom had passed away, my sister and I took it upon us to make it a tradition that we paint or do an acrylic canvas painting each year. Painting is a such a fun activity, and it is something I love to do that reminds me of memories with my mom.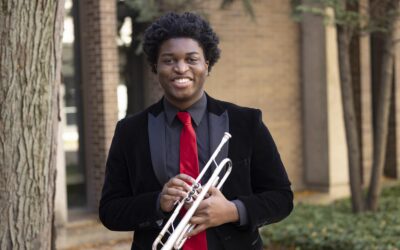 Music Huskie SpotlightHuskie Spotlight: Gabriel Wade, '24, Master of MusicWhat did you want to be when you were growing up?  Ever since starting band and piano class in middle school, I've always wanted to make music a major part of my life. That led to me pursuing a...