Matthew Kiser
Bachelor's in Music Performance, emphasis in Steelpan Studies
What did you want to be when you were growing up? Are you pursuing that as a major, or have you taken another path?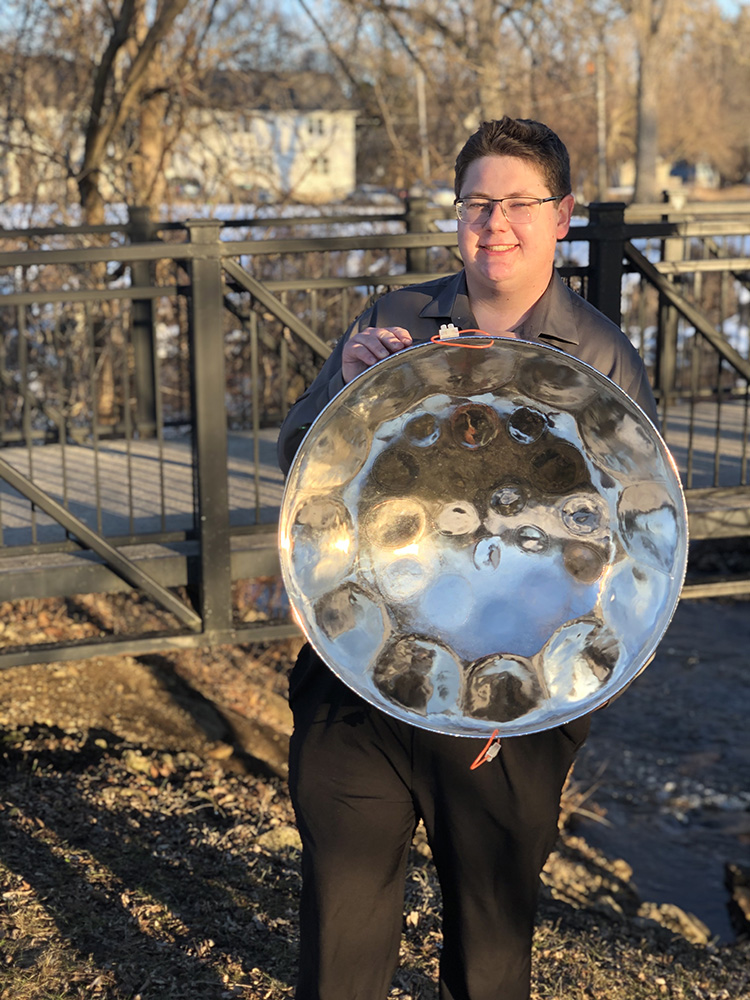 As a kid, my interests were always evolving and changing. I always was interested in music, but I felt like I hadn't found my voice yet. That all changed when I joined my high school Steelband. I loved playing the instrument and picked it up very quickly. As soon as I heard about NIU, I knew it was the place for me.
What is your favorite thing about studying and/or playing music at NIU?
One of my favorite parts of studying music at NIU is getting to collaborate with people from many different backgrounds and cultures. As a member of the NIU Steelband and Steelpan Studio, I got to interact, learn from and become friends with people from the Caribbean and all over the United States.
Why did you choose NIU to study music?
I chose NIU because it is the only university in the country to offer both an undergraduate and graduate degree with an emphasis on the Steelpan as a primary instrument. Also, I could not pass up an opportunity to play with one of the world's best, if not the best, Steelpan players in the world, Liam Teague.
Who has been one of your favorite instructors/professors and why?
Easily professor Liam Teague, director of the NIU Steelband and my primary lessons instructor. Not only is Liam an amazing player, but he is a fantastic educator who truly cares about all of his students.
Where is your favorite spot on campus or in the community? Why are you drawn to it?
The East Lagoon. It is the perfect spot to unwind after a long day!
What advice would you give to a student who is applying to colleges?
Follow your passion, whatever it is. You are going to be spending a lot of time studying your chosen degree, so it better be something you are truly passionate about!
Coming to college, what is something that you have had to learn to do differently?
I had to learn how to manage my time more effectively. Juggling music classes, gen eds and rehearsals was a daunting task as a freshman and is something I had to adapt to overtime.
What do you do to relax or recharge?
Playing video games, watching a movie, or taking a walk outside are all things I like to do to relax.