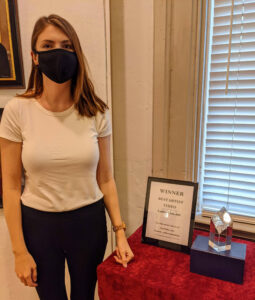 Larissa Barnat, a third year Master of Fine Arts student in the School of Art and Design earned the "Best Artist Video" prize at the Dangerous Lullabies VI art exhibition in Woodstock, Ill.
The exhibition is being held at the Old Courthouse Arts Center in Woodstock, and opened on October 10. Artists were invited to submit work that explores the curious allure of things that frighten us–work of any medium designed to examine the beauty found in the ashes of terror or the magnetic pull of work that is disturbing, on-edge or dark.
Barnat's MFA focus is on painting and she is working towards a certification in Museum Studies.
Her art has been exhibited internationally in London, and her work is part of a group exhibition in South Korea. Larissa double majored in painting and graphic design at Lewis University. She is a native of Burbank and attended Reavis High School.
Barnat's video was titled "Black Eye."