As NIU and the world around us deals with a global pandemic, artists continue to find ways to express themselves. In the College of Visual and Performing arts the learning and teaching hasn't stopped, it's simply evolved to meet the needs and limitations of the situation. Over the coming days, we'll be featuring how NIU students, alumni and faculty in the arts are continuing to do what they love. View the entire collection of NIU Artists. Never. Quit. submissions.
Final project in Beginning Illustration (PART 2). (See Part One.) Students needed to create pen and ink drawings that best represent your view of current events/state of affairs.
They had to consider current social, political, personal, educational, environmental, and financial aspects. Because of COVID-19 virus, we are currently living through a historically significant event that has the ability to change how we interact with nearly every aspect of our life, from school to work to social gathering, etc.
We also are experiencing other significant changes, such as our political system, environment, etc. Illustrators are in a position to make powerful commentary about current events through visual imagery.

@Iguanodoo
Self-isolation
"In the world we have come to live in, mental illness and disabilities have been made worse by the circumstances. Recently I have been so overstimulated all I want to do is lash out and scare everyone away, my room is much too small, the world is much too loud, and I am much too weak to handle any of it. Maybe if I sleep through it this will end sooner…"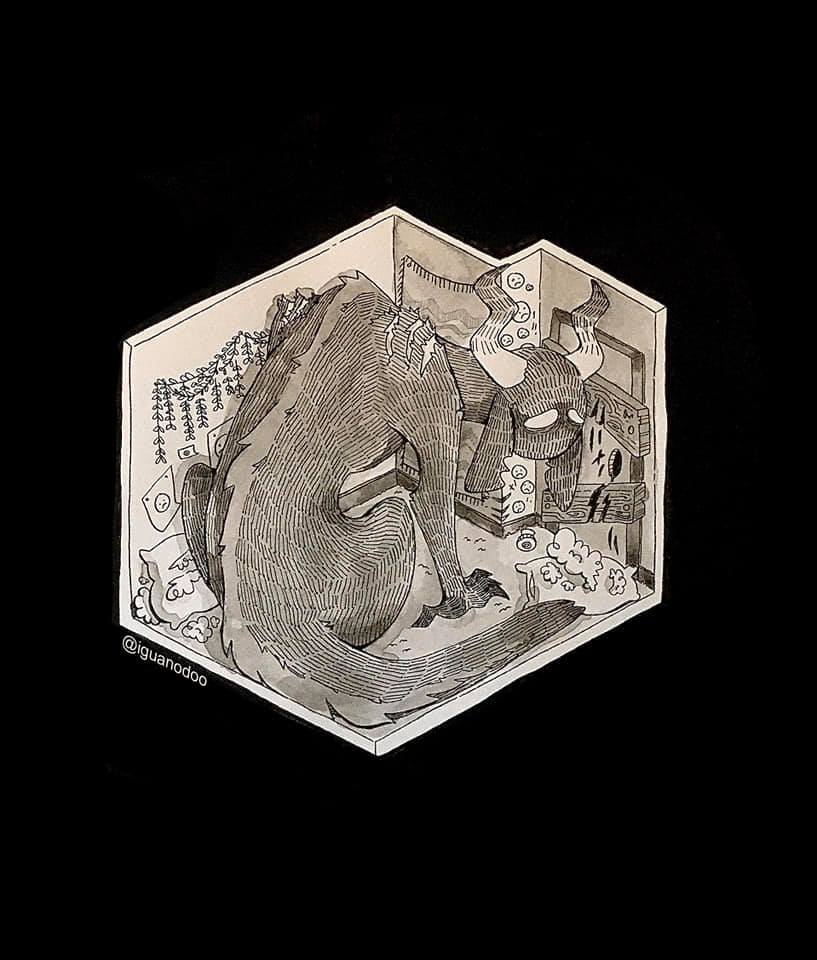 Ryan Dewey
Stonewalled
"This is basically a comic strip depiction of me enforcing the mask policy at the pharmacy/general store I work at. I'm a cashier at the front at the front of the store so I take the brunt of the abuse when the occasional customer shows up without a mask and at this point I'm mostly apathetic to it. That's basically what's going on here. I don't care how much they argue or scream, no mask means no entry. Store policy since the 15th of April."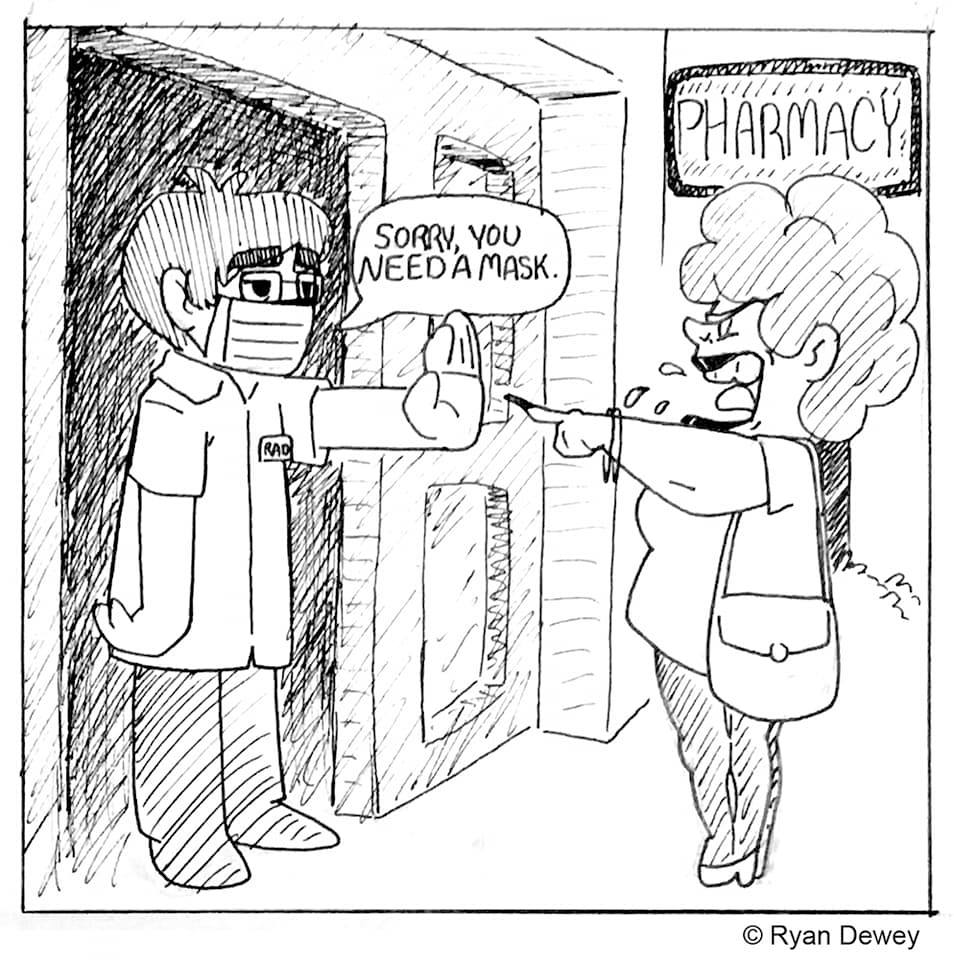 Lizzy Warner
Dealing
"First panel of triptych shows feelings of dissociation while communicating solely through my laptop. Second panel depicts back pain from poor ergonomic position working at home plus letting some things go longer than usual, like shaving legs. Third panel shows moments of feeling overwhelmed."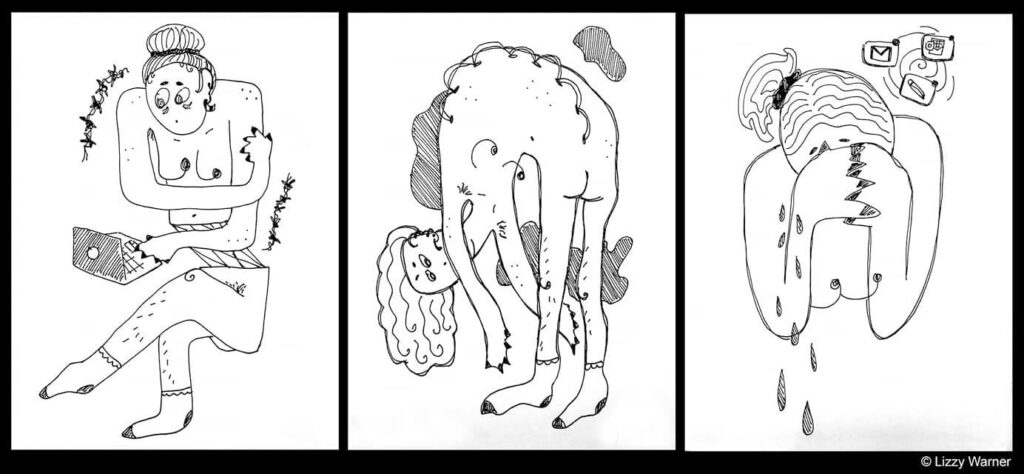 Luke Pisha
Blame
"It saddens me that my friends of Asian descent, even though they are American and live in the States, have had to endure bigotry and ignorance and pointed fingers of blame because of this pandemic."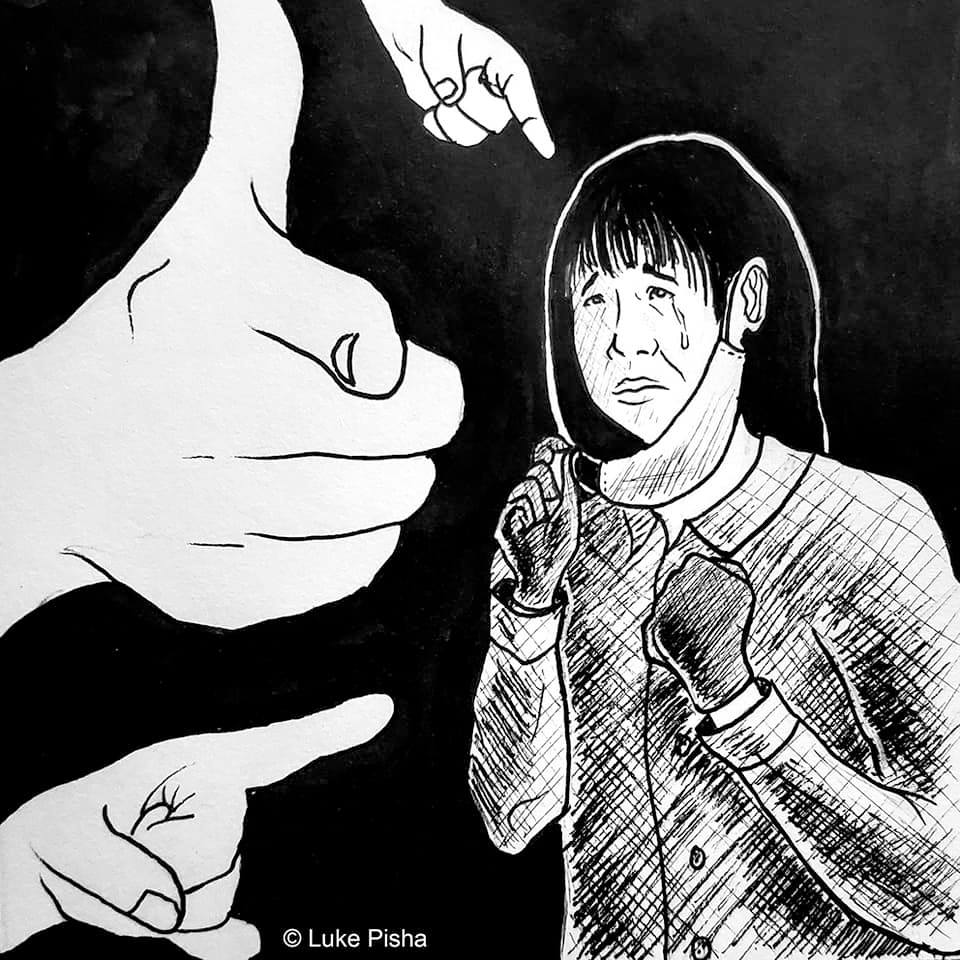 Are you a student, alumni or faculty member in the NIU College of Visual and Performing Arts with video of yourself performing or creating, or photos of a finished product? Use this form to share it with us.