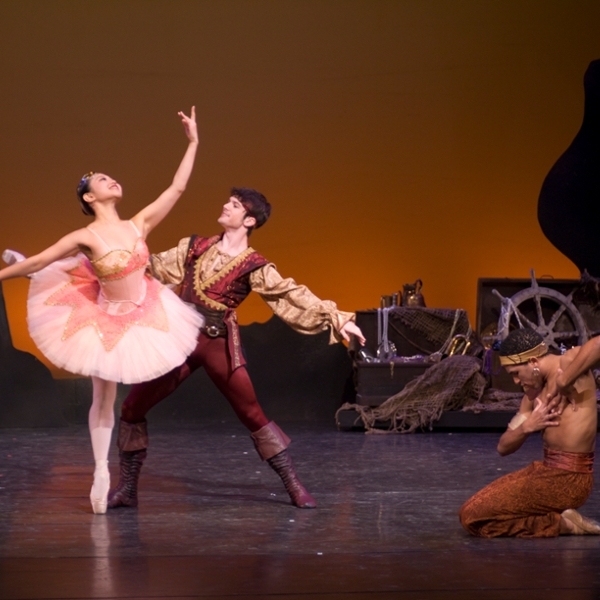 The School of Theatre and Dance presents the Spring Dance Concert: Le Corsaire, in the Stevens Building's O'Connell Theatre, nightly Thursday April 25 to Saturday, April 27 at 7:30 p.m. with matinees, April 27 and 28 at 2 p.m.
Inspired by Lord Byron's epic poem, The Corsair, Le Corsaire is a swashbuckling ballet of colorful pirates, beautiful slaves, and classic romance.
Pirate Conrad attends a bazaar where slaves are being traded. He spots the beautiful Medora and falls in love. Conrad kidnaps Medora from her new owner the Pasha, a high-ranking Turkish officer, and promises to free the rest of the slave girls.
Conrad's friend, Birbanto is against the plan, refusing to interfere with the Pasha. Instead, Birbanto makes a deal to return Medora, much to her dismay. Birbanto drugs Conrad with a rose sprayed with sleeping potion but before Birbanto can finish him off, Conrad awakens to find his greatest treasure gone. Conrad vows to bring Medora back. He pays a visit to the Pasha expecting triumph but is instead captured. Conrad can only escape execution if Medora will agree to marry the Pasha, and she reluctantly agrees.
The Pasha is overjoyed, but he is dealing with fearless pirates, after all, and Conrad and his men certainly won't go down without conducting an elaborate scheme to keep Conrad alive and get Medora back.
Tickets are available online or at the Stevens Building Box Office.
Performances
Thursday, April 25. 7:30 p.m.
Friday, April 26,  7:30 p.m.
Saturday, April 27, 2:00 p.m. and 7:30 p.m.
Sunday, April 28,  2:00 p.m.