The School of Theatre and Dance at Northern Illinois University presents William Shakespeare's Hamlet, in the Stevens Building's Black Box Theatre with nightly performances at 7:30 p.m., Wednesday, February 27 through Saturday, March 2 and 2 p.m. matinees Saturday, March 2 and Sunday, March 3.  Tickets are available online and at the Stevens Building Box Office.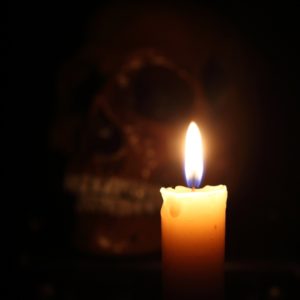 Under the cover of night, a ghost walks the ramparts of Elsinore Castle in Denmark. It is the recently deceased King Hamlet, and he has explicit instructions for his son, Prince Hamlet. He must avenge his father's death by seeking revenge on the late King's murderer, his brother and new ruler, Claudius.
Young Hamlet vows to take on the task to murder his uncle. The murderous plot doesn't sit well with the thoughtful prince, and he descends into depression and apparent madness. When a group of traveling actors pass through Elsinore, Hamlet seizes the opportunity to play on his uncle's guilt. He has the actors act out a scene closely resembling his father's murder, and, in an act of apparent guilt, Claudius leaves the play abruptly.
As Hamlet descends into a bloody rage, innocent lives are at stake. Who will survive his vindictive furor? Join us for one of William Shakespeare's most exciting tragedies and you'll be whisked away to a supernatural world of specters, sword fights, and subterfuge.
The NIU Alumni Association is hosting the cocktail reception Experience NIU: Hamlet, before the Sunday matinee performance, March 3 at 2 p.m. Anyone is welcome to attend.  Tickets are $15 in advance, $20 at the door, and includes the reception and a ticket to the performance.
Performances
Wednesday, February 27 7:30pm
Thursday, February 28 7:30pm
Friday, March 1 7:30pm
Saturday, March 2 2:00pm & 7:30pm
Sunday, March 3 2:00pm
NIU School of Theatre and Dance's Hamlet is supported by WNIU/WNIJ.