The NIU Community School of the Arts is thrilled to announce that Anthony Devroye, Avalon String Quartet violist and NIU faculty member, will teach the master class at the CSA Advanced String Quartet Workshop this summer.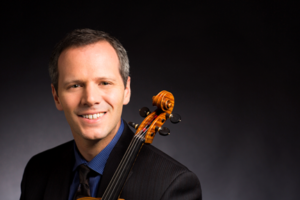 Described by the Chicago Tribune as "an ensemble that invites you — ears, mind, and spirit — into its music," the Avalon String Quartet has established itself as one of the country's leading chamber music ensembles.
The Avalon has performed in major venues including Carnegie Hall, Alice Tully Hall, the 92nd St Y, Merkin Hall, and Bargemusic in New York; the Library of Congress and National Gallery of Art in Washington DC; Wigmore Hall in London; and Herculessaal in Munich. The quartet performs an annual concert series in historic Fullerton Hall at the Art Institute of Chicago, where it has presented the complete quartet cycles of Beethoven, Bartok, and Brahms in recent seasons.
The Avalon is quartet-in-residence at the Northern Illinois University School of Music, a position formerly held by the Vermeer Quartet. Additional teaching activities have included the Icicle Creek Chamber Music Institute, Interlochen Advanced Quartet Program, Madeline Island Music Camp, and the Britten-Pears School in England, as well as masterclasses at universities andconservatories throughout the United States. Additionally, they have given numerous performances and presentations to young audiences in under-resourced schools and communities.
CSA Advanced String Quartet Workshop takes place 1 – 5 p.m., June 25 – 28, and begins with a sight-reading party on June 14 from 7 – 9 p.m.  ASQ Workshop participants ages 12 – 19 improve musicianship and ensemble skills as they rehearse and are coached in two different quartets.  Workshop activities also include seminars on music theory, history, and rehearsal techniques.  Each student will participate in the Anthony Devroye master class, and all quartets will perform in the final recital, June 28 at 6 p.m.
Junior Chamber Music Workshop is also offered this summer at the CSA, for string and woodwind players ages 8 – 15.  JCM Workshop participants rehearse duets and rounds in small groups from 10 – 11:30 a.m. June 25 – 28 and perform in a recital at 11 a.m. on June 28.  The workshop begins with a sight-reading party on June 14 from 5:45 – 6:45 p.m.  All participants in the Junior Workshop are invited to attend the Anthony Devroye master class.
Violin teacher and chamber musician Laurie Rodriguez is the director of the CSA Summer Chamber Music Workshops.  A private teacher with the NIU Community School of the Arts for many years, she has directed multiple chamber music workshops in Illinois, Utah and Minnesota.
Students are admitted to CSA Summer Chamber Workshops by audition.  To reserve an audition time, submit a CSA Summer registration form with a $15 non-refundable registration fee by April 30.  Auditions take place on May 9 starting at 5 p.m.
For registration information, or to learn more about the NIU Community School of the Arts, visit csa.niu.edu or call the CSA office at (815) 753-1450.
#