Huskie Spotlight: Imanol Ruiz, '24, Music Education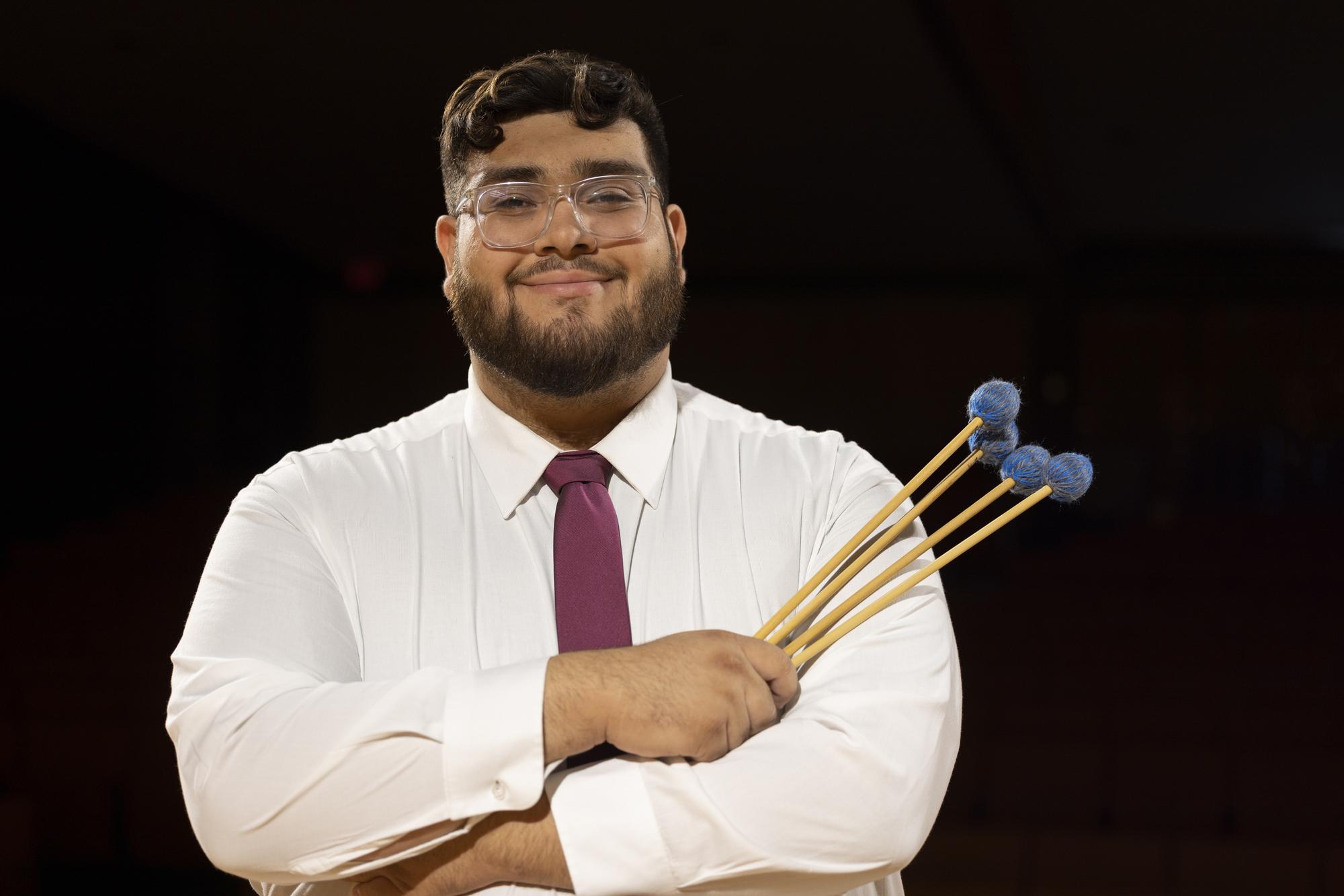 What did you want to be when you were growing up?  According to my mom when I was young, I wanted to be the blue Power Ranger but sadly NIU doesn't offer that as a major. But I did want to be a musician at a young age which has taken me onto this journey to become a music major at NIU.
What is your major (and/or minor) and why did you decide on this course of study? My major is music education and the reason why I chose to study music because in middle school my seventh grade year we had a new band teacher and he happened to be a percussionist. He showed me percussion was more than just hitting the drums and that percussion is also a musical instrument. In high school, my freshman year was also my band director's first year as well. He happened to also be a percussionist. I got lucky, he showed me what a percussionist can do and how to be able to find your sound in an ensemble setting. All my band teachers would be a father figure in my life since I had that missing in my life. I am truly grateful to learn from great teachers that is what inspired me to become an educator so I can be there for my students. If they are missing that parent figure, I want to be able help them in any way because the smallest gesture of kindness goes a long way because from personal experience, I can advocate for it. Without those gestures of kindness, I wouldn't be here today because I don't know how to live without music. I won't be here without their guidance.
What is your favorite thing about studying and/or playing music at NIU? My favorite thing about studying/playing at NIU is how much the professors care about helping each individual student. My professors have always gone the extra mile to help me out with any help. I also love playing in every ensemble part of at NIU because it challenged me as a musician, and it gives me an outlet to perform.
How have you connected with other students at NIU? I have connected with a lot of other students at NIU, some of my closest friendships are because of NIU. The friendships I have built with them through my time here are some of the friendships that I will cherish for the rest of my life.
Are you involved in any student organizations or extra-curricular activities? If so, which ones? How have they added to your experience as a Huskie? I am the vice president of the NIU Percussion Club and outside of school I have been part of multiple marching arts organizations most recently with the Madison Scouts Drum and Corps which is a world class drum and bugle corps based out of Madison, Wisconsin that competes in the Drum Corps International (DCI) circuit. Being a part of these activities has allowed me to give back to my community and as allowed me to perform for thousands of people around the US as well allowing me to also represent NIU at the same time.
Who has been one of your favorite instructors/professors and why?  This is a really hard question to answer because there's so many wonderful instructors here at NIU but if I had to choose one it would be the director of percussion studies Dr. Gregory Beyer. Dr. Gregory Beyer has been one of my most inspiring and supporting instructors I have ever had. He has supported me becoming a better percussionist and even a better human. Dr. Gregory Beyer cares so much about everyone in the percussion studio and shows so much passion and dedication to the community in DeKalb. He also has an amazing ensemble called Arcomusical which I personally enjoy hearing and watching.
Why did you choose NIU to study music? I reason why I chose to study music at NIU is because I wanted to study something more than just classical music. there's so many world music options here at NIU, from steel band to gamelan. Also there is a New Music Festival here at NIU that happens annually that I really enjoy watching and most recently performing in at the ninth annual performance last fall (2021)
Where is your favorite spot on campus or in the community? One of my favorite spots in the community is downtown DeKalb because there's so much to do from going to the Egyptian Theater to watch a movie to There's Fun in Store that has a bunch of pop culture items.
What advice would you give to a student who is applying to colleges? Some advice I would give to students applying for colleges is visit the college that you want to apply for make sure that it's the right fit for you and don't just go to the school just because your friends are going there.
What do you do to relax or recharge? Something that I do to help me relax or recharge is to spend time with my family because they are really important to me and every time I send time with them it brings joy to me.
Coming to college, what is something that you have had to learn to do differently? Something I had to learn to do differently is time management, making sure that I'm planning my time and activities accordingly to make sure that I am staying on top of my schoolwork which has allowed me to balance all my schoolwork and my life outside of school.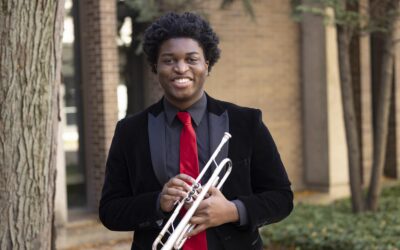 Music Huskie SpotlightHuskie Spotlight: Gabriel Wade, '24, Master of MusicWhat did you want to be when you were growing up?  Ever since starting band and piano class in middle school, I've always wanted to make music a major part of my life. That led to me pursuing a...