Huskie Spotlight: Brooks Wallace, '24, Music Performance and Sociology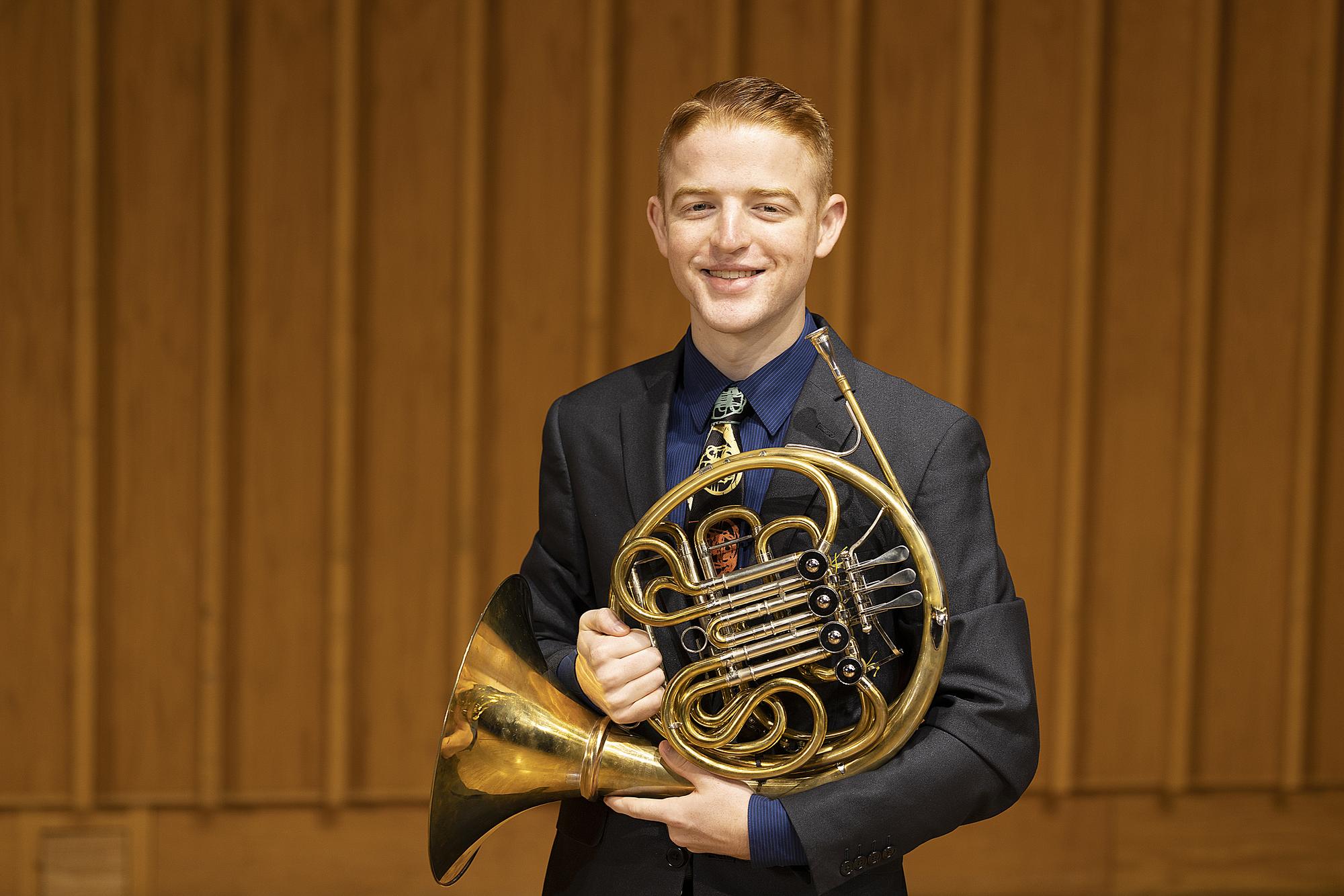 What did you want to be when you were growing up? Music has always been a large part in my life, and outer space has also always fascinated me as well. As someone who loves to be outdoors, a clear night sky can be all the entertainment I need. Space represents the second frontier, a place we don't understand, and that's incredible to think about! I did not end up studying astronomy, but I enjoy reading science fiction and dreaming about universes and galaxies. Today, I study both music and sociology – both fascinating, and wherever my studies take me, I would like to eventually teach at a university. You can still catch me staring up in the sky on summer nights!
What is your major (and/or minor) and why did you decide on this course of study? I am a double major at NIU in music performance (French Horn) and sociology. Music was my first major because it has always played such a crucial role in my life. I began piano at age six, after a recommendation from my Kindergarten teacher to my parents, and also participated in school and youth choirs (and, of course, the French Horn). I noticed at a young age that music holds a special place in people's hearts and minds. The ability to heal and connect through music is like nothing else. I added sociology as a major because it's important to understand how society and individuals function. For instance, men's masculinity performances cause them to have higher levels of skin cancer, because gendered social behaviors don't include things like wearing sunscreen. Isn't that fascinating? I love both disciplines.
What is your favorite thing about studying and/or playing music at NIU? My favorite thing are the faculty. Since NIU is a "just right" size school, I get a lot of help from my private instructor, Professor [Renée] Vogen, who is an amazing player. Additionally, my ensemble directors have always been very open to questions and meeting one-on-one for advice or just to chat. I have met with (and pestered a bunch!) Dr. [Lucia] Matos, our conducting professor, and she has graciously answered all my questions about conducting. It's amazing to be able to access these great musicians so easily!
How have you connected with other students at NIU? Initially this was difficult because of the pandemic, but it has become much easier. Since the horn studio has a few meetings every week, we talk often and just have fun. The ensembles and music convocations also present a great option to connect outside of your instrument, and talk about fun or tricky music, etc. General education classes also have allowed me to meet people outside my majors (including great professors!), and student organizations are a great way to get involved and make lasting friendships.
Are you involved in any student organizations or extra-curricular activities?  I am president of Judson-Fellowship (BCM, a Christian organization), member of the College Democrats, and the Sociology (SSAC) club. Each activity has added to my experience here, and I'm grateful for each of them. Judson helps you connect with your faith and open your mind to new ideas. The College Democrats group has allowed me to learn about important social justice causes, and the Sociology Club is a good way to stay informed as a sociology major and meet new people.
Who has been one of your favorite instructors/professors and why?  It's hard for me to pick favorites, but I give great credit to my horn instructor Renée Vogen. She is a fantastic horn player and great teacher, and since her arrival my sophomore year, our studio has expanded and improved tremendously. I have learned so much and grown as a player thanks to her, and I look forward to continuing to better myself under her guidance.
Why did you choose NIU to study music? On my initial campus visit while still in high school, I didn't know much about NIU. Musicians from my hometown (Macomb, IL – WIU) spoke highly of the NIU School of Music and its track record in creating professional musicians. During my NIU visit, I was impressed by the resources and the faculty. I also felt supported and appreciated by the faculty and staff before, during, and after my audition. The support I receive via scholarships also makes me feel valued as a member of the program. It was after my campus visit in 2020 that I knew wanted to study at the NIU School of Music.
Where is your favorite spot on campus or in the community? My favorite place on campus is the library (nerdy, I know), specifically the fourth floor overlooking the student center. This spot offers a beautiful vista for studying or just enjoying the quiet. In addition to the solitude of libraries, it's amazing to be in places with such as concentration of information – all available to me to learn about almost anything.
What advice would you give to a student who is applying to colleges? Make sure you apply to a lot of different places, but more importantly, go visit and get a feel for campuses. Your ideas of the school could be very different from the atmosphere you encounter in person. Don't be too stressed about making things work, because schools like NIU understand you're new on the scene and will help you get adjusted and answer questions.
What do you do to relax or recharge? I like to play piano and guitar, listen to music while walking around campus, exercise, and talk to my friends and family. Summer night drives are also a great de-stressor
Coming to college, what is something that you have had to learn to do differently? I had to learn how to manage my time better and more efficiently as a university student. High school went straight through from 8-3, but college classes are intermittently spaced throughout the day and week. Creating an effective schedule, planning, and keeping track of assignments really helps me stay on top of my game.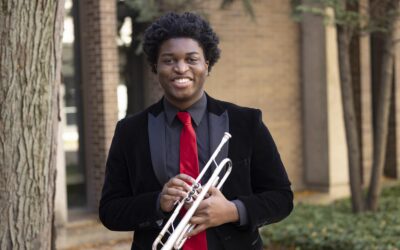 Music Huskie SpotlightHuskie Spotlight: Gabriel Wade, '24, Master of MusicWhat did you want to be when you were growing up?  Ever since starting band and piano class in middle school, I've always wanted to make music a major part of my life. That led to me pursuing a...