Bobby Broom, an internationally renowned guitarist and associate professor of jazz guitar and jazz studies at the NIU School of Music, is hosting a master class, Thursday, March 23 at 11 a.m. in Boutell Memorial Concert Hall in the NIU Music Building. The masterclass will feature the members of his touring quartet and feature music from his new release "Keyed Up." There will be an all-encompassing question and answer session for students on the many aspects that go into a release from grant proposal writing, conceptualization, music programming and music preparation to releasing, marketing and soliciting sponsors for a CD release show.
The master class program will include the Q and A, performance by the ensemble and a multi-media presentation.
"Keyed Up" was funded in part from a 2021 NIU Research and Artistry Facilitation Grant earned by Broom.
"Keyed Up" was released on September 23 and is available for purchase now through the online store at bobbybroom.com and is streaming on popular services like Spotify, Apple Music, Pandora, etc.
The new album is the 14th of Broom's career.
"Keyed Up" is an exploration of compositions by (or associated with) great jazz pianists, the album is also Broom's first in almost 30 years to feature an acoustic piano player. Justin Dillard, a fast-rising keyboardist from Chicago, who joins his working trio with bassist Dennis Carroll and drummer Kobie Watkins.
An encounter with Dillard at a Chicago jam session that inspired Broom to realize the project (an idea he had long been nurturing). "I heard something intriguing in Justin that made me want to work with him," Broom says. "It was a bit risky because I hadn't played with him in such an intimate and crucial setting before we made this record. But it didn't take long for me to know I had made the right choice."
"When we make music, we're never exactly sure how it's going to turn out. It's never a matter of 'we're just gonna play these tunes,'" Broom says. "In addition to the arrangements and preparation, there's a great degree of intrigue and mystery in what we do. But we have developed such trust in each other, there's never any doubt that the end result is going to be good."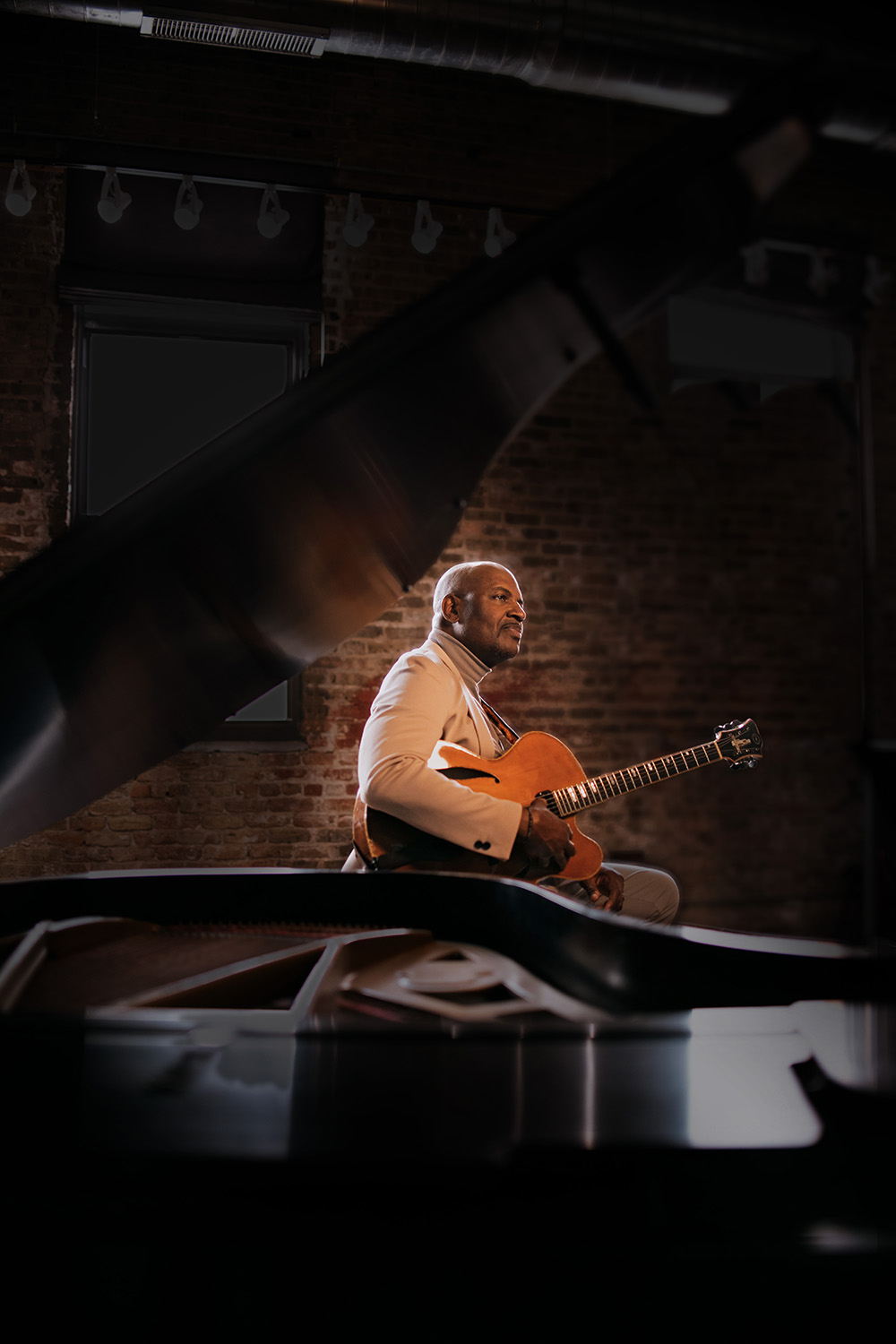 Bobby Broom was born January 18, 1961, in New York City. When he was ten years old, he heard one of his father's records—by organist Charles Earland—touching off his lifelong love affair with jazz. By the time he was sixteen, Broom was attending New York's prestigious High School of Music and Art and gigging with pianist Al Haig; by the age of twenty-one, equipped with a freshman year of study at Berklee College of Music, and some already extraordinary pedigree, he began touring with Sonny Rollins.
By that time, Broom had also signed with GRP Records and recorded 1981's Clean Sweep, which was a crossover jazz success. But rather than settle into a comfortable career in the emerging genre of "smooth jazz," Broom took the road less traveled: He left the New York scene behind and established himself in Chicago.
In the 1990s Broom formed the first edition of his bass and drums trio, while also beginning to work with the members of what would eventually become the Deep Blue Organ Trio. During that decade he recorded a couple of quartet records before deciding to make a guitar-bass-drums trio his primary outlet. In 2000, a breakthrough year, he released the statement-making Modern Man (with organist Dr. Lonnie Smith, drummer Idris Muhammad, and Ronnie Cuber on bari sax), as well as the first of what would be many guitar-trio recordings, Stand!. He solidified a trio lineup with bassist Dennis Carroll and drummer Kobie Watkins with 2006's Song and Dance (although Makaya McCraven filled in for the latter on 2014's My Shining Hour). After establishing a new organ ensemble (the Organ-isation) with 2018's Soul Fingers, Broom has returned to his longtime trio, but with the notion of supplementing it with pianist Justin Dillard for Keyed Up.
The use of a guitar-and-piano frontline remains somewhat novel in the jazz world, but Broom says overcoming that novelty is just a matter of seasoning. "When I first met Justin, he expressed some misgivings about operating with guitar," he recalls. "I said to him, just listen and play. And he got better and better playing with me." Lucky for us that we get to hear the results.
A dedicated jazz educator throughout his career, he holds a Master of Music degree in Jazz Pedagogy from Northwestern University. His teaching experience began under the direction of NEA Jazz Master, Jackie Mclean, at the University of Hartford's, Hartt school of Music. Prior to his appointment at NIU, he was a jazz faculty member at North Park, DePaul and Roosevelt Universities and the American Conservatory of Music. He continues to conduct clinics, master classes and lectures worldwide and is a teaching artist/instructor and mentor with the Herbie Hancock Institute and the Ravinia Jazz Mentor Program.
This master class was originally scheduled for October, 2022 but was rescheduled for March 23, 2023.