The winners have been announced for the annual NIU President's Greeting Card contest.
The theme for this year's holiday card competition was "joyful wishes for a peaceful season and year ahead." More than 30 students submitted original artwork and the winning entries were chosen because they depicted a community where everyone is welcomed, connected and embraced.
School of Art and Design students Marlen Hueramo and Johnson Kwame Wor won first and second prize.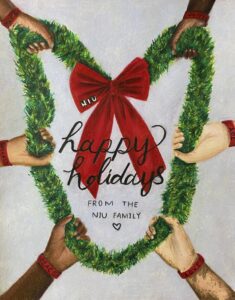 Holiday's Helpful Hands
by Marlen Hueramo
First Place
Marlen Hueramo is a freshman art education major from Rochelle, IL.
"I was inspired by the diversity of students and faculty who have made this holiday season beautiful. They're always lending a helping hand. They constantly show support, so I showcased the beauty of love and unity that's the backbone of our NIU Community," said Hueramo.
Marlen aspires to be a art professor. "The second I stepped onto campus I found myself in awe at watching my instructors create such a welcoming and creatively diverse environment. I can only hope to become just as amazing and inspiring as they have been for me," said Hueramo.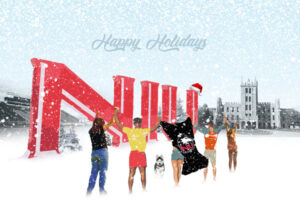 Diverse and Inclusive NIU
by Johnson Kwame Wor
Second Place
Johnson Kwame Wor is a Ph.D. art and design student from Ghana.
Wor said this design was motivated by the "fact that NIU has a high pedigree in sports and academics and also that NIU is a university that upholds diversity, equity and diversity. These are necessary ingredients for peaceful and joyful season such as this."
Johnson Kwame hopes to impact the next generation of designers and scholars in the field of art and design with rich knowledge and experience in artistic expression and education.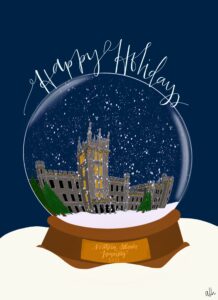 Our Cheery Altgeld
by Abigail Nixon
Third Place
Abigail Nixon is a senior nursing major from Edmond, OK.
"I chose to use one of the most iconic landmarks at NIU and combined that with all the holiday spirit, but in a minimalistic way," stated Nixon.
After graduation, Abigail plans to become an Intensive Care Nurse, and eventually get her DNP to teach for higher education.