Huskie Spotlight: Jennifer Estrada, Music Education, '22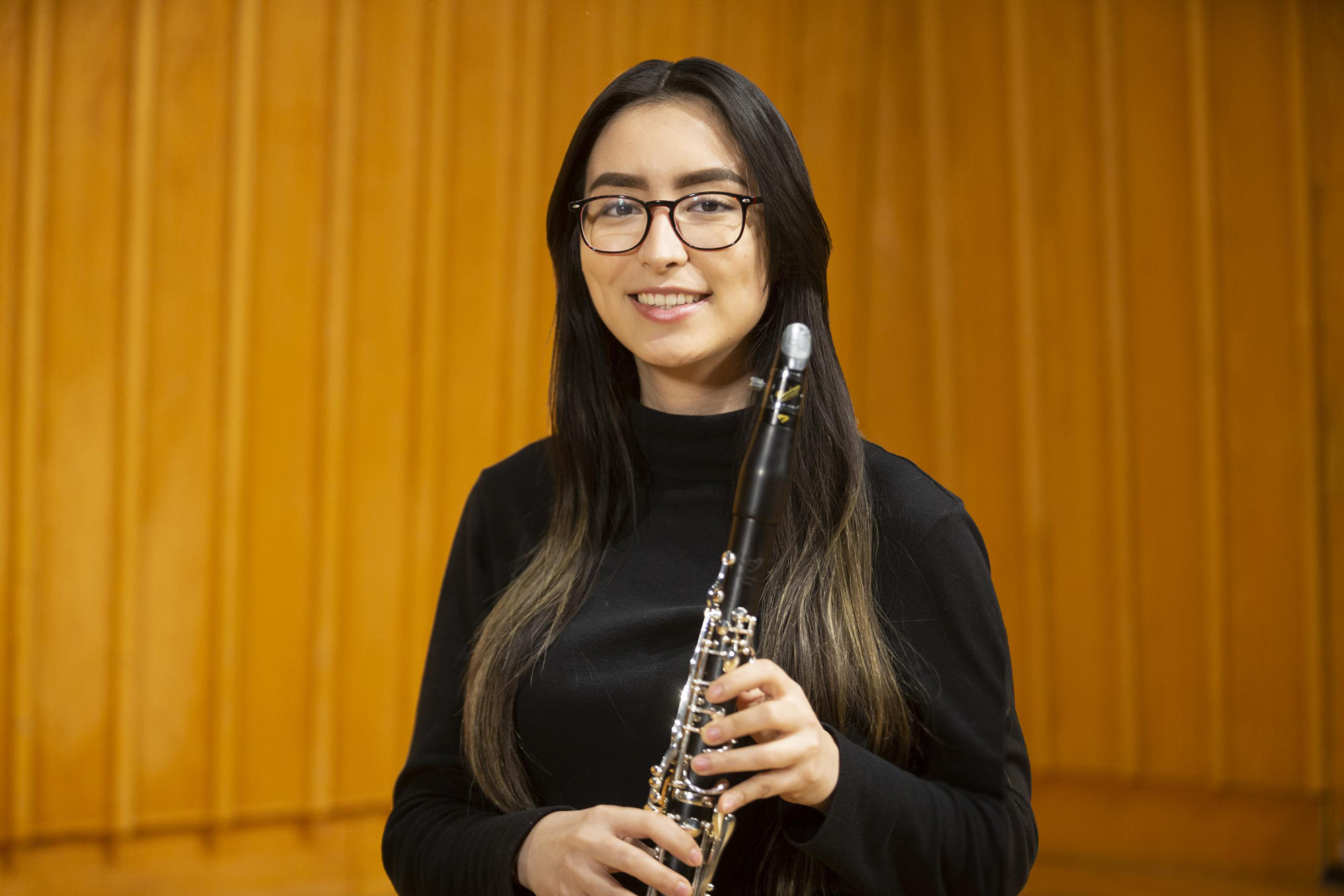 What did you want to be when you were growing up? Growing up I wanted to become a famous singer or actress. In elementary school, I was in choir all five years then joined band in fifth grade. I fell in love with band and decided to continue in middle school and high school. Ever since then, I wanted to do something music related. It was not until senior year of high school, when I realized that I wanted to become a music teacher. Although, singing and acting was not the path I took, NIU still gave me the opportunity to experience them. In my Intro to Theatre class, I had the opportunity to act in a play my classmate wrote. It was a wonderful experience for me to do something I use to dream about when I was younger, even if it was one time. For my major, I am required to take one semester of choir. My first time in University Chorus was so memorable that I decided to stay in the ensemble for four more semesters. I am very thankful that NIU gave me the chance to experience my childhood dreams, as well as giving me the opportunity to chase my new dream of being a music educator.
What is your major (and/or minor) and why did you decide on this course of study? I choose to major in music education because music has been such a huge impact in my life, and I hope one day it can also be a big impact for my future students' lives.
What is your favorite thing about studying and/or playing music at NIU? My favorite thing about studying and playing music at NIU is making connections with the other music majors and getting to work with amazing professors. My colleagues are very kind and helpful towards one another, which is a blessing to have a community like that. My professors are amazing motivators who have always believed in me, guided me, and helped me grow so much in my music career. I am forever grateful for my professors and the friends I have met in the school of music.
Are you involved in any student organizations or extra-curricular activities? If so, which ones? How have they added to your experience as a Huskie? I am a member of Kappa Phi Lambda Sorority, Inc. Our organization strives to strengthen sisterhood amongst women by giving back to the community through service and promoting cultural diversity. Being a member has impacted my life positively, growing both professionally and socially. I have had the opportunity to host events, be a part of the executive board, experience marketing, showcasing leadership skills, and improving time management. Kappa has connected me with a wonderful group of women who have helped me grow out of my shell and strive in college.
Who has been one of your favorite instructors/professors and why? What course do they teach? I have had so many great professors during my time here, but there are three that have really impacted my life. For starters, Dr. Gregory Barrett, he is my clarinet professor (MUSP 222 and 322). Dr. Barrett is an amazing professor who he cares for his students so much, very patient, kindhearted, funny and an amazing clarinet player! He has helped me grow so much as a musician, giving me lots of useful tips and resources for improving my clarinet skills.
The second impactful professor I have had is Dr. Mary Lynn Doherty. I have taken MUSE 342 (University Chorus) and MUED 350/351 (Middle School Methods) with her. Dr. Doherty is the sweetest, kindhearted soul I have ever met. She believed in me when I lost faith in myself. She helped me gain my confidence back when I was at my lowest point and for that I am grateful to have had her as a professor.
The third impactful professor I have had is Dr. Christine D' Alexander. I have taken MUED 174 (String tech), MUED 150 (Intro to Music Ed.), and MUED 352/353 (Secondary Methods) with her. Dr. D' Alexander is such an amazing professor! She radiates positivity, very patient, and inspiring. I love how much she cares for her students, and how genuine she is with us. I always felt at peace in her class because of the positive learning environment she created.
These three wonderful professors have not only helped me succeed in my classes but was there to support me when I felt my worst. They have influenced me so much and made me realize the type of teacher I want to be for my future students. I hope that one day I can make an impact on my students' lives like they have made one on mine.
Why did you choose NIU to study music?  I choose to study music at NIU after coming here for a marching band competition. In my first season of high school marching band, we had the opportunity to compete at the Red and Black Classic, where I saw the Huskie Marching Band for the first time. Seeing the Huskie Marching Band perform their halftime show not only amazed me but also made me realize that I wanted to be a part of that one day.
That competition will always be my favorite memory because it was my first time on a college campus, first time marching on a college football field, and we won third place.
Where is your favorite spot on campus or in the community? Why are you drawn to it? : My favorite spot on campus would the music building courtyard, next to the music library. I like it there because the plants and scenery are so aesthetically pleasing. In fall when the leaves are changing colors, it looks even more beautiful! They have benches out there too, and in between classes I would go outside to sit and enjoy nature.
What do you do to relax or recharge? What I do to recharge is play any instrument, listen to music or watch motivational videos and sermons. Playing an instrument allows me to express myself in ways words cannot and listening to music overall relaxes my mind. Watching these videos recharges my soul because it pushes me to become a better person, reminds me how to live a more positive and peaceful life, and to be thankful for every little thing in my life.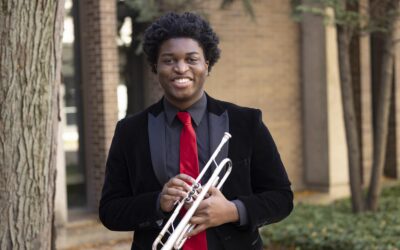 Music Huskie SpotlightHuskie Spotlight: Gabriel Wade, '24, Master of MusicWhat did you want to be when you were growing up?  Ever since starting band and piano class in middle school, I've always wanted to make music a major part of my life. That led to me pursuing a...