Dorothea Bilder, an accomplished artist and educator and longtime philanthropic supporter of the visual arts passed away last week at the age of 81. Bilder was a professor of art in the Northern Illinois University School of Art and Design for more than 35 years, and served as chair of the Drawing, Painting, Printmaking and Illustration Division when it merged with the three dimensional studio disciplines of sculpture, fiber, metals and ceramics in what is now known as the Fine Arts Studio Division.
Bilder earned her bachelor of fine arts in art with an emphasis in painting and printmaking from Illinois Wesleyan University. She went on to receive her master of fine arts in painting with a minor in printmaking from Southern Illinois University. She did postgraduate work at The School of the Art Institute of Chicago, the University of Perugia in Perugia, Italy and La Romita School of Art in Terni, Italy.
She joined the faculty of the NIU School of Art and Design in 1968 as an assistant professor of art and taught foundation drawing, life drawing and art appreciation, and was promoted to full professor in 1972.
"Dorothea left a legacy in the NIU Printmaking program, for which she gave her undivided support and advocacy to this day and for the future," said Michael Barnes, NIU Presidential Professor, Head of Printmaking and Coordinator of Graduate Programs in the NIU School of Art and Design. "She enjoyed a long successful career as a highly prolific artist, pioneering alternative and interdisciplinary processes and introducing water-based screen printing media early on."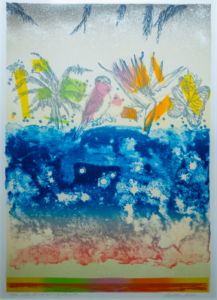 "She was a force in the classroom mentoring many generations of students towards successful careers in the arts. Dorothea was also a leading figure in the community, giving endless time to local and regional organizations and always promoting the arts through her work and outreach. I am proud to have worked with Dorothea as a colleague at NIU and will always be thankful for what she did for me as a teaching mentor and for her unflinching support as a colleague and friend."
Bilder retired from NIU in 2003, but remained a presence on campus through exhibitions in the NIU Art Museum, visits to Jack Arends Hall, the home of the visual arts at NIU, and through her giving to the university. She established the Dorothea Bilder Endowed Design Scholarship Fund and the Dorothea Bilder Endowed Fine Arts Studio Scholarship Fund.
Bilder said that her interest in painting and printmaking came from her father, Angelo Konstantin Bilder, an internationally known artist who took Dorothea to classes at The Art Institute when she was young. Her sister, Chryssie Bilder Tavrides is also an artist.
In a story for NIU Today she talked about her creative process as she was preparing an exhibition and 10-day workshop in printmaking at the Universidade Federal de Paraiba in Brazil in 2002.
Bilder's abstract works feature landscapes and flowers to compare and contrast what goes on in nature, including human nature. Her layered pieces — painting combined with printmaking — represent "different relationships and trials and tribulations that we as human beings go through in our lives."
She begins with a canvas layer, which she paints, and then laminates pieces of printmaking to the canvas. She tops that with delicate layers of rice paper, representing skin, and paints more on that.
"We pile up thoughts and relationships and concepts and people in our lives and events and travels," she said. "All of this becomes who we are and what we are."
Dorothea reflected on her time at NIU in an interview in 2019 on the 50th anniversary of Jack Arends Hall. She said she began her college education at NIU before transferring to Illinois Wesleyan where she could focus more on painting and printmaking, opportunities she helped create for NIU art students when she returned as a faculty member.
"I always had a way of working with people," she said. "To help students find and focus on what they did best and were meant to do. I enjoyed every minute of it. It was a lot of fun. I would just like to be remembered as someone helped move art [at NIU] forward."