Huskie Spotlight: Nicholas Haddock, Music Education and Saxophone Performance, '22
What did you want to be when you were growing up? Growing up, I knew I wanted to teach music.  I used to watch my middle school director conduct the band everyday, and I knew that was exactly what I wanted to do.  I can proudly say that this is what I am doing now, what I plan to pursue a career in, and do for the rest of my life.
What is your major (and/or minor) and why did you decide on this course of study? I am majoring in Music Education and Saxophone Performance.  I chose to study these majors because I've always enjoyed teaching and I love to perform.  My personal goal is to educate on the importance of a quality musical education, as well as change a student's life and help them find something that they can pour their heart into.
What is your favorite thing about studying and/or playing music at NIU? I enjoy the challenge that the music courses offer.  I've never thought of music education as being a "simple job" and after witnessing just how much work truly goes into this degree, I'm all the more eager to begin fully teaching.  I enjoy the studying because it's about content that I feel is extremely relevant to this study, even if it's a lot of information to learn.  As for performing, each project and piece I take on becomes harder and harder, and that only pushes me further in my abilities as a saxophonist, making me a better musician.
Why did you choose NIU to study music? The biggest thing that drew me to NIU was my saxophone instructor, Dr. Thomas Snydacker.  Most colleges I reached out to responded with simple things, such as a pamphlet.  However, Dr. Snydacker reached out personally with an email asking if I would like to come to the campus to attend a studio class with him and receive a lesson.  Because of this, I became really interested in NIU and their classical saxophone studio.
Who has been one of your favorite instructors/professors and why? What course do they teach? I cannot decide on just one person. 
One of my favorite instructors is my saxophone instructor, Dr. Thomas Snydacker.  Even though we meet once a week for sixty minutes, the amount of information I learn from him is unbelievable.  Through the music I'm working on to knowledge about the saxophone, Dr. Snydacker pushes me to be the best musician I can be.
My other favorite instructor is my Wind Symphony director, Dr. Thomas Bough.  I feel he is an excellent model when it comes to teaching seen through his hard work and dedication, as he spends tons of time preparing to teach outside of his classes and ensembles.  In addition to this, he still finds the time to develop personal relationships with his students. He constantly looks for ways that his bands could improve, and that is the kind of mindset I think one needs as a teacher. 
I came here to learn about saxophone and music education, and these two professors have made sure of that by providing me with the best education they can.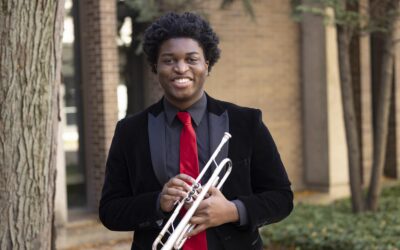 Music Huskie SpotlightHuskie Spotlight: Gabriel Wade, '24, Master of MusicWhat did you want to be when you were growing up?  Ever since starting band and piano class in middle school, I've always wanted to make music a major part of my life. That led to me pursuing a...