Huskie Spotlight: Kirby Fellis, Jazz Studies, '23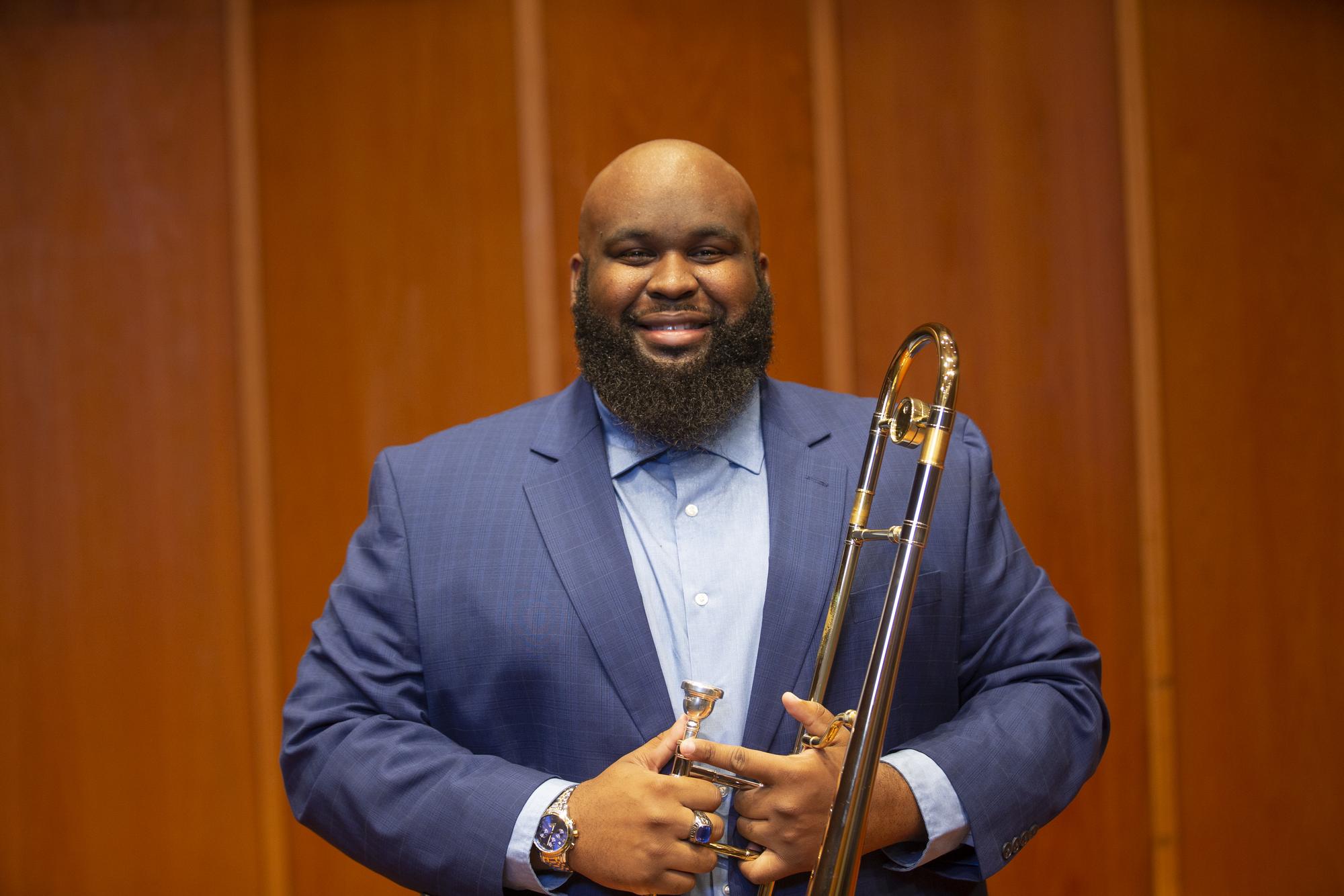 What did you want to be when you were growing up? As long as I could remember I've always wanted to be a musician. As a young man I thought all the girls liked drummers, so I wanted to play the drums, however in middle school we didn't have any trombone players and six drummers… and the rest is history. I am following my dreams, and I will achieve them.
What is your major (and/or minor) and why did you decide on this course of study? I am a Graduate Assistant in the Jazz Studies field. Professor [Reggie] Thomas as been instrumental in my development as both a musician, and I felt spending time under is tutelage learn to teach would be invaluable. I also have been looking forward to studying under Professor [Tom] Garling improve my skills at jazz trombone and arranging.
What is your favorite thing about studying and/or playing music at NIU? The students in the School of Music at NIU are sensational. Both as musicians and people. I haven't had this much fun working hard ever in my life. It's not just a school for us. We are all healing from this pandemic together and it's brought us close together
How have you connected with other students at NIU? Great! I call tell I've already made life long friends. One being my good friend Arman: incredible musician, even better human being.
Are you involved in any student organizations or extra-curricular activities?  I am the graduate representative for the DEB (Diversity, Equality, and Belonging) Committee. I have had a great time not only learning about how NIU is combating systemic racism, and bigotry, while also learning about equality in a ways that I have never before.
Why did you choose NIU to study music? I chose NIU to study music, because of Prof. Thomas, and Prof. Garling. Everything else is just icing on the cake.
Who has been one of your favorite instructors/professors and why? What course do they teach? Prof. Thomas has been my favorite instructor. He teaches Jazz Orchestra, Jazz Combo, and quite a few other classes in the spring. I have worked in ensembles with some of the best jazz orchestra directors in the world. Rodney Whitaker, Etienne  Charles, Christopher Dorsey, and quite a few more. The way that Prof. Thomas approaches the music so organically and unapologetically honest. He's taught me so much in just three months. I'm excited to see what else I will learn while I'm here
Where is your favorite spot on campus or in the community? Why are you drawn to it?  My favorite spot on campus is the Music Library. In order to get all the information I need to write papers and learn arrangements of music. The Music Library has what seems to be an endless source of information on so many topics I'm interested in. There is also the fact that if I want to get away from  all the work of being a graduate assistant, sitting in silence while reading a book is quite tranquil.
What advice would you give to a student who is applying to colleges? We would love to have you, but come ready to work. We are all trying to improve and hope for your success.
Coming to college, what is something that you have had to learn to do differently? Cope with stress, and the anxiousness that I have developed over the pandemic. It's been great having so many amazing people around. I take personal time each day just to check on my mental health, and it makes all the difference.
What do you do to relax or recharge?  I call my momma, and we chat. I also like to listen to Stevie Wonder and crochet.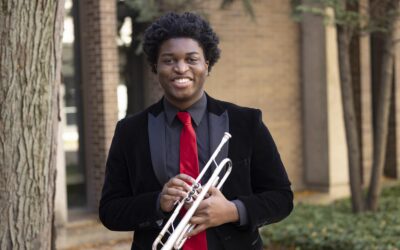 Music Huskie SpotlightHuskie Spotlight: Gabriel Wade, '24, Master of MusicWhat did you want to be when you were growing up?  Ever since starting band and piano class in middle school, I've always wanted to make music a major part of my life. That led to me pursuing a...