Every year seniors in NIU's College of Engineering and Engineering Technology engage in a year-long design project that involves creating or improving commercial products or industrial processes. They are mentored by faculty and industry professionals to get hands-on, real-world experience. This year, three of those projects were the result of proposals written by College of Visual and Performance Art faculty who then served as project mentors.
Gregory Beyer, professor of music and director of percussion studies worked with "Team 35" as they designed a berimbau, an Afro-Brazilian percussion instrument, traditionally made with one string.
Yuko Asada, musical instrument technician, assistant director of the NIU Steelband and director of the Community School of the Arts Steelband worked with "Team 51" as they sought to create a method to mechanically forge the construction fo the steelpan, a process that when done manually can be physically taxing.
Kelly Gross, instructor in the Art Education department in Disability Studies and Technology, mentored "Team 44" on creating a photography system for persons with physical differences.
Design of Berimbau Instrument
"I am delighted to report that the year of work in pursuit of developing a two-string model of an Afro-Brazilian berimbau, a traditional one-string musical bow, has produced remarkable results," Beyer said. "Not only have we created an instrument that allows one performer access to a wider and more complete compass of pitches, we have also developed an instrument with a unique timbral profile."
Team 35 was made up of CEET seniors Michael Joseph Abukhader, Matthew J Hasto, and Clayton Lee Smith.
Mechanical Forging for the Construction of a Standardized Steelpan Instrument
Part of NIU's world-renowned Steelpan Studies program involves the actual building of the instrument, and Yuko Asada sought help from Engineering to help automate the process. "Steelpans are all hand made," she said. "The most high tech tools we use are pneumatic hammers. It takes a long time for us to create steelpans, and it also causes a lot of strain on the wrists, hands, arms, really the entire body to make them. An automated process would make it faster and easier, and it would also cut down the time that we're exposed to the noise and vibration as we make them."
The design team created a machine that used an increment forming process to build one of the small pans. Asada was pleased by the results, though the process still needs some fine "tuning."
"The issue we encountered is that each note isn't isolated, so when you strike a note the surrounding area rings," she said. "So there are some things that can be improved, but as a first step it's very exciting."  She said she hopes next year another senior design project team will take on the next step in the process to get closer to the long-term goal of being able to mass produce steelpans which will allow us builders to concentrate on tuning the instrument.
Asada said she was very impressed by the knowledge of the Engineering students and how easy they were to work with. "Being able to work with students from another college and work with those who have the knowledge I don't have was something I really enjoyed."
Team 51 was made up of CEET seniors Gabriel Gandara, Nicholas Grimes,  and Josefina Buan.
Photography System for Persons with Physical Differences
Gross submitted a proposal for a senior design project to create an adaptive tripod for wheelchair users. Gross helped set up interviews with the design team and wheelchair users to provide specifics about the factors to consider in developing a tripod that meets the users exact needs.
She worked to familiarize the design team with the kinds of equipment the photographers would be using and the challenges that issues with lack of hand strength or range of motion provide and would need to be factored into the design.  The design team used all of that information to create a prototype mount for a tripod controlled by a remote.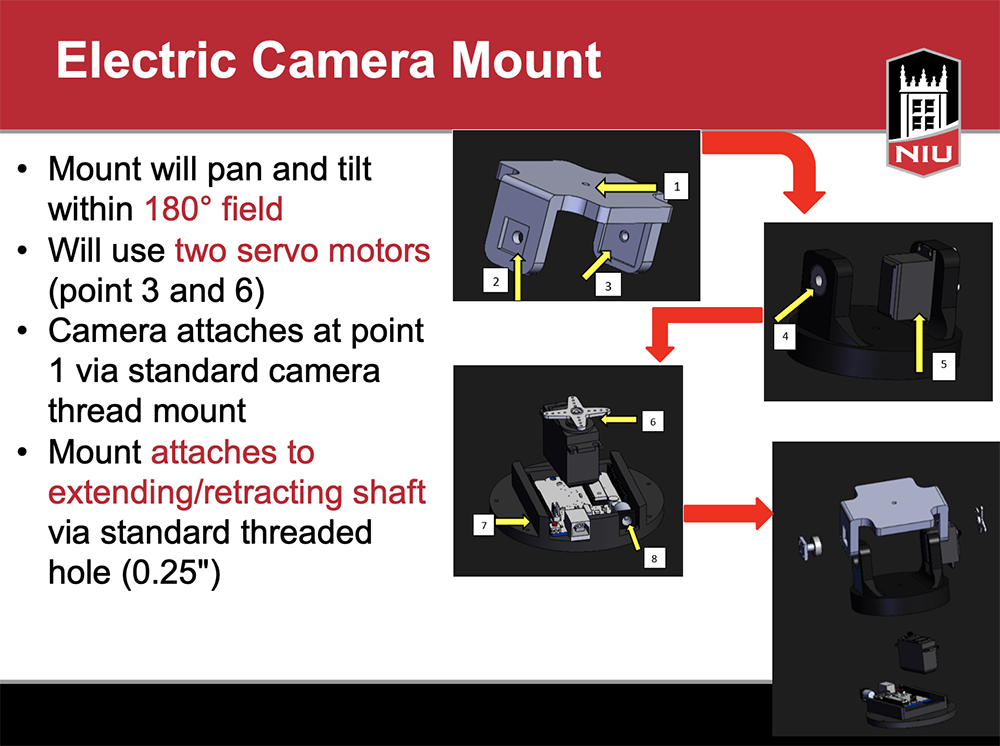 Gross said the next step in the process will be to create functionality to control the tripod's movements through a phone app instead, similar to the way users are able to control their DSLR phones.
"One of my goals with this project, which was met was to open their minds in terms of engineering in terms of accessibility," she said. "The conversations they had with wheelchair users and people with physical disabilities really helped them understand limitations. In terms of moving forward as engineers and thinking of accessibility in the arts and in all aspects of life, I think the project was really successful."
Team 44 was made up of CEET seniors Daniel Avila, Daisy Hernandez, and Malak Zayed.