For Jermaine Stegall, composing the music for the long-awaited sequel to the Eddie Murphy hit movie "Coming To America" came with a set of challenges, seen and unforeseen, but the final product reflects a film where music is as much of a character as any of the recognizable faces on the screen.
Stegall is a 2000 graduate of the NIU School of Music with a Bachelor of Music in saxophone performance and composition. He went on to earn a master's at North Texas University and completed the University of Southern California's Advanced Studies in Scoring for Motion Pictures and Television program.
His process for "Coming 2 America" started with creating demos for the cast and crew to use as they shot.
"There are a lot of musical moments in the film," Stegall said. "The director, Craig Brewer, is very musical, and he loves music. He always uses music very purposefully, and he mentioned he would love the opportunity to use themes in the movie. We dove straight in with having very distinct sounds for the very specific characters, as well as giving a nod to some recognizable music from the first film, specifically the song, 'Coming To America.'"
Music was a huge part of the original movie, but the sequel takes it even farther. "They literally needed music to shoot to on set," he said. "There are dance sequences, and there are percussionists on set. I was given the nod to the things they were going to need and I read the script. Based on those descriptions, I ended up creating music that ended up working. Sometimes it might be a groove that was similar to a song that's coming up, or to set something up in that way, or even a choir that you see on screen."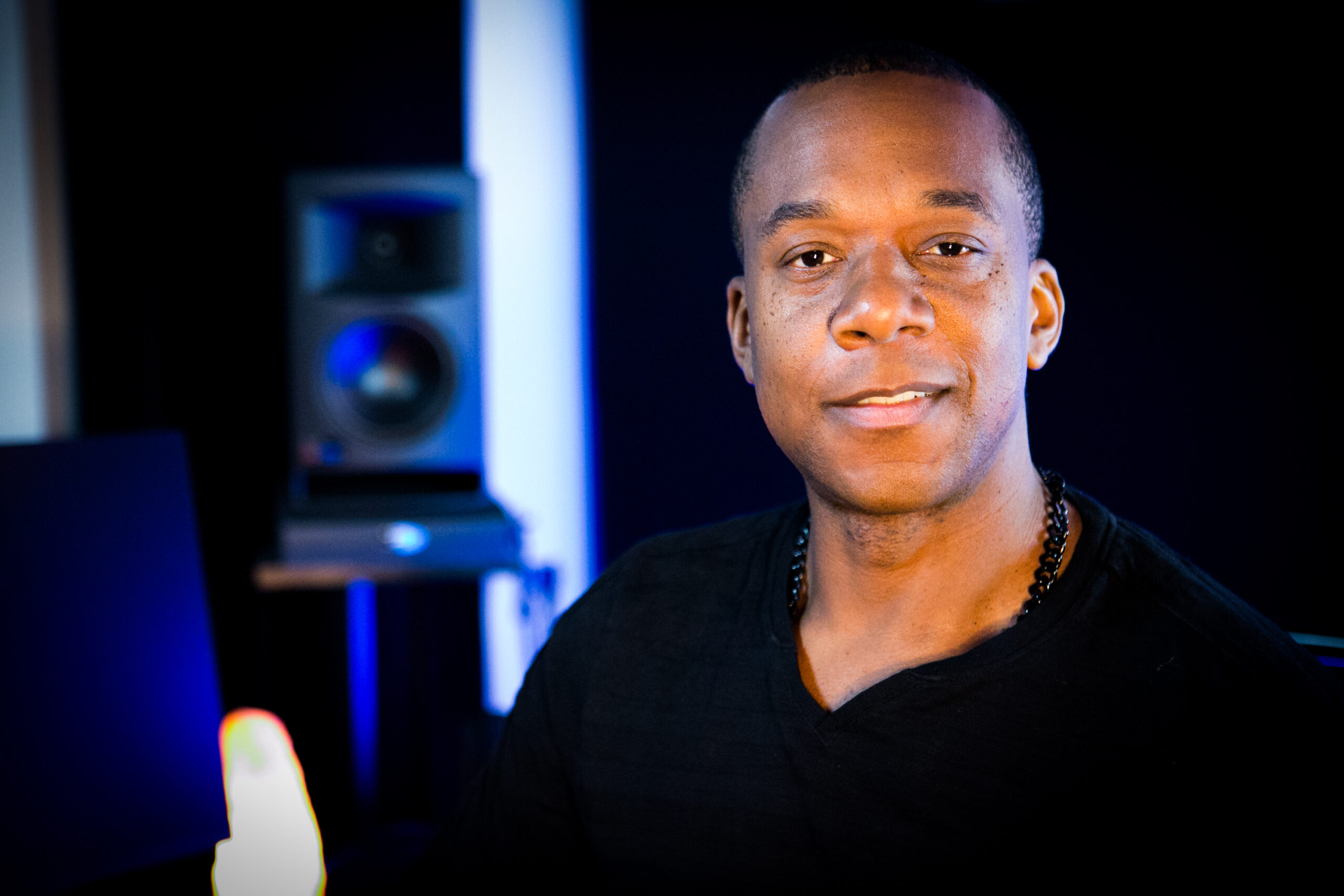 Photo: Jermaine Stegall
Major portions of the movie are set in a fictional African country, and being on set helped Stegall immerse himself. "You walk onto that set and feel like, OK, I'm not just on the set, I'm in this place called Zamunda. We're here. We're in a place you can actually touch. The producers talked a lot about having a distinctive sound for Zamunda, and the sky was the limit."
Stegall got his first assembled cut of the film in January 2020, not yet aware of how COVID-19 would affect the rest of his process. The film was originally scheduled to open around Christmas 2020, and that date continued to be the goal as restrictions due to the pandemic were put in place.
"We spent February talking about themes and March is when I started tackling entire scenes of the movie and making decisions about how a scene would work as opposed to, here's some music, let's see how it fits," he said. "But then as it came time to record, I was told I'd would have to record all of my woodwinds at home, then drums, percussion, bass, guitar, harp all had to be recorded at home. I had this idea for using a choir to do African chants, which you hear in the film, but it ended up being a more intimate approach. I used five vocalists, and they had to record at home. Then I had to assemble all the different elements. You really want your woodwinds to compliment strings in terms of how they're used in an orchestral setting. But the safety protocols meant they had to be separate. So, we had Zoom calls with each section that had to record remotely. The string section had to be separate from our brass. They had to be recorded on different days. Every member of the orchestra had to get tested for COVID and our director couldn't attend the sessions.
"Our music editors are basically essential workers in the scoring process. They had to watch via Zoom and chime in. They're people who are responsible for making sure we're getting all the takes that we need, all the energy that we need from a certain story point, like giving advice about how the cue came across in terms of recording."
When Stegall says everyone was recording "at home," he means just that.
"I was in North Hollywood where my studio is," he said. "The performers, some of them were in their bedrooms. One of our flute players was on an island in Hawaii. Some hired engineers to help run their session, control their computer from another location. This was a massive, massive project. It definitely took a village to raise a child as it pertained to this score."
Former NIU School of Music student Donald Barrett (1996-1998) is a featured drummer playing drums/African drum kit on the score.
As with many major movies, "Coming 2 America" is not getting a theatrical release. Instead it will premiere March 5 on Amazon Prime Video. But Stegall said he's not necessarily disappointed the film isn't getting a traditional release.
"This movie would have killed it in theaters in terms of how it plays with an audience," he said. "But we are able to share it with millions of people, as opposed to the current limitations of a theatrical release with 25% capacity."
Stegall also contributed music to the Kurt Russell film "Christmas Chronicles 2" that premiered on Netflix in December. He had worked on the original film, as well. Next up for him is a supernatural thriller for Universal Pictures. "It's a complete 180 from the comedic, romantic, sweeping fantasy movie that we've just done. I think it's sure to turn heads. It will include my love of sound manipulation, instruments not sounding like their true selves and probably be a little bit scary, too."
Stegall looks back at his time at NIU and is appreciative of the support he received from faculty and other students.
"I knew what I wanted to do, but I didn't know quite how to get there. That's the biggest mystery. You're in the Midwest and working on the coast is what you want to do. How do you get there?"
He charted his path to Hollywood from NIU, with a necessary detour. "A lot of the NIU music faculty had gone to the University of North Texas. So when it didn't work out to go straight to USC after undergrad, I was able to go to UNT for my master's and develop the portfolio I needed."
Stegall fondly remembers the final project of his senior year at NIU. A 30-minute, film music inspired orchestral concert.
Photos: Jermaine Stegall's March 25, 2000 film music inspired concert at the NIU School of Music. The first half of the concert was held in Boutell Memorial Concert Hall, the second half in the Large Ensemble Room. 
"It wasn't a requirement," he said. "I just did it as part of my farewell. NIU had the tools available that if you used your brain and a little ingenuity and did some legwork, you could create something special. In my case, this was something I wanted to do. Also, dance was something very important to me, and you can see that in a movie like 'Coming 2 America.'"
"Before my concert at NIU I went to a dance class. I didn't know anyone, I just literally knocked on the door during a class. I told them I know it sounds crazy, but I would like some dancers for the introduction to my recital. There was no rehearsal, I just asked them to wear red and show up and when they heard the music to start dancing. Some of the dancers showed up in red and black and it was just magical. That's a great aspect of studying at a place with all these different kinds of resources. You can create part of your own education. And now, I find myself in situations where we're shooting and things, musically-speaking are being changed right on set. It all works out when you are willing to take chances. I've experienced making things happen with a few talented people by taking risks and trying things and seeing what happens."