As NIU and the world around us deals with a global pandemic, artists continue to find ways to express themselves. In the College of Visual and Performing arts the learning and teaching hasn't stopped, it's simply evolved to meet the needs and limitations of the situation. Over the coming days, we'll be featuring how NIU students, alumni and faculty in the arts are continuing to do what they love. View the entire collection of NIU Artists. Never. Quit. submissions. 
Gregory Beyer, Director of Percussion Studies, NIU School of Music
The last two months have been a testament to the tenacity of everyone in our NIU community. Despite facing unprecedented uncertainty, fear, frustration, and even moments of panic, no one stopped growing. Students, staff, faculty, and administration each played important roles in continuing our university's educational mission.
Like everyone else on campus, for Spring Break NIU percussion students had dispersed. Some went home, some went on vacation, and some stayed put and continued coming to the Music Building to practice for upcoming recitals. Yet only days into the week, all of us watched institutions begin to shut down across the country. In response, NIU Percussion Instructor Ben Wahlund and I began communication with several percussion students who had left campus and discovered that several were uncertain whether to come back to DeKalb after break.
Ben and I put together a survey to compile a list of student needs for any NIU percussion equipment to facilitate continued practice off campus. At first we received about half a dozen responses. However, when Governor JB Pritzker announced Illinois's stay-at-home order and within a matter of hours President Lisa Freeman announced how NIU would follow suit, we sent the survey to the entire percussion studio and let everyone know they had twenty-four hours to make instrument requests. Survey responses jumped from six to 23.
We quickly organized a schedule that provided every student a 30-minute window to pick up requested instruments over that Friday and Saturday until 5 p.m. We spent those two days packing up most of NIU's marimbas, vibraphones, xylophones, and snare drums, and even some of our personal equipment, and helped load them into student vehicles. We administered NIU Property Control equipment off-campus request forms to create a paper trail of accountability, and the students understand that the safety and maintenance of the equipment in their possession is their responsibility until its safe return to campus.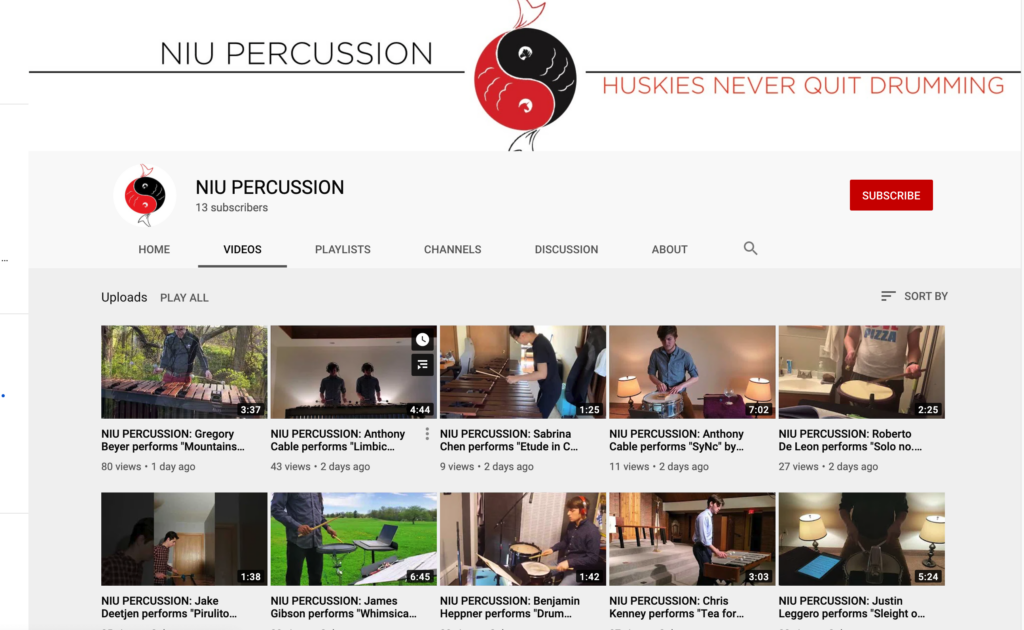 Since the end of our extended spring break, our percussion students and School of Music community have paid tribute to our motto that "Huskies never quit." When Ben suddenly experienced a traumatic health episode, the School of Music community, led by Director of Athletic Bands and Wind Symphony Tom Bough, rallied around him in a show of tremendous support.
At the conclusion of weekly online lessons, students were tasked with taking on the role of their own film director. Last week, each student created a final video submission for juried evaluation. What the students succeeded in achieving is nothing short of remarkable. To highlight their achievements, the NIU Percussion Studio has constructed the NIU Percussion YouTube Channel, and we invite you to enjoy the fruit of their labors.
The percussion studio gathered one last time on Friday, May 8, at 10 a.m., to enjoy each other's company and to ask each student to speak about their work and their experience these past two months as we took in each video together. Despite having fallen ill, Ben Wahlund penned an incredible 4.3-octave marimba four-hands composition, "Limbic Systems," knowing full well that many students would be at home right now without access to the now standard 5.0-octave instruments that have remained in the Music Building. Graduating Percussion Performance student Anthony Cable took it upon himself to play both parts himself as rendered in this astonishing video.
Music Education student Ethan Patterson reflected, "I think all of us have been dealing with loss in some way during this pandemic. For that reason, I chose the marimba solo, "Strive to be Happy" as a way of countering that sense of loss with building a work of self-care and joy."
At that meeting the students, Ben Wahlund, and I were joined by former NIU Professors of Percussion, Rich Holly and Robert Chappell, each of whom offered words of wisdom and advice to the students, in particular to those graduating. We took time to celebrate our graduating students, surprising them with a set of three "virtual backgrounds" for everyone's video window.

Giving the students the opportunity to meet and hear from Rich and Robert was important. We intend to offer our students a sense of their active participation in and connection to not just their immediate community but to the fifty-seven-year legacy of percussion studies at NIU. The great teachers that began and developed the studio that we have inherited are part of our spiritual family and lineage. Robert Buggart, G. Allan O'Connor, Cliff Alexis, Rich Holly, Robert Chappell are peaks in the percussive mountain range of northern Illinois. To underscore that notion, as a final offering at this past Friday's meeting, I offered the students this video performance of Chet Atkins' wonderfully soulful tune, "Mountains of Illinois."
Are you a student, alumni or faculty member in the NIU College of Visual and Performing Arts with video of yourself performing or creating, or photos of a finished product? Use this form to share it with us.