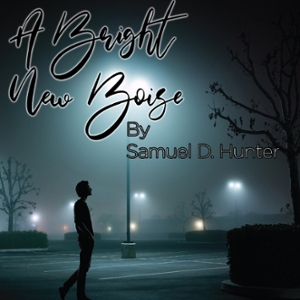 The NIU School of Theatre and Dance presents, "A Bright New Boise" by American playwright Samuel D. Hunter.
Get ready…in the parking lot of a mega arts and crafts store in Idaho, the Rapture is coming. Or is it? In this intimate comedic drama, five small-town residents come together at the local Hobby Lobby – all searching for something. Will, the newest hire, seeks atonement; Leroy seeks shock through his art; Anna seeks a dramatic ending; Pauline seeks order out of chaos, and Alex seeks belonging — to someone, somewhere in the weird beautiful American West.
The heartbreakingly funny reunion of a father and son at a big box retailer shifts into darker territory as the characters grapple with each other's idiosyncrasies and, more telling, with what it means to believe. At the end of the day, these deeply felt lives of people we all know are just trying to do the best they can. A Bright New Boise is at once a laugh out-loud comedy and an introspective play that questions our notions of faith, forgiveness, and second chances.
Performances will be held in O'Connell Theatre in NIU's Stevens Building, over two weekends, February 7, 8, 13, 14 and 15 at 7:30 p.m. with a 2 p.m. matinee, Sunday, February 9. Tickets are available online or at the NIU School of Theatre and Dance Annette Johns Box Office in the Stevens Building.