The Avalon String Quartet will present the complete Beethoven Quartet cycle over six concerts, beginning December 6, 2019 and running through December 2020, in celebration of Beethoven's 250th year.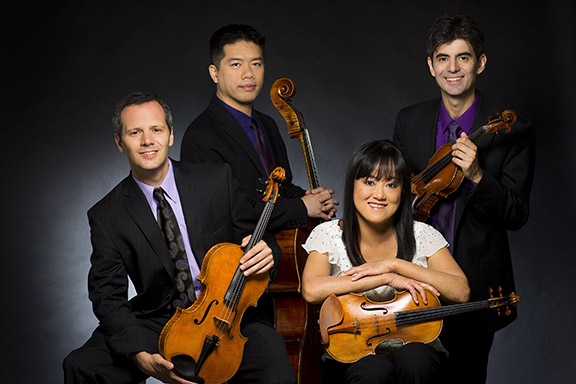 In many ways, the Beethoven cycle is the ultimate goal for any classical string quartet. These quartets were written over the entire course of Beethoven's career, culminating in the late quartets: five profound works written at the very end of his life.
Misunderstood during his time, these last works were written when Beethoven was completely deaf, revealing the complex inner life of this famously irascible and indrawn man. They are extraordinarily original, well ahead of the conventions of their time, and still sound strikingly modern today. The Avalon last performed this cycle during the 2011-2012 season.
This project will be uniquely framed by the addition of short new compositions commissioned by the Avalon Quartet, six "Bagatelles" by six different composers that are inspired by Beethoven's six early string quartets, which comprise his Opus 18. The Bagatelles will serve as transitions between the first two pieces on each program, and offer contemporary commentary on these great works from over 200 years ago.  Bagatelle composers include Carl Schimmel (Illinois State), David Maki (NIU) and Matthew Quayle (NYU – Abu Dhabi).
Each of Beethoven's sixteen quartets is crafted with complete originality, and the cycle reveals great advances in structural form.  NIU students, including those studying Beethoven and other masterworks from the chamber music canon, will have an invaluable opportunity to hear these great works as a cohesive whole in a live setting.
This cycle will be presented in its entirety at Boutell Memorial Concert Hall at NIU, at Ganz Hall in Chicago, and at the Mendelssohn Performing Arts Center in Rockford.
2020 Beethoven and Beyond Series at Northern Illinois University
All performances will be held at 8 p.m. in the Boutell Memorial Concert Hall
Tickets are $5 for adults, $3 for students and can be purchased online or at the door.
Part I

Friday, December 6
Beethoven Quartets Op. 18 No. 1, Op. 95, Op. 130
Carl Schimmel Bagatelle I
Thursday, February 27
Beethoven Quartets Op. 18 No. 2, Op. 127, Op. 59 No. 2
Matthew Quayle Bagatelle II
Thursday, April 2
Beethoven Quartets Op. 18 No. 3, Op. 74 Harp, Op. 131
David Maki Bagatelle III
Dates and times for Part II of the Beethoven and Beyond Series at Northern Illinois University will be announced Summer 2020.
For a complete list of Avalon String Quartet performances at all locations visit avalonquartet.com/performances.