Al O'Connor, a longtime professor of music, and the founder of the world-famous NIU Steelband, passed away June 9 in DeKalb at the age of 75.  A memorial visitation will be held Friday, August 2, at First Lutheran Church in DeKalb from 4-6 p.m., and a musical celebration of his life will be held Saturday, August 3, at 3 p.m. in Boutell Memorial Concert Hall in the Music Building on the NIU main campus.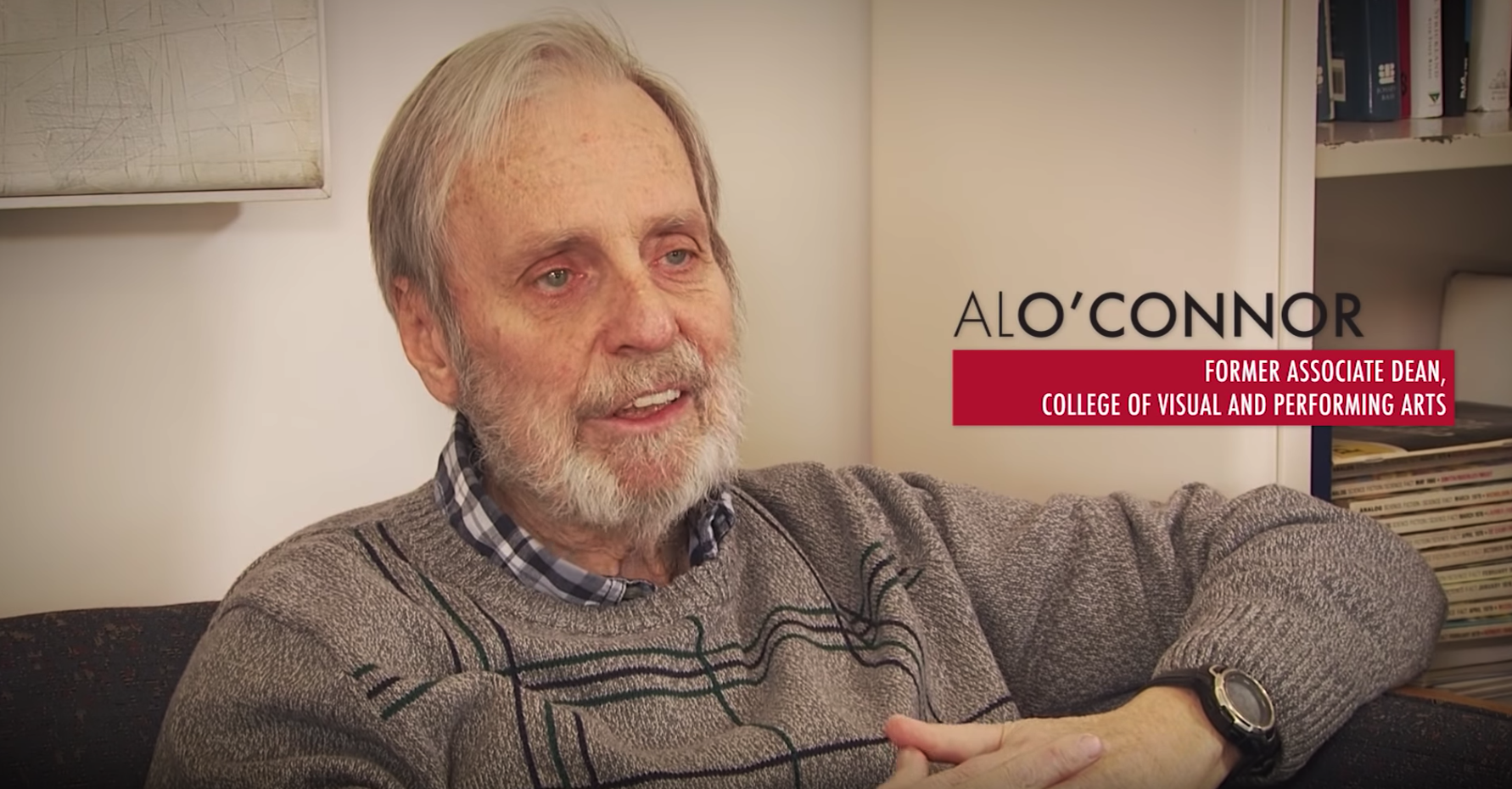 O'Connor came to NIU in 1968 to teach percussion and directed the Steel Band for 30 years. He also spent parts of his career at NIU as assistant director of the School of Music and associate dean of the College of Visual and Performing Arts.
In an interview he did before retiring from the dean's office in 2000, he talked about how the drums were always his first choice of instrument, though not necessarily that of his parents.
"I just had this thing in my head that I wanted to play the drums, and that was it," he said.
He first took up the clarinet. Then the trumpet. Then the accordion.
In fifth or sixth grade, he told his school music instructor that he wanted to join the drum class — without mom or dad knowing.
In high school, when his parents suggested to a guidance counselor that Al's future lie in chemical engineering, the future director of the world renowned NIU Steel Band stunned everyone by announcing he'd rather play music.
"I was out here at NIU about 10 years before they saw that, yes, he is going to make a living at music and be able to support his family," O'Connor said with a laugh.
O'Connor first played a steel pan while a graduate student in music performance at the University of Illinois at Urbana-Champaign, although he knew little about its sound or how to play it. On his honeymoon in the U.S. Virgin Islands, he discovered what he had been missing.
"I heard that first 16-piece band, and it just blew my mind," he said. "I bought an instrument, took it home and taught myself how to play it."
Forming a steel band was on his mind when he came to the NIU music department at age 24, but it took him five years to assemble a set of instruments. In 1973, after one of his students located some during a trip to the Caribbean, the first collegiate steel band came to life.
The band's off-campus performances began a few years later when a music teacher from a middle school in Aurora invited O'Connor and his students for an all-school assembly.
Screams of joy from the 1,500 children inspired O'Connor.
Afterward, he booked a 10-day tour of public schools in his old stomping grounds in New York. The band made the trip four consecutive years, one of those playing for 18,000 fans in Yankee Stadium at a New York Cosmos soccer match.
In 1985, O'Connor coaxed Cliff Alexis to DeKalb to build and tune steel drums and to help in arranging music and teaching the band. In 1987, he established a curriculum in music with pan as the primary instrument. In 1989, while judging a high school steel pan competition in Trinidad, O'Connor and Alexis first heard Liam Teague, who later came to NIU to earn his bachelor's and master's degrees.  Teague is considered one of the best and most accomplished steelpan performers and composers in the world, and is the current director of the NIU Steelband as well as professor of music and head of steelpan studies at NIU.
In the summer of 1982 he developed the Steelband program at Birch Creek Music Performance Center in Door County, Wisc., and directed it every summer until 2012.
O'Connor received a Lifetime Achievement Award from the Percussive Arts Society in 2014.
In March 2017, O'Connor helped recount the beginnings of the NIU Steelband in a group interview conducted by current Dean of the College of Visual and Performing Arts Paul Kassel, along with Cliff Alexis, longtime program supporter Les Trilla, current directors Liam Teague and Yuko Asada, and former administrative assistant to the associate dean Dianne Gautcher.
Full obituary: George Allan 'Al' O'Connor