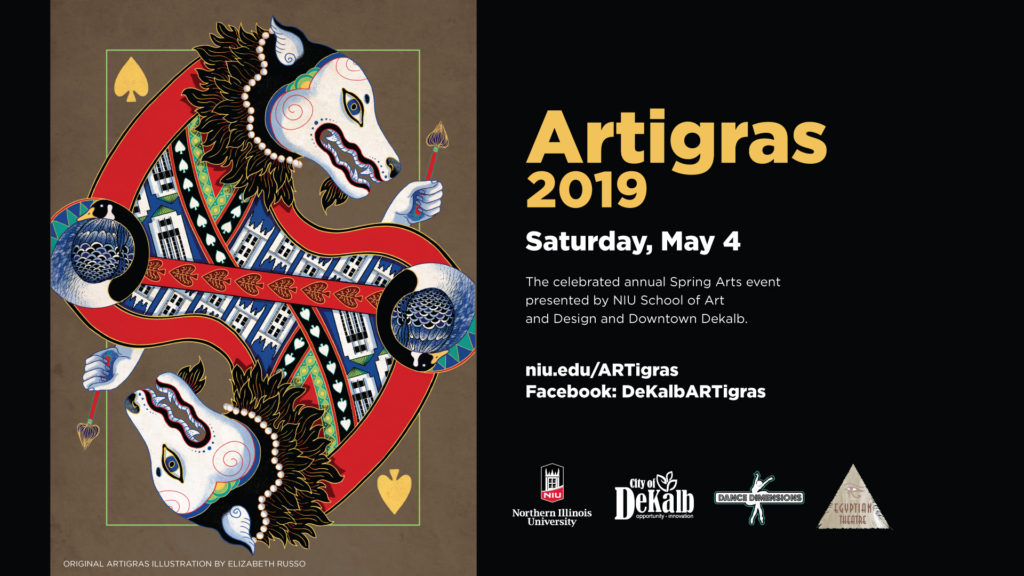 ARTigras is an annual event developed by the NIU School of Art and Design in partnership with the City of DeKalb to create a fun and creative celebration of the arts – something new for the area to bring our community together. The first inaugural ARTigras took place in May 2015, hosting hundreds of participants and attendees. We look forward to sharing this annual arts celebration with the NIU and DeKalb community members.
Student Exhibitions and Art Walk
On Saturday, May 4 starting at 3 p.m., join NIU Art and Design students for the spring end-of-the-semester celebration of art exhibitions! Continuing and graduating NIU students will showcase artworks, designs and crafts on campus and in our Fourth Street downtown gallery. All exhibitions are free and open to attend.
The Kishwaukee Symphony Orchestra will present their annual spring concert, in the NIU Boutell Memorial Concert Hall at 7:30 p.m. Tickets are now on sale!
View our calendar of events for a complete listing and event details.
2019 Poster Design Winner
Each year we showcase NIU's student talent, Elizabeth Russo is our winner for a second year in a row! Elizabeth is a junior Illustration major, "I am thankful for the illustration program at NIU because of their constructive criticism, insight into professional commercial illustration, and the ability to prepare students for the job world, especially when it comes to deadlines. I'm happy to have this opportunity to start showing my illustration to the public."
ARTigras Calendar of Events
Saturday, May 4, 2019
Time
Artist
Location
3-7 p.m.
NIU Art Museum
Altgeld Hall (first floor)
3-4 p.m.
Foundations Students Showcase
School of Art and Design (third floor)
3-6 p.m.
Samantha Mendoza, M.F.A. Show
Anette and Jerry Johns Gallery
School of Art and Design (second floor)
4-6 p.m.
Senior B.F.A. Exhibition
Jack Olson Gallery
School of Art and Design (second floor)
4-7 p.m.
NAEA Student Chapter-Art Sale
School of Art and Design Building
Outside Entry Way Portico
3-6 p.m.
Print Show
"Breaking BordersPortfolio Exchange"
BackSpace Gallery
School of Art and Design (ground floor)
3-8 p.m.
Art and Design Education Senior Showcase
School of Art and Design (second floor)
6-8 p.m.
Senior B.A. Exhibition
215 Gallery
215 Fourth Street, DeKalb
5-8 p.m.
Ceramics Arts Organization
Last Chance Pottery Sale
215 Gallery
215 Fourth Street, DeKalb
7:30 p.m.
Kishwaukee Symphony Orchestra Spring Concert
Aaron Copland: An American Icon
Boutell Memorial Concert Hall
NIU Music Building