Three students from the School of Art and Design were the finalists in this year's Student Holiday Card Contest. The winners were selected by NIU President Lisa Freeman to "showcase the incredible talent that NIU students possess."
The artists behind the winning artwork will all receive scholarships for their designs. The first place entry will be featured as the official university holiday card.


First prize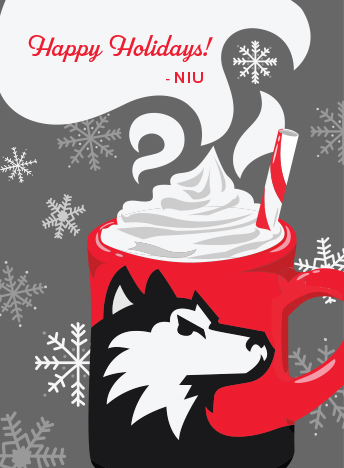 Warm NIU Wishes
Amber Naskrent is a junior visual communications major from Belvidere, Ill.
"For my submission, I wanted to create a bright and festive image in a simple and clean way utilizing the techniques I've learned as a designer," said Naskrent.
She hopes to combine her passion for graphic design with her love of Japanese culture by working as a designer for an international company in Chicago.
"I'm excited to see where the skills I've learned at NIU will lead me," she said.


Second prize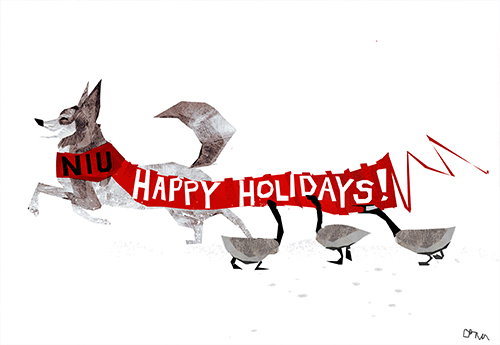 A Romp in the Snow with Some Geese
Oona Holtane is a junior illustration major from Sycamore, Ill.
Holtane's holiday card artwork features a digitally-created collage illustration. "[This is] what I imagine goes on during winter break on campus," she said.
Her career goals include directing an animated film, writing and illustrating her own book and growing her business.
"I want to inspire as many people as possible and help others find the silver lining to life's negative events," said Holtane.


Third prize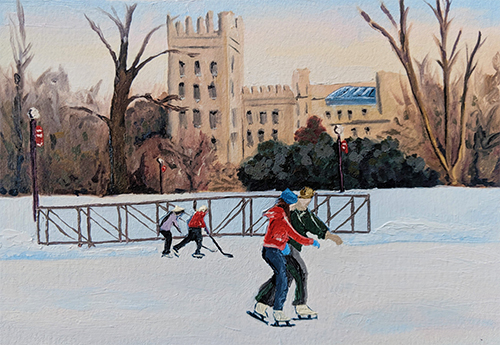 Skating on the Lagoon
Natalie Pivoney is a graduate student pursuing her Master of Fine Arts in painting from Des Plaines, Ill.
Pivoney's work features an image of an oil painting with ice skaters on the East Lagoon and NIU's Altgeld Hall in the background.
"NIU is not just a school, it's a place where fond memories are created. I enjoyed painting in red details throughout the piece and reflecting the sky in the iced lagoon," she said.
Pivoney plans to pursue her art practice full-time while teaching studio art at the college level.