Sinclair Bell, Assistant Professor of Art History will present the lecture, "Spectacles of Death: Gladiatorial Combats and Naval Battles in the Roman Arena," at the Italian Cultural Institute of Chicago, Tuesday, January 8 at 6 p.m.  The lecture is open to the public and free of charge.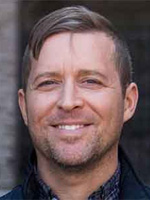 In this series of lectures entitled, "Sport, Spectacle, and Games under the Roman Empire," Bell will look at the different ways in which sport and spectacle permeated the society and culture of the ancient Roman Empire (ca. 1-200 CE).
The lectures investigate several different forms of public entertainment and leisure – gladiatorial combats and naval battles, athletics and bathing, and chariot-racing – and the respective monumental spaces in which they took place. Drawing on artistic, architectural, and archaeological evidence as well as contemporary literary sources, these lectures will wrestle with the problematic nature of their classification as sport vs. spectacle.
The following lectures will be presented as part of this series:
February 5: Athletics and Leisure: Greek Games and Roman Baths
March 5: The Greatest Race: Chariot-Racing in the Roman Circus
Sinclair Bell is a classical archaeologist and art historian who specializes in the art and archaeology of ancient Italy.