A new album featuring NIU's artists in residence, the Avalon String Quartet, was released December 7.  "Matthew Quayle, String Quartets Nos. 1-3" is available on Naxos Records.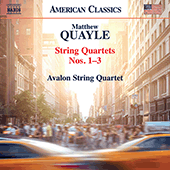 "I am delighted to share the Avalon Quartet's powerful rendition of my three string quartets on Naxos," Quayle said.  "These remarkable musicians display their uncommon insight and interpretive range throughout the album—from the introspective yet ardent journey of the expansive First Quartet, to the spiky mischief of the Second, to the enigmatic meandering through the thirteen fleeting movements of the Third. They have fully captured the stylistic diversity and dramatic intensity of these deeply personal pieces." 
Quayle studied at Oberlin Conservatory (B.M.), the University of Cincinnati (M.M.), and New York University's Graduate School of Arts and Science (Ph.D.). He is currently Assistant Arts Professor of Music and Head of the Music Program at NYU Abu Dhabi, where he has taught since 2012.
The Avalon String Quartet are:
Blaise Magniere, violin
Marie Wang, violin
Anthony Devroye, viola
Cheng-Hou Lee, cello
Upcoming Avalon performances include:
Saturday, January 19 – Live from Gottlieb (Merit School of Music), 11:50 a.m.
Thursday, February 14 – Northern Illinois University Recital Hall, 8 p.m.
Friday, February 15 – Roosevelt University (Ganz Hall), 7:30 p.m.
Sunday, February 17 – Mendelssohn Performing Arts Center (Rockford, IL), 3 p.m.