The School of Art and Design hosts their annual High School Invitational November 9-16 in Jack Arends Hall.  The High School Invitational exhibition features work by high school students from northern Illinois. The exhibition is partially underwritten by Blick Art Materials.
There is a slate of workshops scheduled for Sunday, November 17 followed by the recognition ceremony.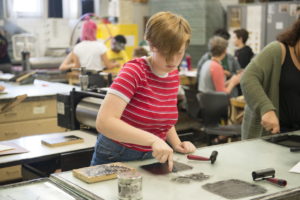 Workshops will be held from 1 p.m. to 3 p.m. and include:
HANDS ON!!!!! Mixed Media Workshop
Take part in the opportunity to experience an expansive range of materials and techniques. Along with a variety of grounds, acrylic mediums, inks, acrylics, watercolors, we will experiment with transfers, stencils, textures, collage, patterns and more.
Introduction to ZBrush and Digital 3D Modeling (Illustration)
ZBrush is a powerful tool used to create digital 3D sculptures/models for use in animation, 3D printing, 2D illustrations, character design, concept art, etc.
In this session you will learn some basics on how to sculpt your own 3D objects on the computer. You may want to bring a USB drive to take home a digital file of your creation.
Papermaking
You will learn hand papermaking techniques using locally harvested plants such as cattail, pampas grass, and wheatstraw combined with recycled cotton T-shirts.
Put it on the 'Gram: Studio Lighting for Portraiture'
In this hands-on workshop, we will show you how to use photographic studio lighting techniques to make high quality portraits for use on social media and Instagram.
Rhino & Rollerprinting (Jewelry & Metals)
For this workshop, you can create your own keychain. You will choose from a selection of Metals/SCAD-themed designs, trace them using Rhino software, and laser cut them onto thicker material. Finally, you will use the rolling mill to print the impression onto a metal keychain.
Sketch-Draw-Print (Printmaking)
Polyester litho plate project, where you can sketch out a drawing and print it on the spot.