Lynn Stockton, an art educator with more than three decades of experience will lecture on "Consistency, Conversation and Community in the High School Art Room," Wednesday, November 14 as part of the National Art Education Association's Alumni Speaker Series.  The lecture is free, open to the public and will be held at 5 p.m. in Room 211 of Jack Arends Hall on the main campus.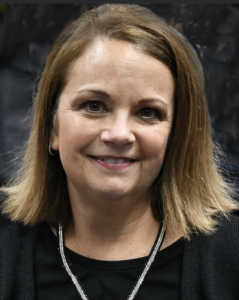 Stockton earned her BA in art history in 1982 and an MA in painting and drawing in 1990 from NIU.
She has remained active with NIU through her involvement with the NIU Summer in the Arts Camp for high school students since its inception, and she has been the camp director since 2001.
Stockton was named Secondary Art Teacher of the Year by the Illinois Art Education Association in 2008, and has been a high school art teacher for 37 years.  Her students have won numerous awards and scholarships at the local, state and national levels.  She has facilitated the development or restructuring of visual arts programs at three different school districts in Illinois and was instrumental in the addition of advanced placement studio art as an option for students in two of those districts.
Stockton currently teaches at Jefferson High School in Rockford, which is a college and career academy redesigned high school that has been recognized by Ford Next Generation Learning.
She is a BAMIT (Business, Arts, Modern World Languages, and Information Technology) Academy team leader, Fine Arts PLC leader and Art Division chair.  She is a long serving member of of the National Prismacolor Advisory Council, working to enhance student artist experiences with the Prismacolor corporate and design teams.
The lecture is presented by the NIU Student Chapter of NAEA.