The School of Art and Design at Northern Illinois University is celebrating the 50th Anniversary of the opening of Jack Arends Hall (the visual arts building on the NIU main campus) with exhibitions featuring former NIU School of Art students and faculty.  Venues for the exhibitions include three spaces in Jack Arends Hall and the NIU Art Gallery on Altgeld Hall's first floor.  Receptions are being held in both locations, Thursday, September 20 from 5 p.m. to 8 p.m.
NIU Art Gallery, Altgeld Hall
August 28 – October 19
"Sweet, Golden and Delicious"
NIU School of Art and Design Alumni Invitational Exhibition
South and Rotunda Galleries
An invitational exhibition of studio and design alumni artists recommended by current and former faculty, SWEET, Golden and Delicious… presents recent work by six dozen artists from five decades representing eleven areas of visual study. Artists needed to be actively practicing and showing their work. Works on view represent a variety of approaches to photography, sculpture, fiber, jewelry and metalwork, printmaking, illustration, ceramics, painting, drawing, graphic design, and time arts. In addition, there is a sound piece, and video documentation of an artist creating a lithograph, and of a large public art piece being made.
September 18 – October 19, 2018
Imagery and Icons:
Former Tenure and Tenure-track Faculty exhibition
North Gallery, NIU Art Museum
As part of the alumni exhibitions and anniversary celebrations this exhibition showcases work from former faculty in an intimate, salon style exhibition. Participating artists at this time include: Renie Adams, Walter Ball, Jay Paul Bell, Richard Beard, Dorothea Bilder, Robert Bornheutter, David Bower, Karen Brown, David Driesbach, Yale Factor, Larry Gregory, Andrew Liccardo, Ben Mahmoud, Ron Mazanowski, Philip Melnick, Ashley Nason, Mark A. Nelson, Jack Olson, Charlotte Rollman, John Rooney, Lee Sido, Doug Stewart, Ed Syrek, and Bruce White.
School of Art and Design Galleries, Jack Arends Hall
Jack Olson Gallery
Second Floor, Jack Arends Hall
September 4 to October 19
Golden: SoAD Arends Hall 50th Anniversary Juried Alumni Exhibition
Juror: Dan Silverstein, Associate Director of Exhibitions and Collections Logistics Block Museum of Art, Northwestern University, Evanston (BFA 1991)

Annette and Jerry Johns Student Art Gallery
Second Floor, Jack Arends Hall
August 27 to October 19
Alumni Open Mail Art Show
Featuring work from NIU alumni, faculty, retirees and visiting artists.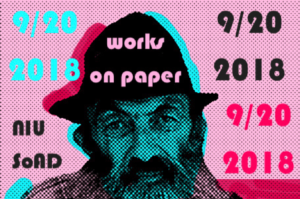 Backspace Gallery
First Floor, Jack Arends Hall
All Sheets to the Wind – Works on Paper
Featuring NIU School of Art and Design alumni, faculty, retirees and visiting artists
September 20, 7:30 to 9:30 p.m.
Visual Arts Building Second Floor West Hallway North Display Cases
September 4 to October 19
Alumni Salon
---
And, don't miss: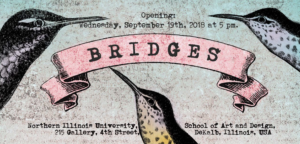 Gallery 215
215 Fourth Street, DeKalb
Bridges: an exhibition of digital graphics and augmented reality
Featuring three art faculty members from Poland's University of Silesia: Malgorztaa Luszczak, Katarzyna Kroczek, Kaja Renkas.
September 19 – October 5