The Northern Illinois University Art Museum opens Reclaimed Baggage, a group exhibition of seven South Asian American women artists that reveals layered, complex and powerful expressions of the self and their world. Their work addresses displacement, identity and agency. Guest-curated by interdisciplinary and conceptual artist Nirmal Raja, the show opens to the public March 27, 2018 with a public Reception on Thursday, March 29th from 5 to 6:30 p.m. that includes a Panel Discussion with artists from the show starting at 6:40 p.m. in Altgeld Hall 315.
Migration and globalization play a pivotal role on the formation of identity. Despite overwhelming pressure on women to be the transmitters and upholders of culture, migration is an opportunity for reinventing one's self as one navigates a new cultural landscape. In an increasingly polarized world, this exhibition creates opportunities for connection—creating a space for dialog on the formation of identity influenced by globalization. The exhibition brings together artists who either derive inspiration from their cultural background and memories or focus on current challenges navigating two identities. Nirmal said of the exhibition, "I see my curatorial practice as an extension of my art making. This exhibition is particularly close to my heart as these artists hold a mirror to my own work as an artist while demonstrating the richness, complexity and challenges that come with being hyphenated Americans."
An exhibition catalogue published by Nirmal Raja with curator's essay and artists' biographies will be available for purchase at the Museum. Artists include: Fariba Alam, Nandini Chirimar, Sabba S. Elahi, Annu Palakunnathu Matthew, Samanta Batra Mehta, Hiba Schahbaz and Pallavi Sharma. The exhibition runs through May 18th with a series of public lectures, programs, and Get-on-the-Bus excursions related to the show.
Public Events
Tuesday, March 27
OHANA Public Program
"Memory, Movement, Location"
Artist talk by artist/curator Nirmal Raja with light reception following.
5 – 6 p.m., Capitol Room, Holmes Student Center
Thursday, March 29
Public Reception for Reclaimed Baggage
5 – 6:30 p.m., South Gallery
Panel Discussion co-chaired by NIU Professor Kristen Myers, Director, Center for the Study of Women, Gender and Sexuality and guest-curator Nirmal Raja with artists from the exhibition.
6:40 – 8:15 p.m., Altgeld Hall 315
"writing the unknown" Performance and
Communal Embroidery Workshop
with artist Sabba S. Elahi, Location/Date TBD
Thursday, April 5
Public Reception for All We are Breaking are Stones in Rotunda Gallery and Across Space and Time in North Gallery
5 – 7:30 p.m., North and Rotunda Galleries
Artist Gallery Talk: Shaurya Kumar
6 – 6:30 p.m., Rotunda Gallery
Friday, April 6
Get-On-The-Bus Trip │Private guided tour of BAPS Shri Swaminarayan Mandir Temple in Bartlett
9 a.m. – 3 p.m., $$
Payment and Registration by April 2
Tuesday, April 10
The Namesake Filmscreening
Directed by Mira Nair, 2006, Drama, PG13
6 – 8:30 p.m., Montgomery Hall, Terwilliger Auditorium
Wednesday, April 11
"Religion Made Visible: The Traditional Sacred Art of India"
Lecture with Richard M. Cooler, NIU Emeritus Art History Professor
5:10 – 5:50 p.m., Altgeld 315
Thursday, April 19
"India: The Visual Landscape"
Horn, Please! screening and discussion with
Ola Giza, Associate Professor, Design and Media, Visual Communications, NIU School of Art and Design; and Shantanu Suman, Associate Professor, Visual Communications, Ball State University
5:10 – 6:30 p.m., Altgeld 125
Wednesday, April 25
Meet the Patels Filmscreening
Starring Ravi Patel, Documentary/Comedy, 2014, PG
6 – 7:30 p.m., Montgomery Hall, Terwilliger Auditorium
Thursday, April 26
"Influence and Impact" Americans who have traveled, worked and studied in India. Artist Slide and Sound Talks by Christine Lofaso, Professor and Division Head, Fine Arts Studio, Fiber; and Bart Woodstrup, Associate Professor, Design and Media, Time Arts, NIU School of Art and Design.
5:10 – 5:50 p.m., Altgeld 315
Saturday, April 28
Get-On-The-Bus Trip │ A Meeting of Two Seas 2.0 South Asian Hindi and Muslim music/dance/poetry at the Rockefeller Chapel, University of Chicago
1:30 – 11 p.m., $$
Payment and Registration by April 18
Tuesday, May 1
The Hundred-Foot Journey Filmscreening with Spice Mixing Demonstration
Starring Helen Mirren, Om Puri, Drama, 2014, PG
6 – 8:30 p.m., Montgomery Hall, Terwilliger Auditorium
Saturday, May 5
Open for Artigras!
NIU/DeKalb Celebration of the Arts
3 – 7 p.m.
Saturday, May 19
Get-On-The-Bus Trip │"Moods of Nayika" multimedia performance Mandala South Asian Performing Arts, Chicago
Art Museum Members Only – Join when you RSVP!
1:30 – 9:30 p.m., $$
Payment and Registration by April 30
Additional events may be added throughout the exhibition; continue to check for updates and additions online by visiting niu.edu/artmuseum/events. For questions or to register for these
Get-on-the-Bus Excursions please phone 815-753-1936.
About Nirmal Raja, exhibition guest-curator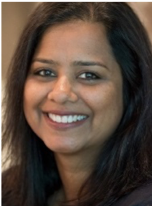 Born in India, Nirmal is an interdisciplinary artist and curator working in Milwaukee, Wisconsin after living and traveling internationally. Nirmal received a BA in English Literature in India, a diploma in graphic design from the Moore College of Art and Design in Philadelphia, and a BFA in painting at the Milwaukee Institute of Art and Design. She received her MFA in painting and drawing from the University of Wisconsin, Milwaukee. Her work deals with concepts of displacement, cultural negation, memory and the perception of time and includes drawing, print, sculpture, video and installation.
Also on view at the Art Museum April 6 – May 18, 2018:
All We are Breaking are Stones
The multimedia work of Shaurya Kumar addresses our constantly shifting and distorted understanding of history, culture and religion.
Across Space and Time: Cultural Perseverance of Indian Heritage
Celebrates the living culture of India. Curated by the ART 656 Museum Exhibitions and Interpretation graduate students enrolled in the NIU Interdisciplinary Certificate in Museum Studies.
Exhibition Support:  Additional support came from Promod and Anju Vohra; Gurukrupa Indian Grocery and Copy Services; The Barbara Cole Peters Fund for the NIU Art Museum; Northern Illinois University's Asian American Resource Center; Indian Student Association; Muslim Student Association; Visual Communications, Design and Media Division, School of Art and Design; Center for the Study of Women, Gender and Sexuality; the Interdisciplinary Certification of Graduate Study in Museum Studies and the students in the Art 656: Museum Exhibitions and Interpretation course with instructor Peter Van Ael; College of Education; College of Liberal Arts and Sciences; College of Visual and Performing Arts.
Artwork and objects for the exhibitions are on loan from DePauw University, Greencastle, Indiana; SepiaEYE Gallery, New York, New York; exhibiting artists and private lenders.
NIU Art Museum
Altgeld Hall 116, First Floor, West End
1425 W. Lincoln Hwy., Northern Illinois University
DeKalb, IL 60115
815-753-1936
niu.edu/artmuseum
Gallery Hours
Tuesday, Wednesday, Friday 10 a.m. – 5 p.m.; Thursday Noon – 7 p.m.; Sunday Noon – 4 p.m.; and by appointment for group tours.
(Closed on Easter, April 1).
Exhibitions are free and open to the public.