The Northern Illinois University Art Museum opens the biennial School of Art and Design Faculty Exhibition on Thursday, November 16, 2017 with a public reception from 5 – 7 p.m. Presented every two years, this invitational show features recent artwork and scholarship by current faculty and teaching staff from all divisions of the NIU School of Art and Design and highlights the artistry, research, and instruction found at NIU. The exhibition runs through December 16, 2017 and reopens January 16 through February 23, 2018.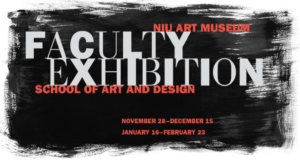 Faculty and teaching staff are invited to participate by submitting recent work in their respective artistic mediums or fields of scholarship. Work and research of over thirty individuals are represented and includes the disciplines of: Art and Design Education; Art History; Ceramics; Drawing; Fibers; Illustration; Metals and Jewelry; Painting; Photography; Printmaking; Visual Communications; Sculpture; and Time Arts. The work on display represents the activity and interests of these individual members of the School of Art and Design, but also the breadth of the arts programs and disciplines offered at NIU. The gallery exhibition and accompanying public talks and lectures allow visitors and students to see these talented individuals outside of the traditional classroom or studio setting. A series of public events and lectures that accompany the exhibition will start in January.
Participating NIU School of Art and Design faculty and teaching staff include:  Michael Barnes; Wes Beeler; Sinclair Bell; Justin Bitner; Todd Buck; Sarah Evans; Billie Giese; Ola Giza; Cynthia Hellyer-Heinz; Rebecca Houze; Joseph Insley; Katie Kahn; James Kearns; Yih-Wen Kuo; Jessica Labatte; Christine LoFaso; Kimberly Martens; Jamie Obermeier; Mary Quinlan; Steve Quinn; Michael Rea; Nina Rizzo; Kurt Schultz; John Siblik; Richard Siegesmund; Geoffrey Todd Smith; Perrin Christian Stamatis; Ben Stone; Johnathon Strube; Frank Trankina; Peter Van Ael; Shei-Chau Wang; and Bart Woodstrup.
A full calendar of events will be posted online and found by visiting www.niu.edu/artmuseum/events. Special note: The Art Museum galleries are closed Thanksgiving weekend, November 22 – 26, 2017. The show reopens after the winter break on January 16 and runs through February 23, 2018.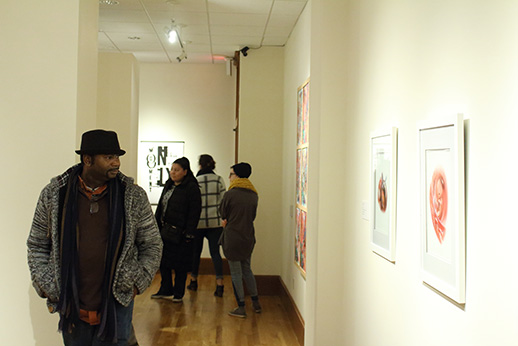 Public Reception
Thursday, November 16, 2017
5 – 7 p.m., NIU Art Museum, Altgeld Hall, first floor, west end.
About the NIU Art Museum
Serving Campus and Community by Balancing Traditional and Contemporary Art to Explore the Connections Made Through Visual Culture.
Part of the College of Visual and Performing Arts' vibrant and active arts community on campus, the Northern Illinois University Art Museum is a resource for the NIU campus, local community and beyond. The NIU Art Museum is located on the first floor, west end of Altgeld Hall, on the corner of College Avenue and Castle Drives on the main campus of Northern Illinois University in DeKalb, IL. Parking is available in the Carroll Avenue Visitor's Pay Lot and metered spots in front of Altgeld Hall. Campus parking is free on weekends and after 5 p.m. weeknights.
The exhibitions and programs of the NIU Art Museum are sponsored in part by the Illinois Arts Council Agency; the Friends of the NIU Art Museum; and the Dean's Circle of the College of Visual and Performing Arts.