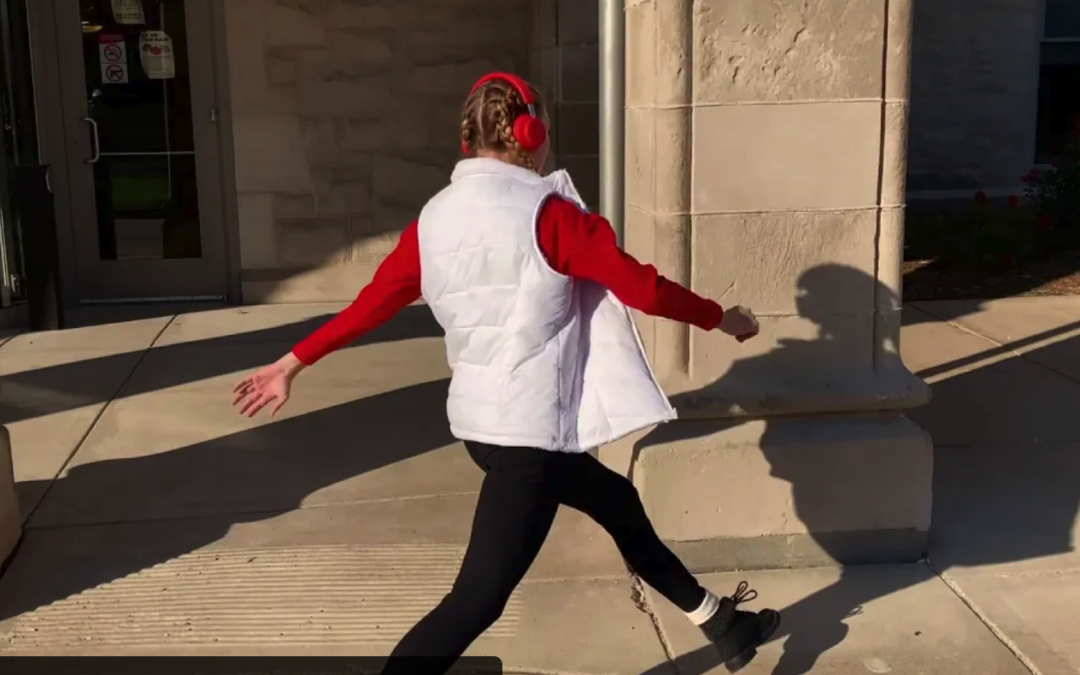 The NIU School of Theatre and Dance presents Dancing Together Forward: Fall 2020 Dance Concert with six airings over the next two weeks, premiering Friday, November 20 at 7 p.m. on YouTube.
This screen dance was made in collaboration with the dancers and choreographers of the School of Theatre and Dance and the artists of NIU's Integrated Media Technologies. It was filmed and produced at locations all throughout our NIU campus.
The artists want to acknowledge that the place where they study and make their art sits upon the traditional homelands of the Sauk, Meskwaki and Potawatomi nations.This collaborative project is the culmination of a classroom exploration, not a production to which they are selling tickets. The performance will only be available for viewing during the six live airings:
Friday, November 20, 7 p.m.
Saturday, November 20, 7 p.m.
Sunday, November 21, 7 p.m.
Thursday, November 26, 7 p.m.
Friday, November 27, 7 p.m.
Saturday, November 28, 7 p.m.
All participants of this project, including the dancers, videographer and crew, were socially distanced during its filming.
Credits
Production Team
Director / Marc Macaranas
Choreographers / Judith Chitwood, Paula Frasz, Rich Grund, Marc Macaranas
Stage Manager / Luke Harmon
Videography / Jim Barker, Len Lennergard
Editing / Jim Barker
Technical Coordination / Brandon Wardell
Lighting Design/Light Grips / Len Lennergrad, Aidan Murphy, Alexa Wiljanen
Master Electrician/Advisor / Chris Kursewski
Props Director / Dave Doherty
Dance Pieces by Order of Appearance
Dancer: Mat Skorupski
Choreography: Marc Macaranas
Dancer: Kai Poe
Choreography: Rich Grund
Dancer: Rachel Day
Choreography: Paula Frasz
Dancer: Makenzie Tarpinian
Choreography: Marc Macaranas
Dancer: Abigail Kresno
Choreography: Paula Frasz
Dancer: Abigail Kresno
Choreography: Paula Frasz
Dancer: Katherine Taylor
Choreography Marc Macaranas
Dancer: Taryn Sarto
Choreography: Judith Chitwood
Dancer: Elisabeth Pierce
Choreography: Marc Macaranas
Dancer: Tianna Stubbs
Choreography: Paula Frasz
Dancer: Sydney Hamill
Choreography: Paula Frasz
Dancer: Natalie Sanchez
Choreography: Marc Macaranas
Dancer: Kate Drury
Choreography: Judith Chitwood
Dancer: Darya Ellickson
Choreography: Rich Grund
Dancer: Ashley Luoma
Choreography: Paula Frasz
Dancer: George Curtis
Choreography: Judith Chitwood
Dancer: Ashley Gale
Choreography: Paula Frasz
Dancer: Taneya Ball
Choreographer: Rich Grund
Dancer: Victoria Herrera
Choreography: Rich Grund
Dancer: Gabrielle Knecht
Choreography: Rich Grund
Dancer: Madelyn Maxwell
Choreography: Rich Grund
Dancer: Ansley Pierce
Choreography: Paula Frasz
Dancer: Amanda Schierer
Choreography: Rich Grund
Dancer: Jack Goings
Choreography: Paula Frasz
Dancer: Madison Haag
Choreography: Paula Frasz
Dancer: Renae Frank
Choreography: Rich Grund
Dancer: Anna Lindstrom
Choreography: Judith Chitwood
Dancer: Ariana Williams
Choreography: Marc Macaranas
Dancer: Shania Freelon
Choreography: Marc Macaranas
Dancer: Alexsandra Rockman
Choreography: Paula Frasz
Dancer: Gwen Jones
Choreography: Marc Macaranas