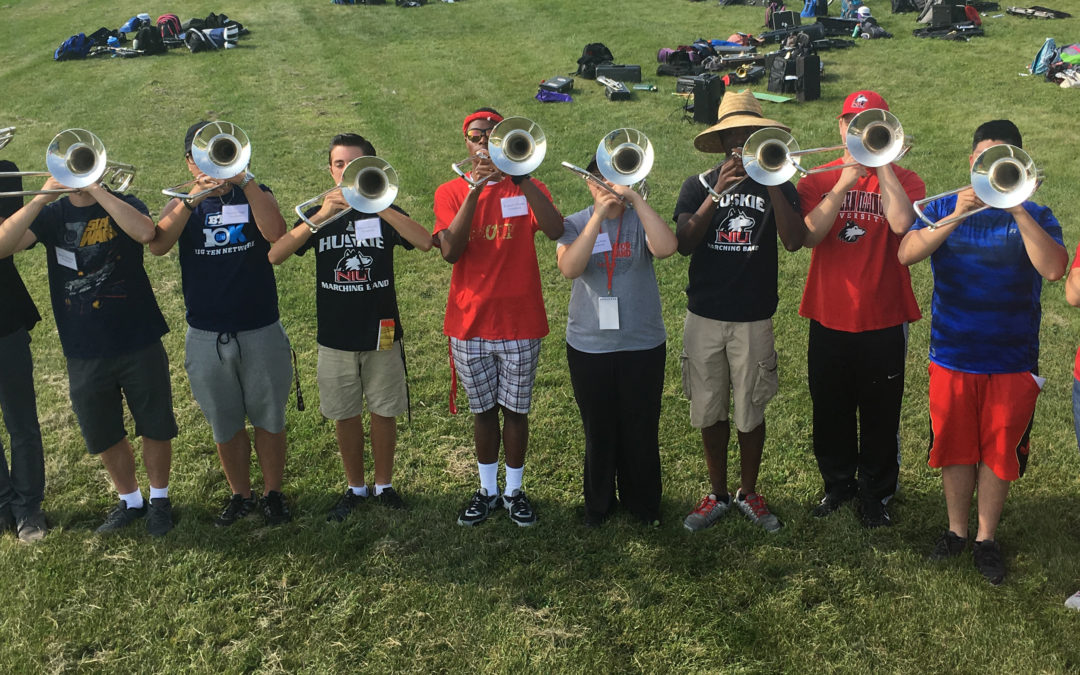 Friday, September 1 at Huskie Stadium against Boston College, two of the biggest teams on campus will open their seasons.  Of course it's the first game for NIU football, but also opening night for another 100+ member squad–the 118th edition of the NIU Huskie Marching Band.  The band has been under the direction of Dr. Tom Bough for the last 13 years, and he says it is a long, but rewarding process each year to field one of the best marching bands in the country.
"We recruit a variety of ways," Bough said.  "We host some large scale events.  We host a marching band competition that will host nearly 8,000 people with 30 high school bands.  We host a concert band competition in the spring.  We host a drum corps show in the summer.  All of those things help.
"About a half dozen of my most outgoing student leaders and I are at every open house, handing out literature and shaking hands.  What's really amazing is a lot of our band members have such a great time and enjoy it so much that they recruit kids from their own high school and people they marched with.  I have a family of two brothers who are in the band with a third on the way next year.  It's really gratifying that the kids have enough fun, and see enough value in what we're doing that they want to literally bring their own flesh and blood into it.
"We have huge support from admissions, from the music department and all of the College of Visual and Performing Arts.  It takes the proverbial village to recruit this band."
When asked how the band comes together with the right mix of members who play particular instruments, Bough said it's a combination of art, science and…something else.
"A little bit of it is just dumb luck.  A little bit of it is targeted recruitment.  For example, this year the trumpet section is a little on the small side, so already we're reaching out to high school trumpet players.
2017 NIU Huskie Marching Band Performances
Fri., Sept. 1
Boston College at NIU
Huskie Stadium
8:30 pm
Sat., Sept. 9
Eastern Illinois at NIU
Huskie Stadium
2:30 pm
Sat., Oct. 7
Homecoming – Kent State at NIU
Huskie Stadium
2:30 pm
Sun., Oct. 22
Carolina Panthers at Chicago Bears
Soldier Field
noon
Thu., Oct. 26
Eastern Michigan at NIU
Huskie Stadium
6:00 pm
Thur., Nov 9
Ball State at NIU
Huskie Stadium
6:00 pm
Wed., Nov 16
Western Michigan at NIU
Huskie Stadium
6:00 or 7:00 pm
"I've got two really fine high school trumpet players coming to play with the band at a home game," Bough said.  "That's actually an option.  Any high school junior or senior, if they e-mail me two weeks before the game, we can arrange tickets for them.  Athletics is really supportive about making that happen.  It's a chance for high school students not to just see the band, but be a part of it.  That's a cool opportunity.
"Position" scarcity can actually become an advantage for finding future members, as it can create a unique opportunity.
"Routinely, students will reach out to us and say they're going to be on campus for a tour," he said.  "'Can I meet with the drum line or the color guard. Can I meet with the director?'  We work to make that happen literally all the time."
Bough also works hard to balance the time requirement for the marching band members.  "Eighty-five percent of our members are not music majors.  They're business majors or pre-med, pre-law, computers, you name it and we've got it out here somewhere.  We want to keep the time commitment reasonable, so that everybody can participate.  In season, marching band is literally seven and a half hours per week.  On a game day, obviously there's more.  It's purposely kept a moderate amount of time so that everybody can be involved."
In addition to the six NIU football home games, the band is ready to travel to Ford Field in Detroit should the Huskies make another Mid-American Conference Championship Game, and then onto a postseason bowl game.  This year has an extra road trip the band is excited about.
"We're doing a Chicago Bears game October 22 (versus the Carolina Panthers).  It's going to be a lot of fun.  I'm really proud of the fact that about 75% of the Bears Drumline are either NIU alumni or guys who teach our drumline.  We have a huge connection with the Bears drumline and as a result, our drumline is going to down early and play with them and help entertain the crowd before the game."