Jessica Labatte
Her work was featured in an exhibition at Chicago's Museum of Contemporary Art
The exhibition "Picture Fiction: Kenneth Josephson and Contemporary Photography" opens this week at Chicago's Museum of Contemporary Art, and it features two works from NIU School of Art and Design Instructor of Photography Jessica Labatte.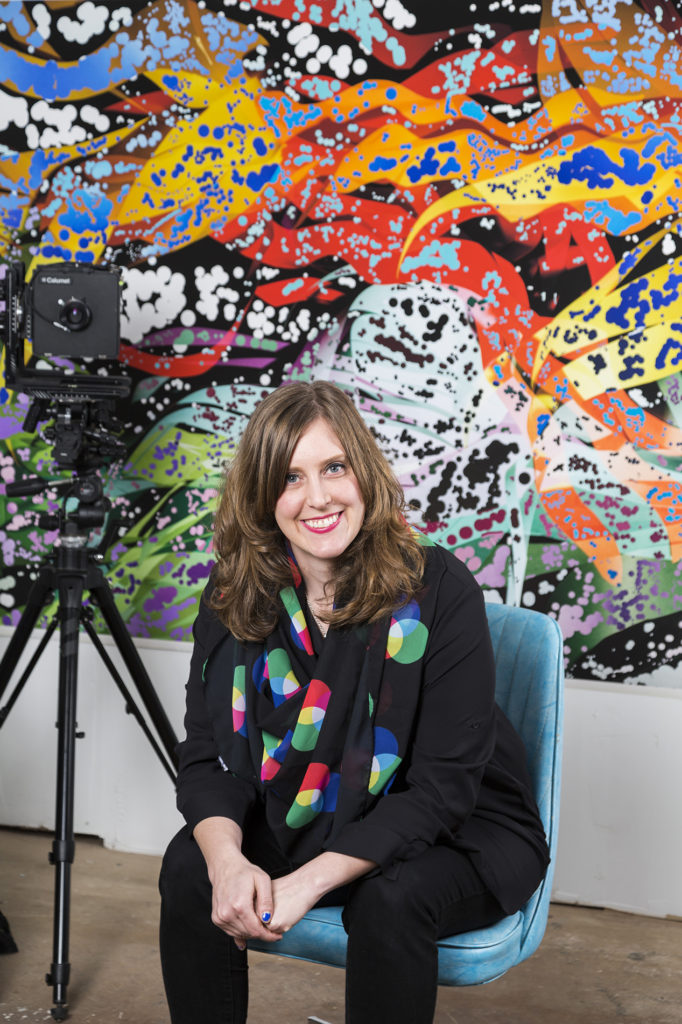 The exhibition is a survey of the work of Josephson, a Chicago-based photographer who taught at the School of the Art Institute of Chicago for nearly 40 years.  His conceptual photography is credited with changing the way people think about pictures by conveying an idea in addition to the picture.  The exhibition features not just his work, but also several others, including those of Labatte, that were influenced by his work.
Labatte has taught at NIU since 2012, and has both a Bachelor of Fine Arts and a Master of Fine Arts from the School of the Art Institute of Chicago.  This is the third time her work has been featured at the Museum of Contemporary Art.
While Josephson had retired before Labatte attended the School of the Art Institute, his work has had an impact on hers.  "I really liked his work as a young student," she said.  "Particularly the way he challenged what a photograph can do, is really interesting."
"My works in the show are not only inspired by his practice and the things he created and how he understood photography, but they are also in dialogue with them.  That's why it's a really exciting exhibition for me. Not only was I inspired by his work and really look up to him, but now the museum and the curator there is seeing that my work is actually in conversation with this work.  And it's not just him.  Other photographers from the '60s and '70s who I looked up to are in this show.  It's really exciting.  All of my photographic heroes are in this show."
Labatte described the two pieces she has in the show:
"One of them is called "Imitators."  It plays with the idea of photographs creating an illusion, or challenging the idea that photographs depict reality.  The photograph is in a pink frame that matches the dimensions and tone, so when you look at it, it creates an optical illusion and it looks almost like you can reach into the picture.  I had a motorcycle custom paint guy do the frame specifically for this."
"The other is a large scale photograph called "Figural Concretion."  It's a black and white photograph of these little, tiny rocks that I picked up on the Gulf of Mexico in Florida.  I started collecting them because I thought they looked like tiny figurative sculptures.  They really reminded me of the Venuses or reclining nudes you study in art history class.  I thought it was kind of funny that the ocean was making these sculptures.  So, I was collecting them and a woman in a shell shop looked at them and said they were from an 'underwater highway.'  That was a really interesting idea to me.  I wondered if it was a product of global warming or of a road or bridge that had been destroyed and was now under water.  I had this magical idea of an Atlantean highway under the sea.  I actually had the geology department here analyze them.  They told me that it's not from a road, but it's a natural formation of quartz and calcite.  But it was still a magical idea."
"I photographed them on a large 4″ x 5″ film and after I got the negatives back I left them exposed in my studio for several months.  They got this dust on top of them.  That's a totally bad thing for a photographer to do, but when I scanned the images with all the dust on top of it, these little rocks started to look like cosmic meteors.  They're very celestial.  So I blew the photographs up really large.  They're 60 by 80 inches framed, and Mike Rea, who is a sculpture professor here custom made pedestals for them.  The framed photos sit on these white pedestals and kind of hang off the edges and it looks like the figure in the frame is standing on the pedestal.  It brings back the idea that the photograph is an object, not just an image."
"Picture Fiction: Kenneth Josephson and Contemporary Photography" runs through December 30 at the Museum of Contemporary Art in Chicago.