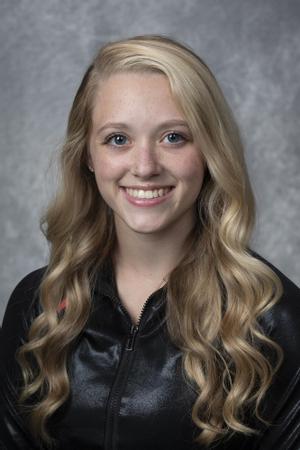 Brookelyn Sears, a senior design and media arts major from Centerville, Ohio earned a spot in this year's All Mid-American Conference Academic team in gymnastics.
Sears has a 3.68 cumulative grade point average and was a key member of a Huskies gymnastics team that went a perfect 6-0 in home matches in her senior season.
This was Sears' third season on the Academic All-MAC team. She made the team every season that she was eligible to do so. Student athletes in their first season are not eligible to make the academic team. NIU had 14 honorees on the team, more than any other school in the MAC.
To qualify for the Academic All-MAC Team, a student-athlete must have at least a 3.20 cumulative grade point average and have participated in at least 50 percent of the season's competitions.
Brookelyn will earn her Bachelor of Fine Arts in photography from the NIU School of Art and Design next month.
She was also part of the NIU photography class that set the world's record for creating the world's largest paper snowflake in March of 2022.