Huskie Spotlight: Andrew Kinsey, '25, Percussion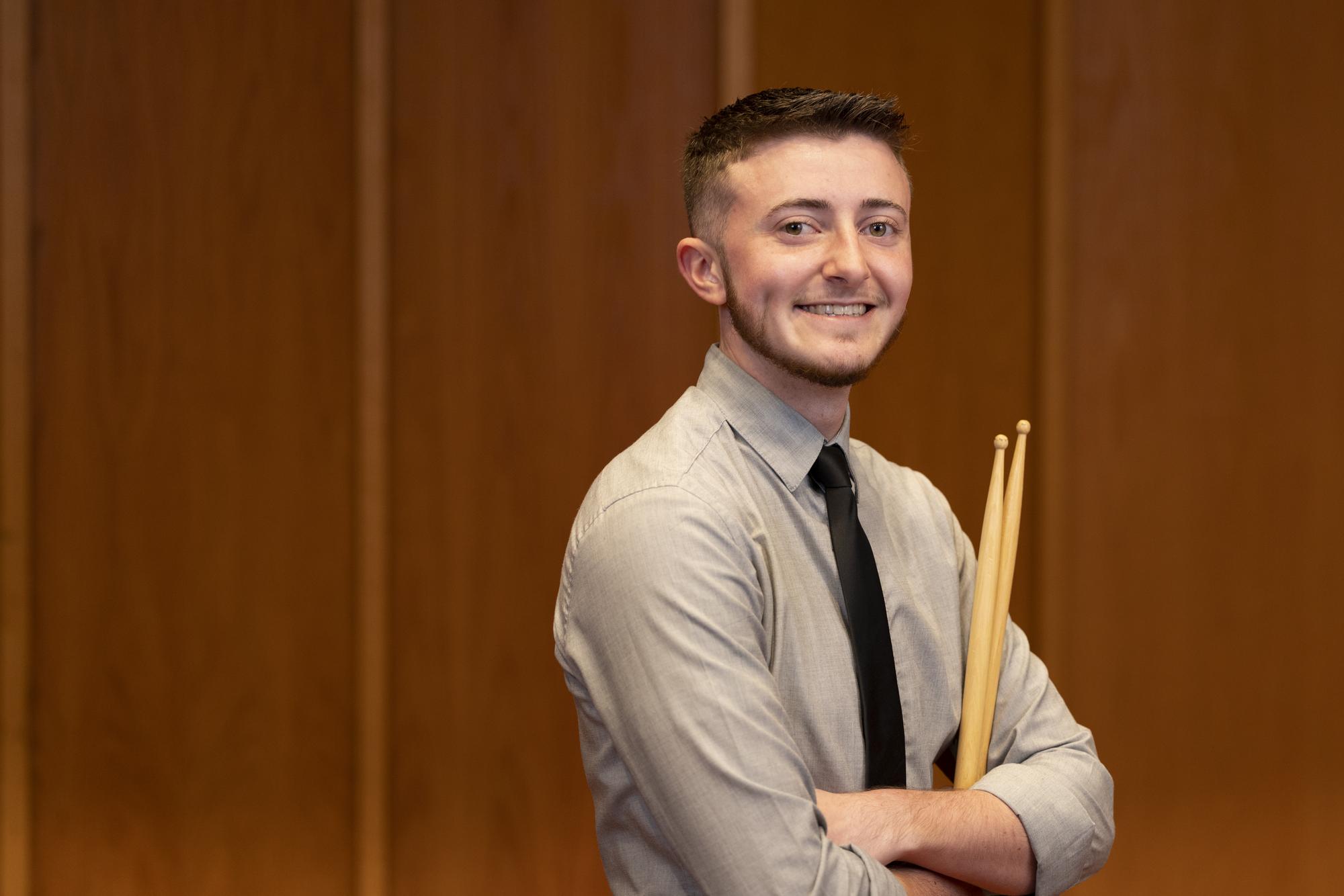 What did you want to be when you were growing up?  When I was nine years old, I was convinced and wanted more than anything to be a rock drummer in a touring band around the world. As I grew older, my dream became a bit more realistic with the desire to become a professional percussionist in the military. I knew it would benefit myself greatly if I went to school for a music degree to achieve this goal, and that's what I ended up doing.
What is your major (and/or minor) and why did you decide on this course of study? Percussion Performance major. I chose this major because of my career aspiration to be a professional musician in the military.
What is your favorite thing about studying and/or playing music at NIU? My favorite part of playing music at NIU is the connection with others when sharing music. Whether it be a percussion ensemble piece, or a late night jam sesh with cups and spoons, I love getting to vibe in the zone, surrounded by others who are just happy to be there too.
How have you connected with other students at NIU?: I have connected with other students at NIU by getting involved in other programs which include a variety of different majors such as the ROTC program as a way to exercise regularly with other students. I was in the Huskie Marching Band for two years where I met a lot of people on the drumline who were non music majors. I also work at the Starbucks on Annie Glidden and 38 where I work alongside other students from various degree paths.
Are you involved in any student organizations or extra-curricular activities? IOne extra curricular that I am involved in is performing with the Kishwaukee Symphony Orchestra (KSO) as a percussionist. I will also be joining the Air Force National Guard at the beginning of next year to be a percussionist and drum set player in the Band of the Midwest after my completion of Basic Training. And finally, I am an officer for the Percussion Club here at NIU. These opportunities have brought me great joy thus far and will continue to bring many new learning experiences throughout my collegiate career and more.
Who has been one of your favorite instructors/professors and why? What course do they teach? One of my favorite course that I have taken at NIU would be Percussion Pedagogy, taught by Professor Ben Wahlund. That class was very knowledgeable and practical because of the real world applications it taught for any aspiring professional percussionists. Also, this class by far had the best final I've ever taken 🙂
Why did you choose NIU to study music?* NIU was always a top choice of schools for me, not only because I loved the percussion studios environment, work ethic, and the professors, but also because of the legacy in my family of NIU music majors. My step sister just graduated with her music ed degree as well as my mom, step dad and step grandfather. I had already been on campus several times growing up and to many NIU football games watching the marching band, and I knew this was the school I wanted to audition for.
Where is your favorite spot on campus or in the community? My two favorite spots on campus are anywhere at the lagoon and the Cast Iron Coffee shop.
What advice would you give to a student who is applying to colleges?  My advice would be to see if you vibe with the professors during a private lesson, and to chat with current students. Can you be yourself in front of them? Or around your peers? College can be exhausting, but if you are surrounded by supportive professors and colleagues who encourage you, it'll be okay.
What do you do to relax or recharge?  To relax and recharge, I enjoy getting to do activities like preparing a nice meal and to eat with my roommates, going on walks/runs, and having movie night.
Coming to college, what is something that you have had to learn to do differently? Coming to college, I\'ve had to relearn and continue to work on the skill of prioritizing and time management. My freshman year, I would regularly forget to eat three meals a day or get the proper amount of sleep each night, just because I was doing a poor job trying to manage my work load. After many weekly planners and phone reminders later, I began to start developing better habits which included getting 8 hours of sleep and three meals each day.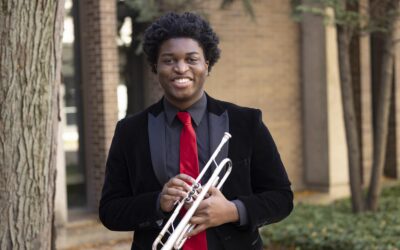 Music Huskie SpotlightHuskie Spotlight: Gabriel Wade, '24, Master of MusicWhat did you want to be when you were growing up?  Ever since starting band and piano class in middle school, I've always wanted to make music a major part of my life. That led to me pursuing a...