The NIU Jazz Orchestra is one of only 10 collegiate jazz programs invited to participate in the 2023 Jazz at Lincoln Center's Jack Rudin Jazz Championships in New York City. The competition is a two-day invitational, January 14-15. The championships are held throughout Frederick P. Rose Hall, home of Jazz at Lincoln Center, located on Broadway at 60th Street.
The championships are live-streamed both days through JazzLive.com. Subscriptions can be purchased monthly at $9.99 or annually at $99.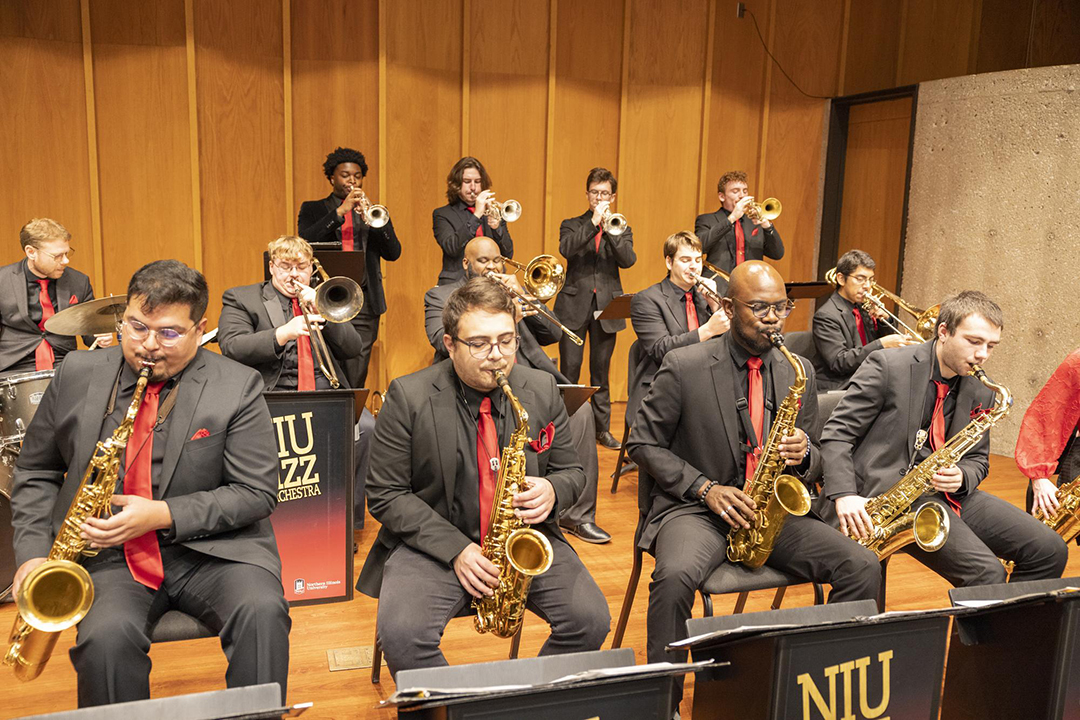 The competition kick off Saturday night, January 14 with a combo showcase will be held at 6 p.m. Central Standard Time, from the Appel Room at Lincoln Center with performances by all ten collegiate orchestras.
The initial round of the competition is broken into two parts with the initial round starting at 9 a.m. Central Standard Time, Sunday, January 15 in Rose Theater at Lincoln Center, and the second part beginning at 12:30 p.m.
The final round of the competition begins at 6:30 p.m. with performances by the three finalists, the awards ceremony and a performance by the Jazz at Lincoln Center Orchestra led by Wynton Marsalis. 
The ten colleges competing are:
Northern Illinois University
Florida State University
Ithaca College
Michigan State University
North Carolina Central University
Peabody Conservatory of Johns Hopkins University
Temple University
Texas Southern University
University of Wyoming
Vanderbilt University
The NIU Foundation has established a kickstarter fund to support the travels of the NIU Jazz Orchestra to enable them to engage in even more outreach and to take part in the greater music industry in meaningful and fruitful ways.
Opportunities such as the Jack Rudin Jazz Championship provide for students not only the uniquely challenging goal of performance at a high level, but the chance to meet and interact with distinguished jazz artists, to encounter fellow jazz students from around the country, to share their craft and engage with an entirely new audience, and most importantly, to learn about jazz music's history, practice, and impact in order to become informed and diligent participants in the jazz community.
You can see the NIU Jazz Orchestra in person in NIU's Boutell Memorial Concert Hall at their spring concerts on Wednesday, March 8 at 7 p.m. (with the NIU Jazz Ensemble) and Thursday, April 20 at 7 p.m. Tickets are $5 for adults, $3 for non-NIU students and free for NIU students.