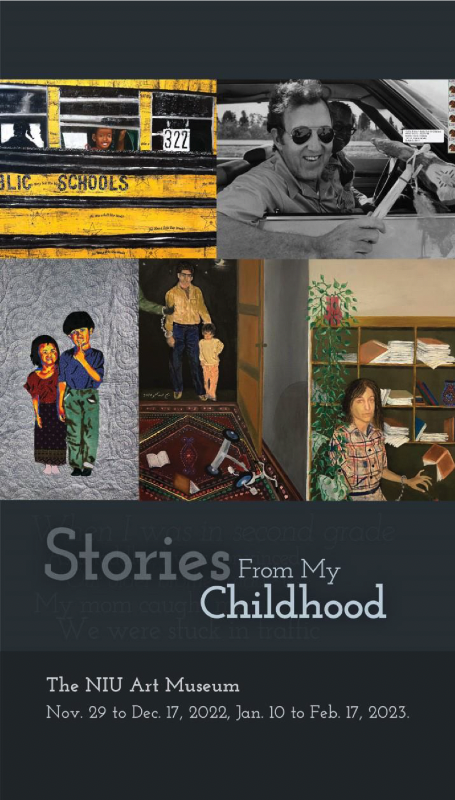 A group show based on a national call for entry, "Stories From My Childhood" explores both dark childhood experiences and somewhat humorous and quirky observations of life from a child's perspective. Artists were asked to depict a transformative event that occurred during their childhood through visual media and text.
Sixty-one artists submitted 117 works for review. Thirty-nine artists were selected to participate and 54 works were accepted by the NIU Art Museum Exhibition Advisory Committee. The works will be reevaluated by prize jurors, Northern Illinois University professors, sculptor Ben Stone and poet Amy Newman.
A public reception will be held at the NIU Art Museum from 4:30 to 7:00 p.m., Thursday, Dec. 1 with awards presented at 6 p.m.
This exhibition contains mature content and may not be suited for all audiences.
"Stories From My Childhood" features the work and stories of: Salma Arastu, Nava Atlas, Karen Avant, Anna Betts, Natalie Christensen, Julia Fauci, Shawna Gibbs, Ronald Gosses, Juan Hernandez, Zach Horn, Fletcher Koehrsen, Oxana Kovalchuk, Julia LaChica, Carol Larson, Kaila Larson, Jamie Luoto, Lex Marie, Lori Markman, DaNice D. Marshall, Norbert Marszalek, Rebecca Mason, Michelle Mullet, Amy Nelder, Janelle O'Malley, Diane Rickerl, Arielle Romano, Griselda Rosas, Boryana Rusenova-Ina, Maryam Safajoo, Baylee Schmitt, Sydney Small, Alfred Stark, Amanda Taves, Christian Ulloa, Kyle White, Lisa Fayiza Wright, Ana Zanic, Abby Moon Zeciroski, and Jane Zich.
This exhibition runs Nov. 29 to Dec. 17, 2022 and Jan. 10 to Feb. 17, 2023.
Please check our website go.niu.edu/artmuseumevents for our hours, program schedule and instructions on how to join virtual talks. Have our event announcements and program information delivered directly to your inbox. Sign up at go.niu.edu/artmuseumsubscribe.
Calendar of Events
Thursday, Dec. 1, 2022
Public Opening Reception, 4:30 to 7 p.m.
Award ceremony begins at 6 p.m.
NIU Art Museum Galleries
Thursday, Jan. 26, 2023
Poetry/Short Story Night, 7 to 8:30 p.m.
Participatory reading and recital on childhood perspectives and experiences.
Registration required.
Altgeld Hall 125
COVID-19 Visitor Information
For more information about the university's health protocols and guidelines regarding the COVID-19 pandemic, visit niu.edu/protecting-the-pack.
About the NIU Art Museum
Serving Campus and Community by Balancing Traditional and Contemporary Art to Explore the Connections Made through Visual Culture. Part of the College of Visual and Performing Arts' vibrant and active arts community on campus, the Northern Illinois University Art Museum is a resource for the NIU campus, local community and beyond.
The NIU Art Museum is located on the first floor, west end of Altgeld Hall, at the corner of College Avenue and Castle Drive on the main campus of Northern Illinois University in DeKalb, Illinois. Parking is available in the visitor pay lot located at 200 Carroll Ave. Limited metered and accessible parking spaces are available in front of Lowden Hall with accessible aisles and route to Altgeld.
Campus parking is free on weekends and after 5 p.m. weeknights in nearby lots 3 and 14. To request disability-related accommodations for museum programs, please contact the museum at least one week in advance. Northern Illinois University is an equal opportunity/affirmative action institution.
The exhibitions and programs of the NIU Art Museum are sponsored in part by the Illinois Arts Council Agency, the Friends of the NIU Art Museum, the NIU Arts and Culture Fee, and the College of Visual and Performing Arts' Season Presenting Sponsors Shaw Media and WNIU/WNIJ.
Altgeld Hall 116
First Floor, West End
1425 W. Lincoln Highway
Northern Illinois University
DeKalb, IL 60115
815-753-1936
niu.edu/artmuseum
Gallery Hours
10 a.m. to 1 p.m. Tuesday
10 a.m. to 1 p.m. Wednesday
Noon to 6 p.m. Thursday
Noon to 6 p.m. Friday
Noon to 3 p.m. Saturday; and by appointment for group tours. Exhibitions are free and open to the public.
Banner images: Lori Markman, "I've Got My Eye On You," ballpoint pen on paper, 1976 and Kalia Larson, "What Will the Neighbors Say," watercolor and india ink, 2022.