The College of Visual and Performing Arts and the School of Theatre and Dance are hosting a reception, Sunday, Nov. 20, in the lobby of the Stevens Building to honor Melanie Parks who worked for nearly 30 years in the NIU College of Visual and Performing Arts as an artist, educator, student advocate and administrator. The reception will be held from 1-2 p.m. and immediately followed by the 2 p.m. performance of this fall's dance concert: "Carmina Burana."
Tickets for the performance may be purchased online at: go.niu.edu/arts-tickets.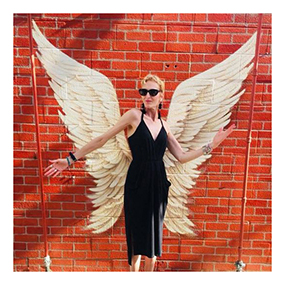 A scholarship has been established in Melanie's memory. For 23 years she worked and taught in the School of Theatre Dance first as costume director and instructor and then as costume designer. She became the associate dean of CVPA in 2013 and served in that role until 2018.
Melanie's talent for design was equaled only by her ability to connect with students, and though she missed teaching, she was flattered to be identified by the outgoing associate dean as someone who would serve students well in that college-wide role.
She is fondly remembered for her upbeat sunny nature, talent, style, advocacy and wit, as well as her love of shoes, the color pink, and Elvis.
This scholarship in the School of Theatre and Dance will help the program's recruiting efforts to further access and opportunity in the school and assist current costume design students in need.