Shakespeare's iconic romantic comedy comes to the stage of the NIU School of Theatre and Dance
Northern Illinois University's School of Theatre and Dance will present Much Ado About Nothing in the Sally Stevens Players Theatre on October 7– 9 and October 13 – 15 beginning at 7:30 pm each evening and 2:00pm matinees on October 9 and 15. The iconic comedy Much Ado About Nothing is brought to life on the NIU stage by an incredibly talented cast of actors. It promises to be a thrilling show with barrels of laughter.
Tickets are $7 for the public and free for NIU students, visit niumusic.universitytickets.com to reserve yours. The Sally Stevens Players Theatre is located on the second floor of the Stevens Building on the NIU main campus.
Much Ado About Nothing produced by the School of Theatre and Dance this season takes place in London, circa 1759. The British navy soldiers return home victorious! Looking for some fun, hosted by local bawd Leonata, hijinks and match making ensure. The show contains live music, slapstick comedy, and corsets galore!
Abigail Lamoreaux, playing Ursula and Balthasar, commented on the quality of the cast. "I am constantly impressed by the professionalism of this cast," she said. "Not only do we hold ourselves to a high standard, but we also can joke around and let loose!"
The NIU School of Theatre and Dance promotes gender and color conscious casting. This production is a testament to such standards. Casting was composed with diversity, inclusivity, and equity at the forefront.
For tickets and more information, please visit https://www.niu.edu/theatre/
NIU School of Theatre and Dance presents
Much Ado About Nothing
Written by William Shakespeare
Directed by Kay Martinovich
Assistant Director: Chlo Janisch
Stage Manager: Autumn Dancy
Scenic Coordinator: Hernan Acosta
Scenic Advisor: Eric Brockmeier
Choreographer: Frankie DiCiaccio
Intimacy Coach: Bethany Mangum-Oles
Cast
Leonata – Samantha Bliss
Antonia/Watch – Sonya Dunn
Hero – Kate Drury
Beatrice – Isabelle Ajemian
Margaret/Watch – Megan Thompson
Ursula/Balthasar – Abigail Lamoreaux
Don Pedro – Jonathan Perkins
Don John – Nicholas Bishop
Claudio – Brennan James
Benedick – Seamus Flanagan
Borachio – Logan Blake
Messenger/Conrade – Kit Stewart
Friar/Sexton – Stanton Davis
Dogberry – King Johnson
Verges – Kyara Chisolm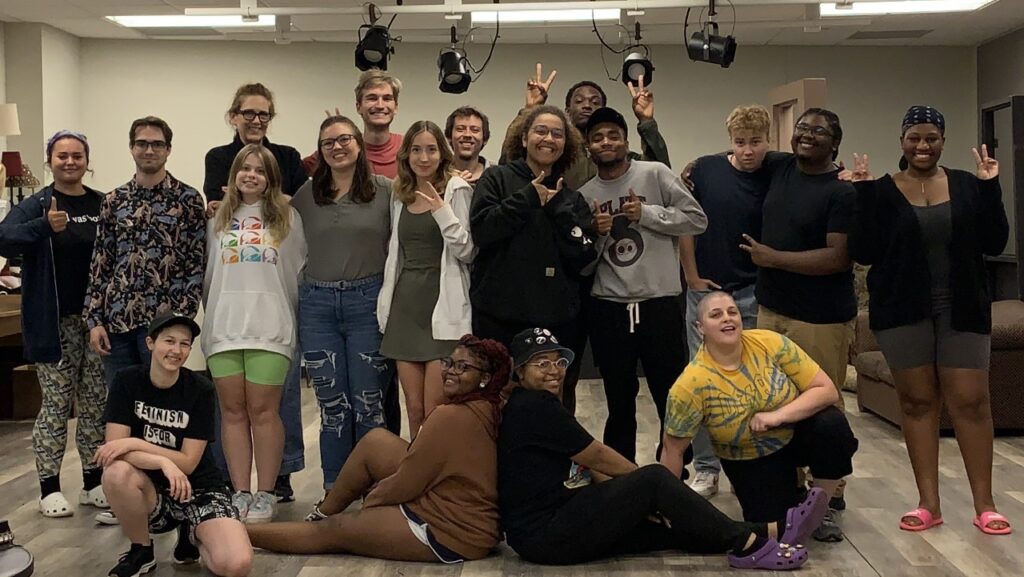 Crew
Run Crew – Ashley Gale, Matthew Killinger, Myles Mohammed
Wardrobe – Caitlyn George
Scenic Advisor – Eric Brockmeier
Cast Bios

Jonathan Perkins (Don Pedro) is a third-year B.F.A. acting candidate and is thrilled to undertake one of Hercules' labors. This past summer, he toured with Hoosier Shakespeare Festival as Ross in "Macbeth" directed by Doreen Bechtol, and Slender in "The Merry Wives of Windsor" directed by Dennis Henry. He is also a voice actor, recently heard in Congo Square Theatre's audio series, "The Clinic," voicing Shad; directed by Daniel Bryant (Season One) and Javon Johnson (Season Two). Shout out to his acting cohort at NIU; you guys mean the absolute world to him. Much love to everyone in the production and those who have constantly supported his artistry; this show is dedicated to you all. Keep being your authentic selves forever and always. Other credits include Eagle in "The Conference of the Birds" by Sholeh Wolpé; directed by Cecilie Keenan. Omari in "Pipeline" by Dominique Morisseau. Doug in "Gruesome Playground Injuries "by Rajiv Joseph.

Sonya Dunn (Antonia) is a sophomore B.F.A. acting major. Her first work in "Sonnets for an Old Century" as Antionette for Freshman Showcase. She is in delight with her first Shakespeare aura here at NIU. She wishes joy to all who watch her first time being in a Shakespeare play indeed. She's looking forward to her ongoing, enjoy!
Logan Blake (Borachio) is a second year B.F.A. actor at Northern Illinois University. He has been acting for six years and has a tremendous passion for the craft. Some of his works at NIU include the 24-Hour Theatre Festival, the improv shows, "Need to Know," and more. This is his first full stage production and is thrilled to have been part of such an incredible production. He would like to thank his family and friends for always being supportive of his path. He would also like to thank everyone for coming and hope they will enjoy the show as much as everyone involved enjoyed creating it!

Kyara Chisolm (Verges) is in her sophomore year as a B.F.A. acting major. Previously at NIU she was in "Sonnets for an Old Century" (Jessica Hecht). She is a member of the all treble acapella group, The Harmelodics, here at NIU.

King Johnson (Dogberry) is excited to jump back into the world of plays as well as getting to perform in his first Shakespeare show after stepping away from the structured acting training provided by NIU and using the techniques he learned to develop his own film, internet skits, and other extracurriculars.

Kate Drury (Hero) is a senior B.F.A. acting candidate and dance minor. Originally from Nashville, Tennessee, this is her fourth and final play here at NIU. She was previously seen in "Bird in the Hand," "Edward II," and "RUR," along with multiple faculty dance concerts. In addition to these shows, she has also choreographed for the Student Choreography Showcase, and sang in the School of Music's Sondheim Tribute Concert. She made her professional debut this summer performing multiple roles and serving as dance captain at Canterbury Summer Theater in Michigan City, Indiana.

Kit Stewart (Messenger/Conrade), born and raised in Chicago and a sophomore in the BFA acting program, he is incredibly excited to be in his first ever live performance acting. He has never been in shows during his time in high school or has ever had proper practice, but ever since his entry into NIU, he is extremely grateful for this opportunity.

Abby Lamoreaux (Ursula/Balthasar) is a third year B.F.A. acting candidate from Kenosha, Wisconsin. Last semester she played Goldfinch and was movement captain for "The Conference of the Birds." And in fall 2021, she was on wardrobe for "Edward II." Abby is also the managing editor at the Northern Star, NIU's student news organization.

Seamus Fleischman (Benedick), a B.F.A. acting four, is impressed, compressed, excited, elated, and generally A-OK in this whillygig of a show. He could be seen in previous NIU productions as Duck in "The Conference of the Birds," Lightborn and Archbishop in "Edward II," and some anonymous characters in "Town Hall" and "Love and Information."

Brennan James (Claudio) is a junior in B.F.A. acting. This is Brennan's second show here at NIU, previously seen in "The Language Archive" as George in April 2022. Brennan would like to thank his parents for always being supportive no matter what, for sticking with his dreams since the beginning. It is beyond appreciated. Brennan is thrilled to share this experience with you in hopes that you enjoy!

Samantha Bliss (Leonata) is a senior B.F.A. acting candidate. Her past NIU credits include "You are You," "Edward II," "Angels in America," "A Bird in the Hand," and "Rogues' Gallery" (Third Onion Series). Some of her favorite past credits from Commonwealth Theatre Center include Hermione in "The Winter's Tale," Queen Elizabeth in "Richard III," and Aaron Kriefls and others in "The Laramie Project." She is very excited to share this play with all of you!

Isabelle Ajemian (Beatrice) is a senior B.F.A. acting candidate from Mansfield, Texas. She has appeared in previous productions here at NIU, which include "A Bird in the Hand" directed by Bethany Mangum-Oles, "Everybody" directed by Edwin Lee Gibson, and "The Language Archive" directed by Bethany Mangum-Oles. Her most recent endeavor was studying acting on film with New York Film Academy in Florence, Italy. She also self-published a poetry collection titled "Colorful Epiphanies." This is Isabelle's first time performing Shakespeare and she is so excited to share this story with a unique and much needed twist of female empowerment.

Megan Thompson (Margaret) is a senior B.F.A. acting candidate from Louisville, Kentucky. Some past credits from NIU include; "Hit The Wall," "Bike America," and "Bird In The Hand." Some past credits from Commonwealth Theatre Center include: "The Trojan Women" and "Macbeth." Cheers to live theatre!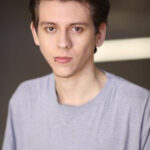 Nicholas James Bishop (Don John) is a senior actor at Northern Illinois University. He has studied under and worked closely with Alexander Gelman and Kay Martinovich. He studied Fitzmaurice's vocal technique under Stanton Davis and Bethany Magnum-Oles. Finally, he studied Williamson's movement under Joe Matyes, Kendra Holton, and Emily Vitrano.

Stanton Davis (Friar Frances/Sexton) is a voice and acting teacher at NIU. He's in his 15th year as a member of the acting faculty. He teaches speech, dialects, verse, stage combat, and rhetoric. He holds a B.F.A. from the University of Utah and an M.F.A. from the Professional Theatre Training Program at the University of Delaware. Stanton has acted professionally on stage, film, television, voiceover, and audiobook narrations. He's a certified Fitzmaurice Voice instructor. He lives on a farm with his spouse and many furry and feathery friends.
Production Team Bios
Kay Martinovich (Director) is a professional theater director based in Chicago where she has directed productions at Irish Repertory of Chicago, Remy Bumppo, Trap Door, City Lit, Buffalo Theatre Ensemble, Lifeline, Apple Tree, and Her Story Theater among others. At NIU, she has directed the live and virtual "Girls and Dolls" by Lisa McGee, "A Bright New Boise" by Samuel D. Hunter, "A Skull in Connemara" by Martin McDonagh, the devised piece "Women In To Light," "Middletown" by Will Eno, and "The Real Thing" by Tom Stoppard. Kay is tackling Shakespeare for the first time with her version of "Much Ado About Nothing."
Thanks much to the wonderful cast, stage management team, assistant director, designers, choreographer — and actually anyone she talked to about this project. You made this all possible!
Chlo Janisch (Assistant Director) is thrilled to be making their debut in directing with this spectacular cast! A member of the 2022 NIU B.F.A. acting class, they have been all over the country to learn the ways of the Bard. Chlo already has plans for a second directing venture and wants to thoroughly thank Kay for the opportunity to work and learn alongside her!
Autumn Dancy (Stage Manager) is in her second year of the B.F.A. design and technology program and an alumni from the Auburn High School CAPA program in Rockford, Illinois. She is excited to be stage managing her first show at NIU after many years with RVC Starlight theatre. She would like to thank her family, friends and teachers for constantly pushing her to achieve her dreams and break generational curses. "Thank you for coming to the show, I hope you guys enjoy!"
Hernan Acosta (Scenic Coordinator) is a fourth-year senior pursuing his B.F.A. in design and technology and is graduating in December. He is excited to present his first set design with "Much Ado About Nothing." Designing "Much Ado" was an experience like no other and he can't wait to take everything he has learned with this design and take it with him beyond college. He would like to extend a special thank you to Eric Brockmeier for his guidance and for being a mentor like no other. Hernan would also like to thank his girlfriend for encouraging him to pursue
his dreams.
Director's Note
Working on "Much Ado about Nothing" has been an extraordinary journey. While I have always enjoyed working with actors on their Shakespeare monologues, directing plays by the Bard has never been on my directing "to do" list. And so, until now, I had yet to venture forth in this arena. Last year around this time, I was challenged by a colleague to direct a Shakespeare — or was it a dare? This experience of taking something on before I knew what I was getting into felt very much like the time many years ago when another colleague asked me to "put together" a staged reading of Ulysses by James Joyce (and I, not quite understanding what that would entail, said Yes!) Cutting down 18 "episodes" of densely written stream of consciousness prose and directing the three-night performance with 20 actors was the event of a lifetime for me — one which I'll never forget. And this production, dear reader, is hearkening to that same feeling of overwhelm and accomplishment. Tackling this play is something I never would have dreamed of doing — and wouldn't you know it, through the many steps of my process, I've fallen for Shakespeare. That's what challenges in art can do. Shake things up. Make us rethink what we think we know. And at the end of it all, we might be truly changed by the experience.
For our "Much Ado about Nothing," we take a feminist lens in which to highlight the lives of the women of the house — Leonata, Antonia, Hero, Beatrice, Margaret, Ursula and one we added, Isabella. While we have located the play in a specific place and time — London in the 18th century — I was very interested in shaping the play to undercut the notion that marriage is an eventuality for all women. And that, much like the struggles of today, it's about choice. For everyone. We hope you have a good time! We sure have 🙂 .
Production Team
Scene Shop Supervisor – Adam Rager
Costume Design Advisor – Jeremy W. Floyd
Costume Shop Supervisor – Clare Richey-Kaplan
Lighting Design Advisor – Brandon Wardell
Resident Master Electrician – Chris Kurszewski
Properties Director – Dave Doherty
Technical Direction Advisor – Tracy Nunnally
Stage Management Supervisor – Jordan Clifton
House Manager Supervisor – Cornelia Hayes
Special Thanks
Alexander Gelman, Eileen Vorbach, Matt O'Brien, Lorri Marshall, Jeremy Floyd, Bethany Mangum, Stanton Davis, Maggie Scanlan, Emily Vitrano, Bob Schneider, Logan Blake, Jordan Boyd and Dave Doherty.