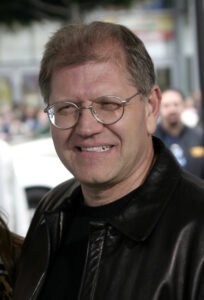 Oscar winning filmmaker Robert Zemeckis is best known for directing blockbuster movies like the Back to the Future franchise, Forrest Gump, Romancing the Stone, Castaway, Contact, and more. He won his Oscar for Forrest Gump in 1995, and just a year later he returned to his alma mater for a two hour question and answer session with students and faculty.
Zemeckis was born in Chicago and attended Fenger Academy High School before coming to NIU as a freshman in the fall of 1969. He took classes in the School of Art and Design as well as communications courses, and transferred after the spring of 1971 to attend the School of Cinematic Arts at the University of Southern California, in Los Angeles.
Zemeckis accepted an invitation from then NIU communications professors Gary Burns and Jeff Chown to address students in their "Films of Robert Zemeckis" class.
He discusses why he attended NIU. "In the culture that I grew up in, people didn't got to college. Period. Let alone got to Ivy League schools. I applied to the U of I and I applied to Purdue. I thought I was going to be an engineer because that's what my father said. 'You have got to have a job where you wear a tie.' I was accepted at Northern and went to school here. I always knew I wanted to be in the film business.
"I was watching [The Tonight Show with] Johnny Carson, when I was in high school, he had Jerry Lewis on as a guest. Johnny said, "Jerry I hear you are teaching school?" And Jerry said he was teaching film at the USC School of Cinema. I thought, gosh, there's actually a place where you can go to school and study cinema? I came to Northern and learned what college was all about. I took all of the courses that they had here. I talked my way into all those courses because they were always restricted for upperclassmen. I just went for it, and I did really well in those classes."
After his first year at NIU, Zemeckis applied to USC's film school. And he received a "thin letter" from the school saying that he had been accepted. That turned out to be a bit premature, but after some intense negotiations (and begging) he was eventually accepted for real. He transferred to USC after completing his sophmore year at NIU.
He discusses the start to his career writing episodes of Kolchak: The Night Stalker and McCloud with his partner Bob Gale, and the two of them being offered a job writing a full season of episodes, only to turn it down to focus on a filmmaking career that hadn't really started yet.
Zemeckis discusses his first big break which was writing the script for 1941 for Steven Spielberg. Spielberg read the script Zemeckis had written for I Wanna Hold Your Hand and convinced Sid Sheinberg, the president of Universal Studios to let Zemeckis direct the movie. While the movie was not a box office success, it led to Zemeckis directing Used Cars, Romancing the Stone and Back to the Future. 
In the Q and A, Zemeckis tells a number of incredible stories including his inability to get through the Winston Groom novel of "Forrest Gump," how long it took Gary Sinise to pick one item of wardrobe for the movie, and what part of Forrest Gump is based on something from NIU. He also says that he was picked to direct the movie because of his background in mixing live action and animation, and after he got the job he threw out all of the animation parts of the screenplay.
He also tells stories about which actors he likes to work with and one actor that he didn't (it couldn't have been all bad, they worked together on another of his movies later in his career), why his movies tend to have some of the biggest moments of American history in them, and how long he and Bob Gale struggled trying to come up with an end to Back to the Future. 
He also explains to the students how one particularly sophisticated shot from the movie Contact was shot, and how they incorporated the feather into the opening credits of Forrest Gump.  And, what it's like to direct Meryl Streep.
It's all good stuff, but if you want to jump ahead to hear the story about the thing in Forrest Gump that is based on something at NIU it starts at about the one hour and forty one minute (1:41:00) mark. You'll never look at Forrest's visit to Jenny at college the same way again.
Next up for Zemeckis is another collaboration with Tom Hanks. A live action film of Pinocchio which will premiere on Disney Plus on September 8.