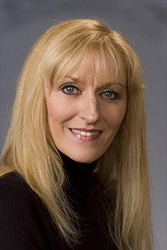 Beloved artist, designer, educator, student advocate and administrator Melanie Parks passed away July 28 after a long battle with cancer. Parks came to the NIU School of Theatre and Dance in 1990 as costume director and taught all of the technical costume classes. In 1998 she became costume designer and added theatre undergraduate advisor to her duties, which eventually led to her becoming associate dean of the College of Visual and Performing Arts in 2013. She continued in that role for five years before moving to southern California to be closer to her twin sister, Mary and eventually to retirement.
In 2018, Parks reflected on her time at NIU, and chose the banner photo above. It is of a performance of The Nutcracker in 2003 at NIU that she designed the costumes for.
"An an undergraduate advisor you are very involved in admissions events, meeting students and talking to them," Parks said.  "I enjoyed that, and the person who was associate dean at the time, Deborah Robertson, had seen me working and interacting with the students and saw that I had a talent for it.  She was planning to retire and encouraged me to pursue the opportunity."
Working in the theater at NIU was like having a different job all the time, she said.  "I really liked working with the students, and every time you are working on a show it feels like a different job.  You are working with different people, doing different research for different shows.  I really enjoyed teaching, that's the one thing I missed after moving to the dean's office."
Rich Holly was dean of the College of Visual and Performing Arts from 2008-2015 and is currently executive director for the arts and associate dean at North Carolina State University.
"Melanie was a ray of sunshine with everyone she met and in every setting into which she stepped," Holly said.  "I don't believe I've ever met anyone as constantly upbeat and ready to help, and with the talents and work ethic to make sure all was done extremely well, on time, and with an abundance of smiles and laughter. Of course, she was also a cherished costume designer and theatre colleague, with a great many friends across campus and around the world. We lost one of the great ones with Melanie's passing, and I will dearly miss keeping up with her love of Elvis, her insistence upon using pink nearly everywhere, and her passion for footwear."
Harold Kafer was Dean of CVPA from 1995-2008.
"Melanie was a wonderful university citizen and a positive force in the College of Visual and Performing Arts," Kafer said. "Her artistic prowess as a costumer, her commitment to student success, and her joyous collegial spirit will be remembered fondly by all who knew her in her various roles at NIU."
Even after moving to her associate dean job, Parks stayed active in costume design by doing professional costuming, including a pair of films with NIU ties.
She did the costumes for a movie version of the Mark Twain short story "The $30,000 Bequest" filmed by a crew of NIU students and faculty and headed by then Director of the School of Theatre and Dance Alex Gelman, who now serves as distinguished engagement professor and head of MFA Acting at NIU.
She had kept in touch with Rachel Rozycki, an alum of the School of Theatre and Dance, who had been in Italy working on a documentary.  Rozycki returned to produce a feature film in Chicago, and Parks was asked to do the costume design on  "Hogtown," directed by Dan Nearing.
Lori Hartenhoff is professor of costume technology and costume director of the NIU School of Theater and Dance.
"I have so many memories of Melanie. She was a terrific colleague and collaborator and friend," Hartenhoff said. "If you know Melanie at all you know she loved Halloween… she would annually host a 'scary food' party.  It was so much fun and we all brought ridiculously scary food :).  After her initial diagnosis she gave us brain molds to use in preparation for the party.  She was a class act until the end."
Tracy Nunnally is professor, technical director and head of design and technology in the NIU School of Theatre and Dance.
"Melanie was a dear friend, a gifted designer, a dedicated colleague, and a fierce advocate for the students of NIU," he said. "Heaven has a new angel, and she's wearing pink!"
And Alex Gelman provided another example of Melanie's great sense of humor.
"Some years ago, Melanie was helping me re-write a report," he said. "It quickly became clear to us both that we had included all the information that was requested but needed to translate it into the terminology in which neither of us was comfortably versed. Toward the end of a challenging hour, when our task was complete, Melanie recognized my frustration and, with her characteristic kindness found the perfect thing to say. "You know, I sometimes sit in these meetings and hit a place where I just don't understand why we must speak this way. At those moments I think 'I don't know what you're saying, but I do know your shoes don't match. '"
"Ever the designer. Ever the artist. Ever the wit."