Huskie Spotlight: Heewon Cha, Master of Music, '22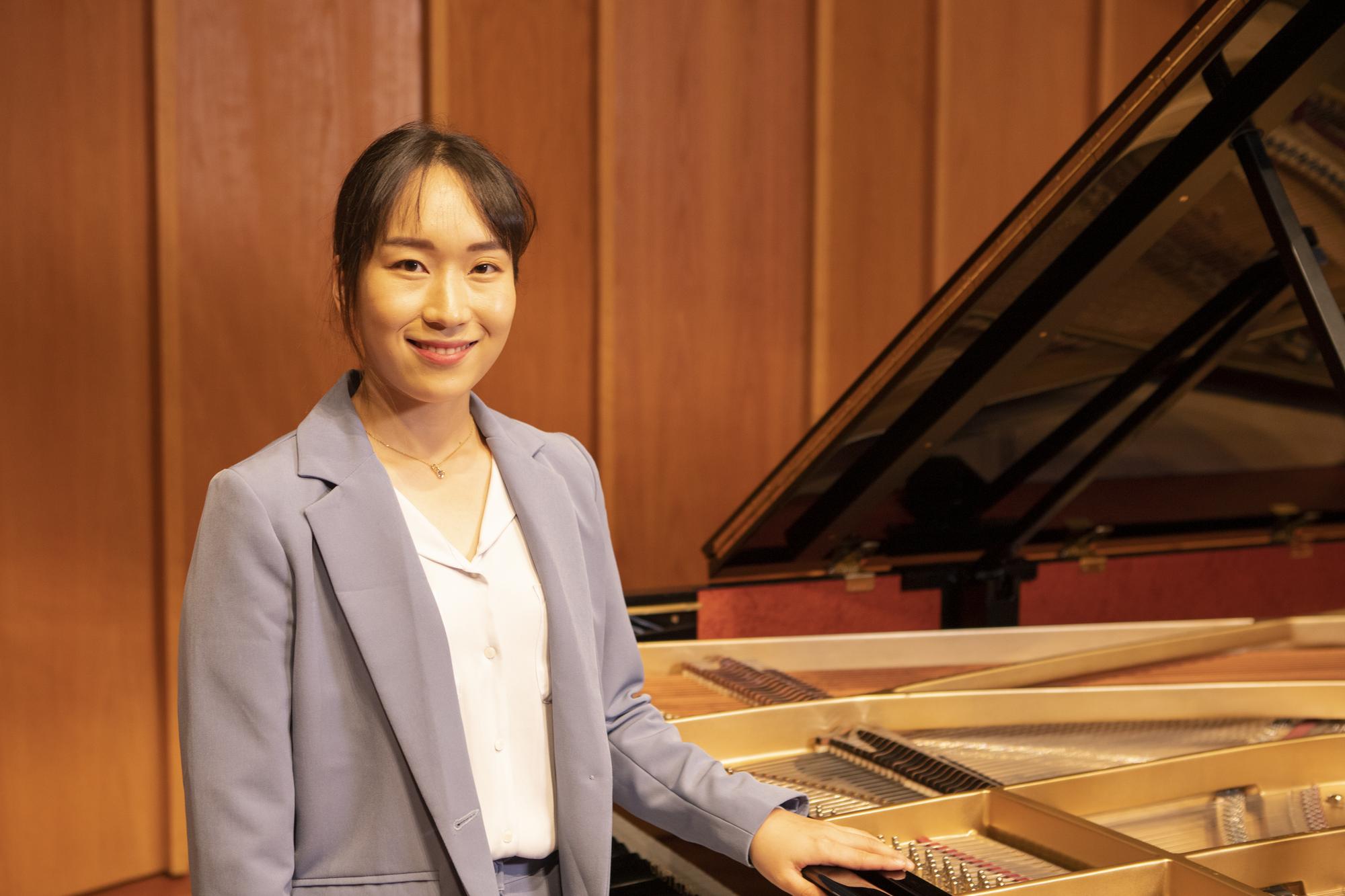 What did you want to be when you were growing up? My childhood dream was to be a pianist, especially a Collaborative Pianist for an instrumental ensemble or choir rather than a Concert Pianist.
I am currently studying both piano performance and orchestral conducting for my master's degrees and working as an Opera pianist, my assistantship, for the Opera theater at School of Music.
What is your major (and/or minor) and why did you decide on this course of study? My major is piano performance and orchestral conducting. Piano is an inseparable friend who has been with me like air since I was very young. So it was a natural choice for me to continue to study piano. Orchestral conducting allows me to learn about diverse instruments other than the piano and realizes musical signs about their ensemble and classical music, which helps expand my musical perspective.
What is your favorite thing about studying and/or playing music at NIU? An enjoyable moment for me is when I play music with other people. Working with other musicians means that more than two different planets meet to create a new universe. Sometimes I get to know about my musical partner only by playing the music together without having any conversation. I feel catharsis when things that cannot be expressed in words are spoken in music and understood with each other.
How have you connected with other students at NIU?: Most of my relationships start from the music ensemble. My friends and I discuss each other's musical styles, and we understand and learn about each other while working on the ensemble. I sometimes meet friends who are not majoring in music in classes or church outside, and we talk about each other's major and get close to each other by talking about music.
Are you involved in any student organizations or extra-curricular activities? I work as a piano instructor at a Community School of the Arts. Looking at my students born and raised in this community, I am learning about native American society and this region. Sometimes students invite me to their house, and I spend time with their family. When I meet native speakers and interact with them after living on the opposite side of the world is really fun. Understanding and sharing different cultures helps me understand this place better.
Why did you choose NIU to study music? When I entered this school, I got a chance to build up my career as an accompanist without giving up my studies as a soloist. It is a very rare and opportunity. I have had an advanced quality of academic curriculum and performance opportunities after I got here.
Who has been one of your favorite instructors/professors and why? What course do they teach?*: This is a tough question. It's like asking who you like better, mom or dad.
First, I want to talk about my professor for orchestral conducting, Dr. Benjamin Firer. He worked here as the philharmonic conductor, and I worked with him at the Opera Theater at NIU. I'm also learned orchestral conducting from him. He is a teacher who always inspired me with new ideas and creativity. I have many conservative parts in my music, which is my limit that I still want to break. So his thoughts and advice are a stimulus to me, breaking some conventional wisdom or rules and bringing out new ideas inside me. I enjoy talking with him.
Lastly, I want to talk about my respected piano teacher [Dr. William Goldenberg]. He is such a great pianist (his fingertips make a whole different world from mine.) Besides, he is always passionate and dedicated to his students. Have you ever thought about the dedication of an immensely skilled expert to develop my progress? This is incredibly grateful.
His music is so expressive that he sings on the piano, like an Opera! His this musicality inspires me a lot. When I study with him, I can understand classical music in-depth, primarily various ensembles like instrumental music, not just about the piano itself. Also, he has a lot of experience and repertoire. I'm so lucky to have met him.
Where is your favorite spot on campus or in the community? Why are you drawn to it?  I love walking down the streets of Lucinda Avenue, looking west at dusk. (Lucinda Ave is located in north of the School of Music.)
When you walk toward the west side of the sky after finishing your day, you can feel the incredible sunset. If you want to feel overwhelmed because it's beautiful, walk down the streets of Lucinda on a sunny day.
What advice would you give to a student who is applying to colleges?  Congratulations! You've already had a chance to get a good quality class and lots of performances simultaneously. Professors are very talented and supportive around you. They are cooperative and provide many options for students who want to study with a passion. There are a lot of recitals and performances too. You can find all the possibilities in this school and do it.
Coming to college, what is something that you have had to learn to do differently? I had to have a strong mind to adapt and live in a place that has a different culture from where I have lived my whole life, South Korea. I also enjoyed all the moments that I have been here because I believe a healthy mindset and positive thinking in any situation are most important.
What do you do to relax or recharge? I often have a comfortable conversation with my roommate and other friends. Sometimes I play music or even sing a song at home with my friends freely. When I'm stressed out, I eat good food. Orange juice and omelet at Egg Heaven. Steak bowl in Chipotle, Asian Zing in Buffalo wings, etc.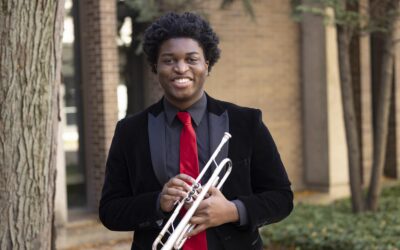 Music Huskie SpotlightHuskie Spotlight: Gabriel Wade, '24, Master of MusicWhat did you want to be when you were growing up?  Ever since starting band and piano class in middle school, I've always wanted to make music a major part of my life. That led to me pursuing a...