Huskie Spotlight: Chris Groth, Music Education, '22
What did you want to be when you were growing up? Growing up, music was always one of my passions. When I started trumpet in seventh grade, I immediately fell in love with it. While I did not know exactly what I wanted to do with music, I knew that I wanted to continue with it all of my life. The faculty in the School of Music have helped me shape my future with music.
What is your major (and/or minor) and why did you decide on this course of study? Music education is my major. I idolize my middle school band director and appreciate his hard work and dedication to his band program. I want to be a teacher who inspires students the same way my middle school band director inspired me.
What is your favorite thing about studying and/or playing music at NIU? I love how many musical opportunities there are in the School of Music as well as in the community. This semester, I am involved in NIU Wind Ensemble, a brass quintet, Banda NIU, trumpet ensemble, and University Steelband. In the past, I have been involved in Fox Valley Brass Band, a professional English-style brass band located in Aurora. The faculty encourages students in the School of Music to be as involved as possible, and I have enjoyed partaking in all of these ensembles.
How have you connected with other students at NIU? The School of Music has a tight-knit community. It has been extremely easy to network and build friendships and professional relationships at NIU. Having classes with the same cohort for all four years has been extremely beneficial to creating these relationships.
Why did you choose NIU to study music? When I was in high school, our wind ensemble traveled to NIU for High School Concert Band Day. I was blown away by the NIU Wind Symphony, especially with the march that they finished the concert with! I also got to see the Huskie Marching Band while I was in high school and loved the energy of the band. I knew I wanted to be a part of ensembles like these, and was pleasantly surprised to find out about the widely diverse ensembles that NIU offers.
Who has been one of your favorite instructors/professors and why? What course do they teach? Dr. Chris Scanlon has been my favorite professor during my time at NIU. Upon entering NIU, I knew that I was a decent trumpet player, but struggled greatly with performance anxiety. Over the last year and a half, I have become a completely different player. I have a much more confident presence on stage and am excited to share my craft with an audience. Dr. Scanlon has been an amazing mentor and has broadened my view of what is possible with a degree in music.
Where is your favorite spot on campus or in the community? Why are you drawn to it?  I have two favorite spots in the community. The first one is Ollie's Frozen Custard in Sycamore. They have so many delicious flavors, and it is truly a must-have! The second one is the East Lagoon. There's lots to do at the East Lagoon: canoeing, a scenic biking path, and much more. It's a great place to go if you love outdoor activities.
What advice would you give to a student who is applying to colleges?  Look at several colleges and weigh out the pros and cons of each. You don't want to be fixated on a "dream college": you want somewhere that makes sense financially and logistically. If you like going home frequently, out of state or across the country might not be the best option for you. Look into each school's student organization and other events going on around campus. Finally, have an open mind, and be sure to talk to school advisors!
Coming to college, what is something that you have had to learn to do differently? In high school, I was able to get through with good grades and not have to study or do homework that much. In my university courses, I've had to put in a lot of time studying and doing homework.
What do you do to relax or recharge? I like spending time with my girlfriend going to restaurants in the area or going shopping. I also love video games, especially Nintendo games. I like listening to and making music on my down time as well.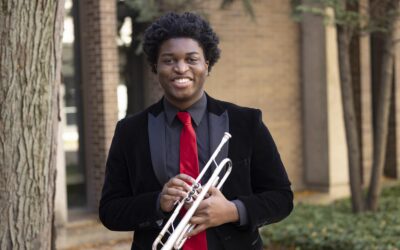 Music Huskie SpotlightHuskie Spotlight: Gabriel Wade, '24, Master of MusicWhat did you want to be when you were growing up?  Ever since starting band and piano class in middle school, I've always wanted to make music a major part of my life. That led to me pursuing a...