Huskie Spotlight: Brittany O'Reilly, Music Education '22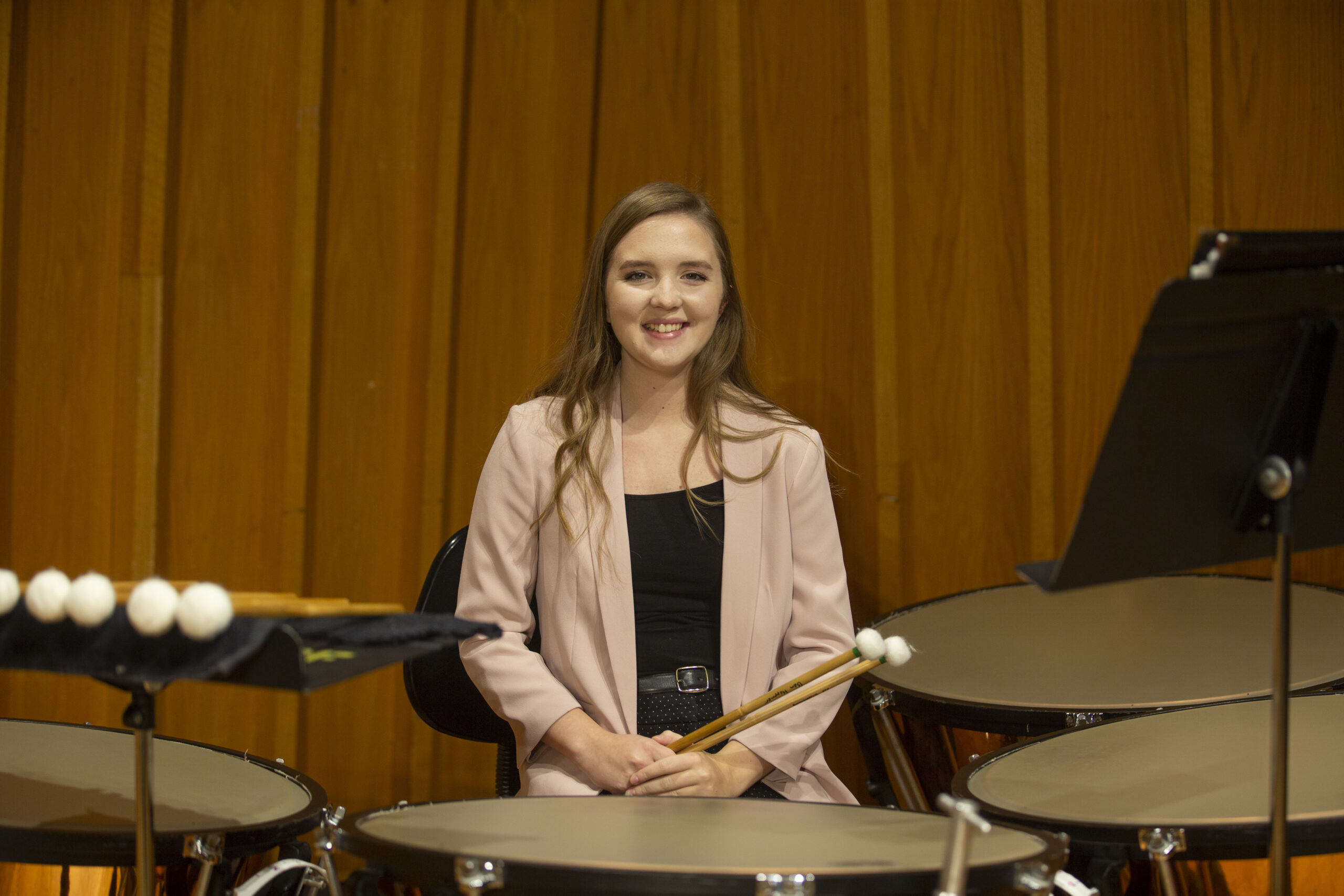 What is your major (and/or minor) and why did you decide on this course of study? My major is Music Education with a Jazz Emphasis. My mom is a kindergarten teacher and growing up around the educational environment definitely inspired me to be a teacher. I am passionate about music and caring for people, so putting those two things together is the dream!
What is your favorite thing about studying and/or playing music at NIU? My favorite thing about playing and studying music at NIU is the people I get to connect with while doing it! The School of Music is a close-knit family that encourages and challenges each other. We are truly blessed to have students, staff, and professors who all love their craft and want to support each other in the pursuit of music making. There is a collaborative, creative energy amongst the students of The School of Music, which is really exciting to be a part of.
Are you involved in any student organizations or extra-curricular activities? If so, which ones? How have they added to your experience as a Huskie? Outside of my SOM activities, I have been a part of a campus ministry called Cru! Cru is a Christian campus organization that helps students to connect to each other and God. I was heavily involved my freshman year and sophomore year and I have helped in many roles such as worship band music director and Bible study leader. My faith in Jesus is really important to me, so getting to use my talent and interest in music for Cru at NIU has been really fulfilling. Cru has allowed me to get to know more students on campus outside of the music building, and many of these people have become my closest friends.
Why did you choose NIU to study music? After applying and auditioning at five music schools in the Midwest, NIU became my final choice because of the location and the professors I met. I am from St. Louis, Mo. and I was faced with making the choice of going to college in St. Louis where I had grown up, or branching out into the unknown: DeKalb, Ill. I am really glad I was brave enough to choose NIU! The professors I met also made a huge difference in choosing NIU. During the application and audition process, Ben Wahlund, Greg Beyer, and Reggie Thomas all made me and my family feel very welcomed and at home here at NIU. Their encouragement and excitement for my education made choosing NIU feel just right.
Who has been one of your favorite instructors/professors and why?  I feel super grateful to have had many, many impactful professors during my time at NIU. Some of the most impactful have been Reggie Thomas, Greg Beyer, Rodrigo Villanueva, Christine D'Alexander, and Mary Lynn Doherty. They have all taught me so much about playing music well, being a future educator, and being a good person. Ben Wahlund is also a professor who has had a large impact on my education at NIU. I have taken private percussion lessons with Professor Wahlund as well as other percussion area classes. Ben truly cares about his students and about how to teach them well individually. He is a great educator and I have learned a lot from him in that regard. I also have learned a lot from him about being a good person and friend to those around me. Ben cares for his fellow colleagues and members of the community and is always ready to provide care, encouragement, and professionalism.
Where is your favorite spot on campus or in the community? Why are you drawn to it? The DeKalb/Sycamore area has a lot to offer! I love coffee, so naturally my favorite spots in the community are the local coffee shops! A few of my favorites are Coroco Coffee, Barb City Bagels, and Cast Iron Coffee. These are all great places to get caffeinated, meet up with friends, or study! I also love to go for walks and get some fresh air, so the NIU Lagoon, nearby Hopkins Park, and Blumen Gardens plant shop are all places I enjoy. I also go to Bethany Road Bible Church in Sycamore which has become a great church home for me!
What advice would you give to a student who is applying to colleges? Trust the process and don't be afraid to reach out to people who have been where you are. Also, getting involved on campus is so important! It can be so easy to just go to class and stay in your dorm the rest of the time, but I really encourage you to go to events, meet new people, and get out of your comfort zone.
What do you do to relax or recharge? Some of my hobbies include cooking/baking, embroidery, painting, reading, thrifting at local thrift stores, and spending time with friends. All of these activities allow me to relax, recharge, and express myself outside of my musical studies.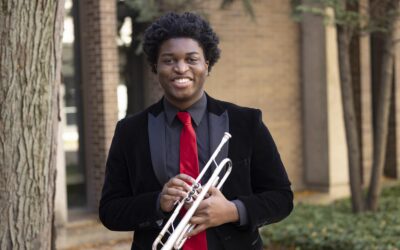 Music Huskie SpotlightHuskie Spotlight: Gabriel Wade, '24, Master of MusicWhat did you want to be when you were growing up?  Ever since starting band and piano class in middle school, I've always wanted to make music a major part of my life. That led to me pursuing a...