Huskie Spotlight: Abria Shaw, Music Education and Vocal Performance, '24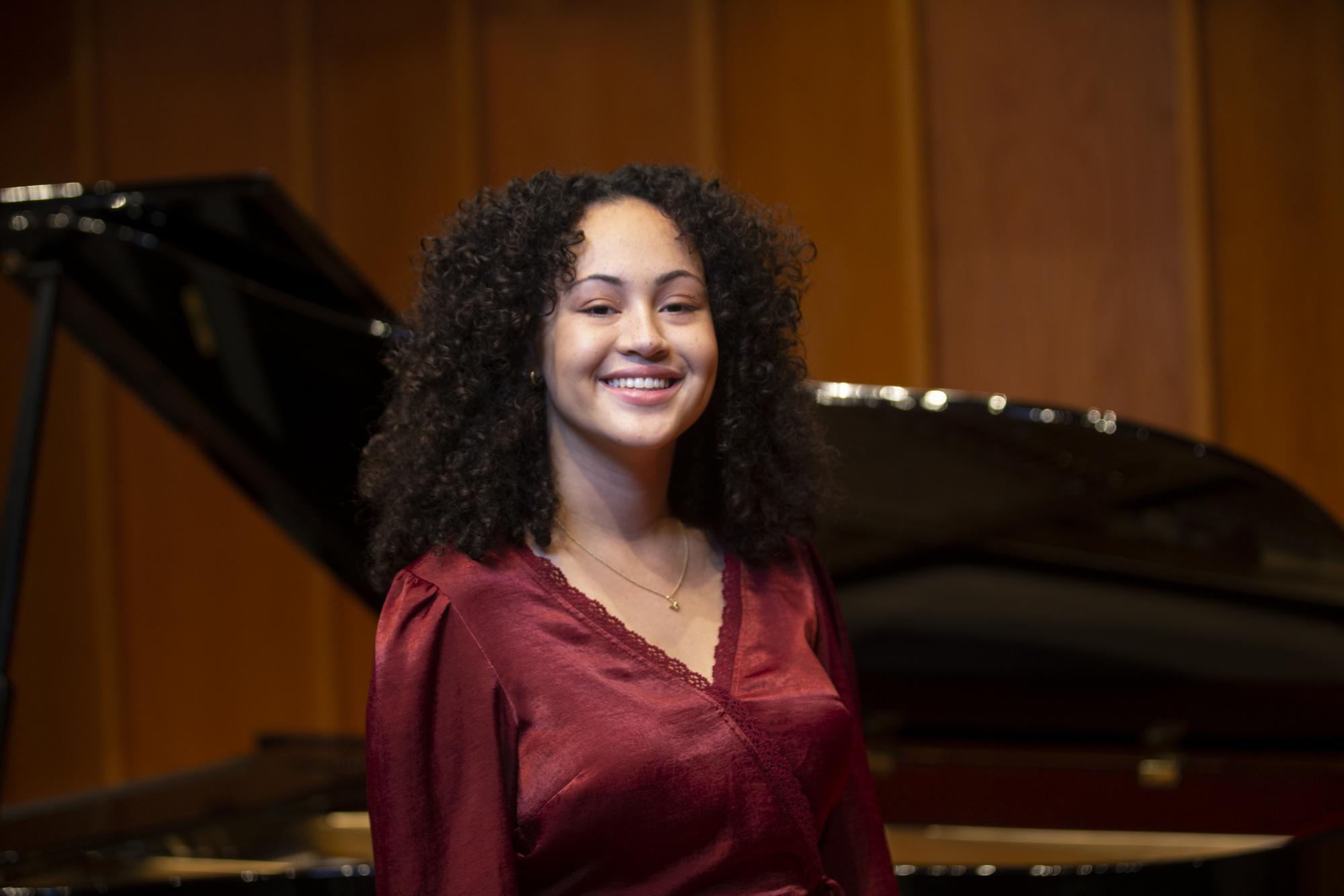 What did you want to be when you were growing up? Throughout my life I have bounced between different careers, but I always went back to wanting to be a music educator. I am currently pursuing a degree in both Music Education with vocal emphasis and a degree in Vocal Performance.
What is your major (and/or minor) and why did you decide on this course of study? I am majoring in Music Education with a vocal emphasis and Vocal Performance. I decided to major in Music Education because of how inspired I was by my elementary school music teacher. In fourth grade she encouraged me to audition for a local choir. When I did, I realized I was behind the other students because I did not know how to read music. I spent most of my time copying other students, so no one would find out.
However, when I told my music teacher, she taught me how to read music outside of class and gave me piano lessons for free. She expanded my mind to so much music that I did not know was accessible to me. Having a teacher that inspired me so much, makes me want to do the same for other students. I want to support all their ambitions. I want to level the playing field in the education system and make all students feel represented in school.
With my music education degree, I want to help create strong musicians and build passionate human beings. As for my performance degree, my goal is to develop my skills as a performer to be a better teacher, have the skills I need to perform after college, and so I can continue to grow as a singer. I hope to get my masters in vocal performance and continue to sing opera after college.
However, opera is not my only passion, I would love to sing jazz, sing R&B, and soul music. Overall, with both degrees I believe I will be able to uplift people through music, while still fulfilling myself.
What is your favorite thing about studying and/or playing music at NIU? My favorite thing about studying and singing at NIU is that the faculty really tries to give you so many opportunities to learn and perform. There have been some very interesting speakers and resident composers come and visit. Also, there are so many performance opportunities, it is noticeable that he faculty here wants us to share what we are working on. I have always felt supported in all of my passions here. Also, NIU's School of Music is trying very hard to create a more diverse and representative environment. It has been inspiring to see the school make changes from the norms and picking more diverse repertoire for performances! Since I first visited the school of music, I immediately felt that my passions would be supported.
Who has been one of your favorite instructors/professors and why?  This was a hard question because I appreciate all my professors so much. However, my voice teacher, Dr. Orna Arania has made a very big impact on me since I visited NIU my senior year in high school. I remember her explaining her teaching philosophy and it resonated with me so much. I have always valued being independent and Dr. Arania has explained to me during my time here that she is here to help me gather the tools I need to be able to be an independent performer. She has helped me so much with my confidence and has showed new ways to look at music. I have grown so much while working with her as a musician and a person. I have always trusted that she has my best interest in mind and has always pushed me to be my best. I have learned so much from Dr. Arania about how to be a smart and expressive musician. I have always admired how her presence fills up a room and her wisdom.  I look forward to continuing to work with her and learn even more from her.
Why did you choose NIU to study music?  I chose to study music at NIU because I could tell after speaking to the faculty and being told that I could double major, and that this school would truly support my passions. I remember noticing that the school of music posted more about their student's recitals and accomplishments than some of the other schools I was looking at. I truly felt like the school's main goal was to support my passions because I had full support with double majoring and the faculty made it clear that they wanted us to become independent musicians.
Where is your favorite spot on campus or in the community? My favorite spot on campus is the East Lagoon. It is so peaceful, and it always looks so pretty! I have always found my self over there either walking or just sitting on a bench when I just need a break. It is also fun to explore the paths because they go farther than you may think. I remember one morning I couldn't sleep, so I walked on the path and suddenly I realized I had been walking for an hour and I was on the other side of Lincoln Highway. I have always felt like I breathe the best outside, so the lagoon is my go-to place when I need to a break from being inside all day.
What advice would you give to a student who is applying to colleges? : My advice to any student applying to college is to ask questions and reach out. I promise there are people who want you to do well and succeed. It's okay to have questions or maybe not feel prepared. I dealt with those feelings of doubt and uncertainty about what I was doing when I applied and auditioned for school. However, asked so many questions and it helped me so much because it made me realize that that there are so many resources! Also, talking to faculty will give you a better idea of how the school works and help you see if you like the way the school communicates with you. I remember having to thank the admissions coordinator, Brigid Crawford, because I had emailed her so much even before I was accepted into the school of music. As we get older, we must advocate for ourselves and our education, so reach out.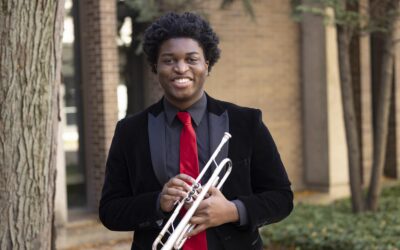 Music Huskie SpotlightHuskie Spotlight: Gabriel Wade, '24, Master of MusicWhat did you want to be when you were growing up?  Ever since starting band and piano class in middle school, I've always wanted to make music a major part of my life. That led to me pursuing a...