Caitlin Alejandre, a senior illustration major from Marengo won the annual NIU Holiday Card contest this year with her entry, "NIU Community."
"I love creating playful imagery and incorporating strange, delightful details," Alejandre said. "I wanted to include imagery from different cultures to show the diversity and community at NIU while also celebrating the holiday season that brings people together."
Caitlin's goal is to become a freelance illustrator and illustrate children's books, design posters, sell prints of her art and much more.
Second prize went to sophomore painting major Annelise Darville from Spring Grove, Ill with "Snowman Festivities."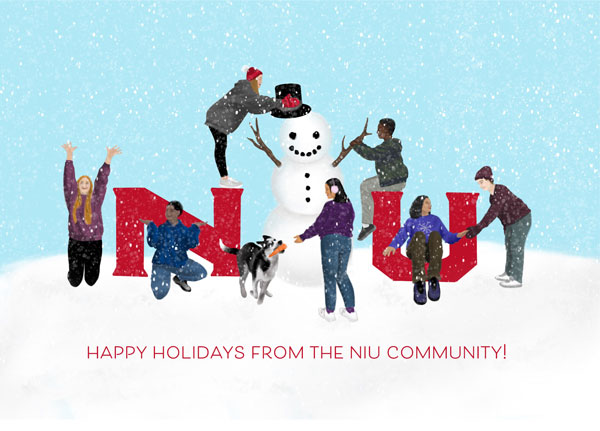 "I was inspired by the friendly community of students at NIU, and wanted to capture the presence of this community through a holiday activity," said. Darville.
Annelise would love to become a professional artist in any capacity, through freelance or commercial work.
Sadey Havel's "NIU Winter Community" earned third prize.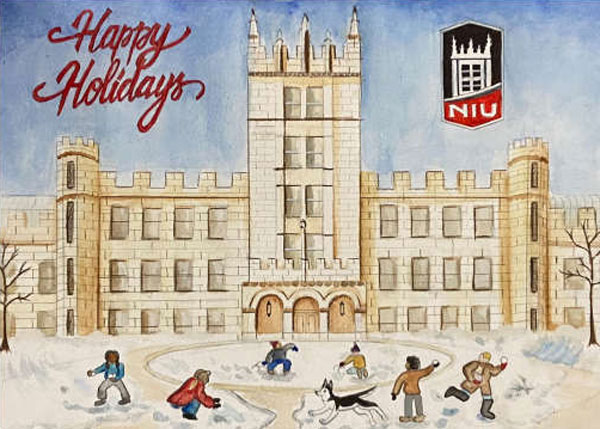 Sadey is a freshman BFA Studio Art and Design major (who will major in painting, drawing or illustration) from Appleton, Wis.
"I love the architecture at NIU, especially Altgeld Hall," Havel said. "I also appreciate the sense of community on campus. To link this community to the holidays, I included students engaging in a snowball fight. Mission, of course, is also participating."
After graduation, Sadey plans to attend graduate school. She hopes to consider positions in art museums, graphic design and even illustration, and looks forward to wherever her pat at NIU leads.