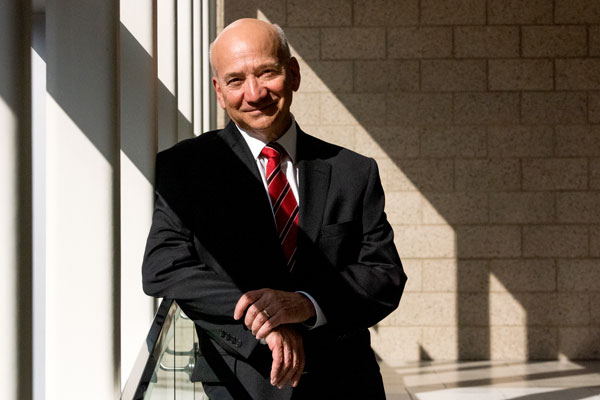 What year did you start working at NIU?
July 1, 2016
Where is your hometown? and where do you live now?
Geneva, IL
Where did you attend college and what degree(s) have you earned?
I attended Miami of Ohio and have a B.A. in communications and theatre. I also have an M.F.A. from Florida State University/Asolo Conservatory.
In which department(s) do you teach?
School of Theatre and Dance
What do you like about working at NIU?
The people—students are eager, talented and committed. Faculty are talented, dedicated and caring. Staff is supportive, kind and tireless.
What advice would you give to students currently attending NIU?
Say yes to everything! Explore courses and activities and events. Take risks. Talk to people you don't know. Never stop asking questions. Listen closely. Find the fun.
Tell us about a research or engaged learning project you have led.
I'm teaching an honors seminar on the Evolution of Art. I'm very interested in the way the species evolved and how art-making seems to be part of that evolution. I'm also curious about how art itself has evolved. It's all still contested, so the students and I engage in some speculation, which leads to good questions and hypotheses to be tested.
What do you hope students take away from your class?
Music, dance, theater, painting, sculpting, etc. all likely were the first means by which humans communicated. Art provides a vocabulary of feeling that captures what it means to be human. Everyone is an artist, and every art form is available to each of us to express ourselves in unique and powerful ways.
What is your favorite campus event?
Can't pick one—the concerts, plays, dances and exhibits put on by and for our students. It's wonderful and awe-inspiring to see their creativity flower.
What is your favorite memory of NIU?
The Art and Soul event we co-sponsored with the Center for Black Studies after the racial incident in 2020. The whole university was invited to paint Black Lives Matter on Castle Drive, and many came and did—even amid a pandemic. There was music and dancing, and all who came participated in making this powerful statement. For me, it truly reflected the Huskie spirit!
Who has influenced your professional path?
I've had many mentors throughout my life, but maybe the most important one was Joel Friedman. He was one of the founding directors of the New York Shakespeare Festival and was my acting teacher in NYC when I was starting out. He was not only a wonderful theater artist but also a gifted teacher. He knew what to say and, more importantly, how and when to say it so it was heard, understood and could be acted upon. He made all his students feel empowered. And I strive to do the same.
What did you want to be when you were growing up? Are you currently doing it? If not, what changed your path?
I always wanted to be a theater artist. My first roles were in kindergarten. I started formal lessons at age 10, got professional gigs starting at around 16 and was a professional for the next 20 years. I never thought I'd be a teacher, let alone a dean. But my mentors pointed out to me that I had some abilities, first as a teacher and later as an administrator. When I look back, I'm really doing the same thing, more or less—putting talent together and helping it flourish.
Are you a member of or hold a position within a professional organization? If so, what organization? What is the purpose of that organization and how does being part of this organization benefit you in your role at NIU?
I am a proud member of Actors' Equity Association, the professional stage actor's union; and the Screen Actors Guild/American Federation of Television and Radio Artists. I maintain my membership and have worked on and off in the profession my whole academic career. I think it's very important for artists to work in their fields to stay "in shape" and to stay current.
What community organizations are you involved in?
I am on the board of the Egyptian Theatre.
What do you do to relax or recharge?
I bike, hike, golf and read a lot of books. I also do the NY Times crossword puzzle every day, as well as the NYT Spelling Bee.
Is there anything else you'd like to share about your NIU Huskie story?
I think what we do is important—ensuring that the next generation of artists, scholars and teachers offers the world their talents and abilities. It's been a privilege and honor to serve as dean of this great college and university.