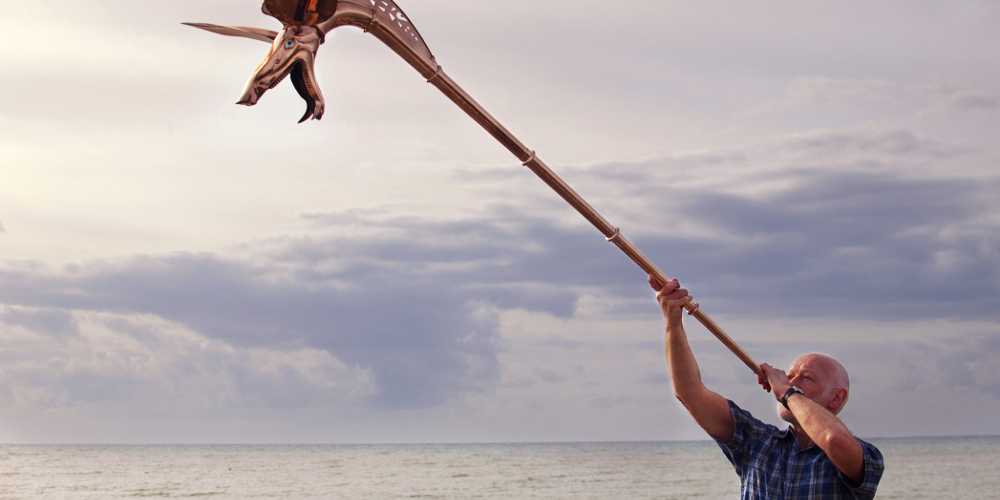 An upcoming NIU School of Music convocation will feature the world-premiere of Kenneth McQueenie's film, "If You Didn't Laugh" inspired by the music of John Kenny. Both McQueenie and Kenny will join the convocation's live stream for a question and answer session, Thursday, September 10 at 11 a.m. CDT.
Kenny is an English-born trombonist, professor and archaeologist who is internationally recognized for his interpretation of contemporary music. He also performs jazz and early music. As a composer, he is active in collaborations with dance and theater, and this love of theater is often an important feature of his recital output. His past commissions have included the London Contemporary Dance Theatre, Huddersfield Contemporary Music Festival, the International Trombone Association, Scottish Chamber Orchestra, Edinburgh Contemporary Arts Trust, Chamber Group of Scotland, Dance Umbrella, American Drama Group Europe, The New Haven International Festival of Arts and Ideas (USA) and the Festival d' Angers, France.
Kenny was scheduled to conduct a residency in the School of Music last spring, which instead became the commissioning of this film, generously supported by the Harry Castle Fund.
In 1993, Kenny was elected an Associate of the Royal Academy of Music, and is currently a professor at both the Guildhall School of Music and Drama in London, where he specializes in the interpretation of contemporary music, and The Royal Scottish Academy of Music and Drama, where he concentrates on sackbut (a type of trombone from the Renaissance and Baroque eras) and the interpretation of early music.
In 1992, he was invited to join a team of specialists at the National Museum of Scotland committed to reconstruct the Deskford Carnyx. Discovered in Northeast Scotland, this is the finest example so far discovered of an Iron Age Celtic war horn which was the most splendid and powerful wind instrument of the ancient world.
In 1993, Kenny became the first person to play the carnyx for 2,000 years, and has since lectured and performed on the instrument internationally, in the concert hall, and on radio, television, and film. There are now numerous compositions for the carnyx.
McQueenie is a Scottish  filmmaker, illustrator and mixed media artist who operates Driftwood Studio in the grounds of Traquair House, which holds the claim as the oldest inhabited house in Scotland, built in 1107.
[Update: Here's the film, "If You Didn't Laugh" that debuted at the convocation]
Photo above: As a member of EMAP (European Archaeology Project) John Kenny has helped to bring to fruition the reconstruction of the magnificent Tintignac Carnyx, and since 2014 he has given performances and lecture recitals on it throughout Europe. The instrument is the work of the French craftsman Jean Boisserie, based upon the research of a team of scientists based in Toulouse, led by the archaeologist Christophe Maniquet.