High school musicians ages 14 – 20 are invited to audition online for CSA Sinfonia on Saturday May 30.  Auditions begin at 11 a.m. and must be scheduled in advance.  Brass and woodwind musicians, string instrument players and percussionists are encouraged to audition.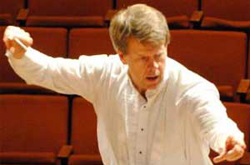 Linc Smelser will conduct Sinfonia auditions using Zoom or Facetime online meeting software to observe current social distancing guidelines.  Musicians should be prepared to play two short contrasting pieces and demonstrate sight-reading ability.  Those who meet the skill requirements are invited to become members of the youth symphony for the 2020-2021 season – rehearsal and concert dates to be announced.
Offered by the NIU Community School of the Arts, this top regional full youth orchestra performs original masterpieces by Dvorak, Tchaikovsky, and Beethoven, as well as music from the 20th century, occasionally including popular music classics arranged for orchestra. The music is fun and challenging, and young musicians enjoy a rewarding experience as musicians in a large orchestra led by a world-class music director.
Accomplished cellist and music educator Linc Smelser directs the CSA Youth Sinfonia.  He performs regularly as a soloist and with the Chicago Symphony Orchestra and the Grant Park Symphony Orchestra. Smelser has most recently been appointed a faculty member of the Music Institute of Chicago in Winnetka.  He served as guest lecturer of cello at the Wheaton College Conservatory of Music from 2006-2016 and is currently on the faculty of both the Chicago Suzuki Institute and the American Suzuki Institute, and is pianist/accompanist of the NIU Suzuki program.  Smelser is the conductor and music director of the Kishwaukee Symphony Orchestra in DeKalb.  He teaches private cello lessons at the NIU Community School of the Arts and also directs the CSA youth string orchestra Symphonette.
CSA Sinfonia auditions can be scheduled online at csa.niu.edu or by calling the CSA office at (815) 753-1450.   The NIU Community School of the Arts offers online private music lessons this summer on most instruments and registration is open now for children and adults of all ages.